Vapers Digest 19th May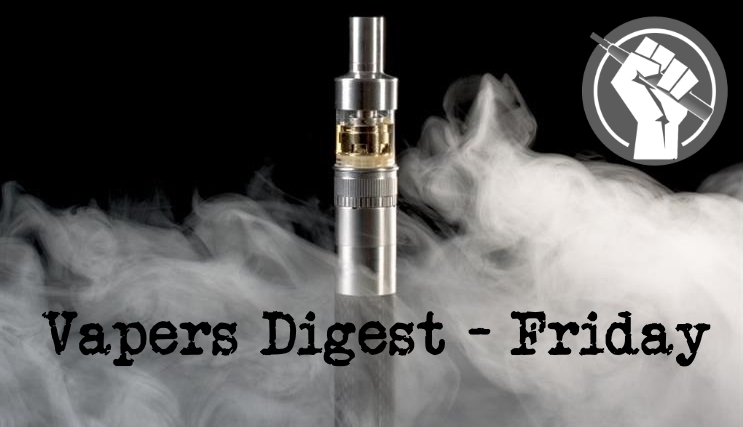 Friday's News at a glance:
Evaluation of the legislative framework for tobacco control – It's time for retailers to take responsibility – Vaping can help smokers quit for good – FDA Orders Elf Bar and Esco Bar Imports Detained – State of the Vaping Nation – Positive Thai Findings – Parliament – Veolia Launches Nationwide Scheme – Smoke free Sweden – Illegal, untested vapes – Calls for tougher regulation on vaping – Number of children vaping spikes – Analyzing Medical Advocacy Organizations' – Health experts slam global TC treaty – Implementation of Reagan-Udall's Reforms – The New Prohibition—Jacob Grier – How Much Evidence Is Enough – Nicotine Science and Policy Daily Digest
For tobacco control – Open Public Consultation – ETHRA
May 2023. ETHRA submitted to the European Commission's public consultation on the evaluation of the legislative framework for tobacco control. The consultation was in the form of a questionnaire with the option to attach a supporting document. Due to the inherent bias again tobacco harm reduction in the questionnaire, our supporting document was our main contribution to the consultation.
For underage vaping – Martin Cullip
Whether in supermarkets, corner shops or the increasing number of vape shops, vaping products have become a common sight on high streets. Last year, e-cigarette market revenue in the UK was just over $3.5 billion. That's expected to grow to more than $4 billion in 2024. Consumer demand for tobacco harm reduction goods such as e-cigarettes, heated tobacco, and nicotine pouches shows no sign of slowing down. Along with this growth are concerns over an increase in the number of underage vapers, and some have even called for a complete ban on the products.

It is important to understand the benefits of vaping, especially considering that it's recommended by the NHS as a safer alternative to smoking. Vaping can be a valuable tool for smokers looking to quit, and it is therefore essential that responsible small businesses are able to provide these products to their customers.
---

---
Mark Pawsey MP
The Government recently announced its new vaping 'swap to stop' policy. This new scheme will offer free vapes and e-liquids to smokers to assist them in quitting and is the first initiative of its kind.

As the Chairman of the All-Party Parliamentary Group (APPG) for Vaping, I would like to commend the government for this bold step which reflects our collective commitment to promoting public health, reducing the burden on our NHS, and moving towards a smokefree England.

Vaping is a crucial piece of the harm reduction puzzle, and the Government has been very clear that it has an important role to play in reducing the harm of smoking, and we know from the data that it is working.
---
---
Jim McDonald
The FDA has ordered its import inspectors to detain shipments of Elf Bar and Esco Bar disposable vapes sent to U.S. ports from manufacturers and exporters in China and Korea. The products have been added to an "import red list" that allows detention of the products at U.S. ports of entry without physical examination.

Packages identified as containing Elf Bar or Esco Bar products from the red-listed shippers can be detained on the assumption that they are unauthorized tobacco products. It is up to the shippers or manufacturers to prove that the products are legal before they can be removed from the red list and released to continue to their U.S. destinations. The import alert represents "current guidance to FDA field personnel."

Four from Dave Cross, Planet of the Vapes:
Global resource management company Veolia has launched a national vape collection service to help provide safe disposal and recycling routes for the three million vapes currently thrown away each week.

The company says: "With over 143 million vapes thrown away each year, Veolia can now facilitate the collection and transport of vapes from retailers to a recycling facility to extract the valuable materials, including lithium, cobalt, nickel and manganese inside.
There is a major trust gap in vaping amongst smokers, with over half now believing they're just as, or more, harmful than cigarettes. The poll of 2,000 smokers in the 'Adult Smokers Trust in Vaping' study, conducted by One Poll and commissioned by SMOORE, reveals a growing distrust in switching to vapes. Nearly 38% who lack trust, say it could stop them from attempting to quit their smoking habits through vaping in the future.

The government's independent Kahn Review said vaping had a central role to play in a smokefree future across the country, with more than six and half million smokers still in the UK. And evidence last year by the Office for Health Improvement and Disparities (OHID) re-confirmed that vaping was at least 95% less harmful than smoking.
The Coalition of Asia Pacific Tobacco Harm Reduction Advocates (CAPHRA.org) welcomes the recent findings of the Thai Parliamentary Standing Committee on Health, which conducted a months-long inquiry into Thailand's ban on e-cigarettes and heated tobacco products (HTPs). The Committee's report highlights the ineffectiveness of current tobacco control measures in reducing the number of smokers in the country and recommends a shift towards evidence-based policies and Tobacco Harm Reduction (THR) strategies.

The Committee's report emphasises that the Thai Government should rescind the ban on e-cigarettes and HTPs , adopt a policy of Tobacco Harm Reduction, and revise relevant laws and regulations.
Questions and answers about vaping and tobacco harm reduction from the House of Commons stretches across two articles this week. This first one sees Seema Malhotra concerned about the safety and legitimacy of vaping products. Matthew Offord was concerned about the enforcement of standards and regulatory compliance. Meanwhile, Ranil Jayawardena wanted the Moon on a stick.

Seema Malhotra, the Shadow Minister for Business, Energy and Industrial Strategy, asked the Secretary of State for Business and Trade whether the Department and the Office for Product Safety and Standards, "plan to take steps to assess the safety of vaping and what steps [the Minister] plans to take to ensure the safety of vaping products."
---

---
Why are Swedes stubbing out their cigarettes?
The Scandinavian country is a trailblazer when it comes to quitting smoking, but other forms of tobacco consumption are still popular.

Sweden is on course to become one of the world's first "smoke-free" countries, defined as less than 5% of the adult population smoking.

It is set to achieve this significant milestone in the coming months – 17 years ahead of the EU's 2040 target, with smoking rates falling from 15% to 5.6% over the past 15 years.
'Putting health and legitimate UK businesses at risk'
The UK government needs to clamp down on the increasing numbers of rogue retailers selling untested and illegal vaping products, both online and instore. That's the view of Robert Sidebottom, managing director of vaping law specialists Arcus Compliance, who says such practices are putting public health and the livelihood of reputable businesses at risk.

Sidebottom (pictured), who will chair the ENDS Europe conference in Amsterdam from 23rd to 24th May, told ECigIntelligence he and the UK Vaping Industry Association (UKVIA) have been canvassing the government, urging more proactive enforcement.
Simon Clark
After releasing figures that are said to show that the economic cost of smoking in England is £14bn a year (see previous post), the anti-smoking group has today published headline results for its 2023 vaping surveys.

Designed 'to inform responses to the government consultation on how to reduce youth vaping which closes on 6th June', they conclude that there was:
Joseph Rachman
The number of children trying vaping has risen by 50 per cent, according to a new study.

Data for Great Britain shows a rise in experimental vaping among 11- to 17-year-olds, from 7.7 per cent last year to 11.6 per cent this year.

While it is illegal to sell vapes to people under the age of 18, social media shows posts from teenagers with vapes and discussing flavours such as pink lemonade, strawberry, banana and mango.

Positions on E-cigarettes – Chelsea Boyd
Medical advocacy organizations often promote policy change. Their advocacy work can also influence public perception of health conditions and behaviors. With this in mind, we conducted a study to analyze these organizations' publicly available policy or position statements related to e-cigarette use. We describe the content of the statements, explore the nuances of the science underpinning the statements, and discuss how the statements may contribute to the social and policy environment.
To Exonerate E-Cigarettes?
E-cigarettes have a PR problem. From concern about young people illegally obtaining and using them to being wrongly implicated in the outbreak of EVALI (i.e., e-cigarette or vaping product use-associated lung injuries), e-cigarettes get a lot of bad press.

This has translated to misperceptions about their risk relative to combustible cigarettes. Between 2012 and 2018, the percentage of adults who incorrectly perceived e-cigarettes as being more harmful than combustible cigarettes substantially increased from as low as 1.3 percent to 8 percent.
American Vapor Manufacturers
On this episode of Shaping Vaping, AVM's Jim McCarthy sits down with journalist Jacob Grier to discuss the rapidly encroaching threat of vaping prohibition. As increasing numbers of smokers switch to vapes and give up cigarettes forever, many governments are making these life-saving products harder to access—and punishing consumers forced to acquire them illegally.

Why would public health officials so aggressively attack a technology that is helping millions of people lead healthier lives? And what can be done to turn back their assault? Grier offers intriguing answers to both questions.
For excluding scientific developments
Philippines — Public health experts have voiced strong criticism against the World Health Organization's (WHO) tobacco control accord for consistently neglecting scientific and technological advancements in policy discussions. This exclusion effectively denies smokers worldwide access to information about less harmful alternatives available to them.

Dr. Konstantinos Farsalinos, a leading researcher on tobacco harm reduction (THR) and a cardiologist, expressed his concerns regarding the WHO's Framework Convention on Tobacco Control (FCTC) and other national health authorities' dismissal of THR benefits.
Recommended Reforms for the Center for Tobacco Products Reforms
About six months ago, the Reagan-Udall Foundation sent the Food and Drug Administration its Operational Evaluation of FDA's Tobacco Program. this is a report that the FDA itself requested in July of 2022. How is the Center for Tobacco Products (CTP) implementing the recommendations of the report to date?

I was skeptical that the report would be anything more than a whitewash, calling only for more funding and more authority for the CTP. However, the report proved me wrong: it was thorough, specific, and hard-hitting, calling for many substantive changes in how the CTP operates.
---
A look back at how things have moved on or otherwise….
James Dunworth, Ashtray Blog
In Australia in recent months, there has been a surge in calls to regulate vape devices. There's just one problem. In Australia, vape devices are currently banned. And when something is banned, you can't regulate it.

Presumably regulators thought that when they banned vaping, the many people who relied on vape products would just stop using them. While some did (with a subset going back to smoking), others have inevitably resorted to the black market.

This is, of course, history repeating itself. We know from countless examples that banning a popular product doesn't work. The best known example is probably US alcohol prohibition – a ban which had truly disastrous consequences.
About the risks of vaping? – Dr Katherine East, King's College London
In December 2021, I talked with three public engagement groups as part of my Society for the Study of Addiction Academic Fellowship, which focuses on understanding people's views on the risk of vaping and how these views can be modified.

All groups thought vaping is less harmful than smoking but is not risk free.

The adult group pointed out that no behaviour, including vaping, is risk free. They also thought that vaping is not risk free because it involves putting something into your body that's not meant to be there. However, they thought that vaping emissions do not harm people other than those using a vape.
---
Visit Nicotine Science & Policy for more News from around the World

---