Vapers Digest 22nd May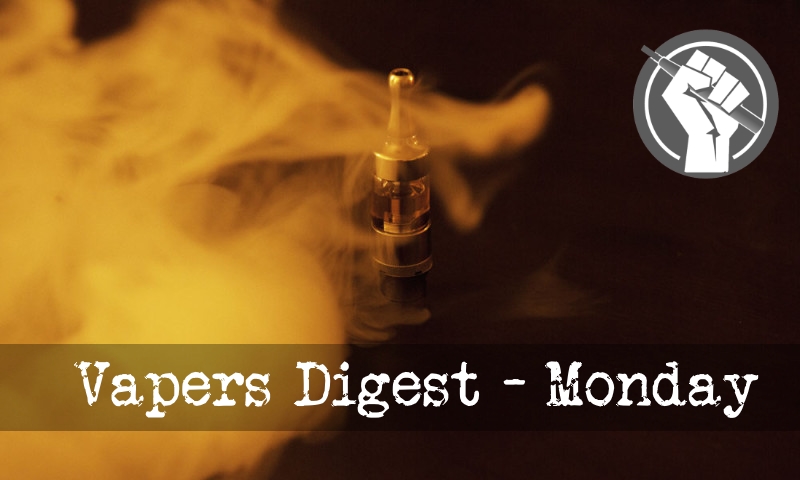 Monday's News at a glance:
A Responsible Role for Disposables – Parliament – Taxed vapers are fuming – 'One Weird Trick' to Make U.S. Healthier – Man on a mission to counter 'nicotine illiteracy' – GFN Fives 2023 | Update on Vaping in Canada – Hope for Harm Reduction with Professor Gerry Stimson – Experts Call For Sensible Vape Regulation – PH Should Be More Open To Vaping – Latvian residents express great interest for initiative – Nicotine Science and Policy Daily Digest
Two from Dave Cross, Planet of the Vapes:
"As we approach World Smokefree Day on 31 May, it is essential to recognise the role that disposable vapes can play in reducing the harm caused by combustible tobacco products", says The Coalition of Asia Pacific Tobacco Harm Advocates (CAPHRA). However, this potential can only be realised if governments and regulatory bodies take urgent action to implement strict controls and safeguards to protect public health and the environment.

The Coalition of Asia Pacific Tobacco Harm Reduction Advocates has recently issued a position statement calling for pragmatic, risk-proportionate regulations on disposable vapes. These regulations should focus on two key areas: availability and regulation of disposable vapes, and recycling requirements for retailers.
Questions and answers about vaping and tobacco harm reduction from the House of Commons stretches across two articles this week. Our second piece features Lib Dem Sarah Olney, Tory Julian Knight and his ridiculously long list of titles, Conservative Ben Everitt, and Royston Smith – also a Tory.

Sarah Olney is the Liberal Democrat Treasury spokesperson. She wants more regulation to cover the use of disposables by under 18s. Clearly, making it illegal to sell the products to them isn't enough – maybe she wants the kids forced to stand on one leg for hours on end? Maybe she wants them to have to sit in a bath of custard? We don't know, she didn't say.
---

---
Wendy Jasson Da Costa
From next week, they'll pay much more for their habit as a new "sin tax" comes into effect on June 1, and a flat excise duty is slapped on nicotine and non-nicotine vaping liquids.

Outraged industry role players have warned of the devastating health impact it could have because vapers were likely to revert to cheap cigarettes to feed their habit.

The increase is not a surprise: the idea was first mooted by Finance Minister Enoch Godongwana during his budget speech in February last year when he announced that "Government also proposes to introduce a new tax on vaping products of at least R2.90 per millilitre from 1 January 2023."
---
Switzerland: GREA announces a health disaster if the anti-vaping tax is adopted by the National Councilhttps://t.co/MDU7KDKnfA

— European Tobacco Harm Reduction Advocates (@europethra) May 22, 2023
How do you improve the lives of at-risk communities? Not through shame and prohibition, but through empathetic approaches: Ethan Nadelman establishes the fundamental basis of #harmreduction in this #GFNFive by Jeffrey Zamora @jeffzam8https://t.co/IQe0EHpyAQ

— Global Forum on Nicotine (@GFNicotine) May 22, 2023
📢La próxima semana es el #WorldVapeDay. Una oportunidad para recordar que la OMS #FCTCOP10 necesita defender la reducción de daños para acabar con el tabaquismo #WVD23

— ANESVAP (@anesvap) May 22, 2023
---
Jessica R. Towhey
Call it the "one weird trick" for America's health care. A panel of public health experts gathered in Washington, D.C., last week for a "Common Sense Public Health" roundtable — simple, relatively inexpensive policy reforms with minimal costs but significant benefits. Those policies are blocked, they said, not by science or data but because of politics.

One culprit is the Food and Drug Administration. For Dr. Richard Williams, a former economist with the FDA and author of "Fixing Food: An FDA Insider Unravels the Myths and Solutions," the smart move is to reform the agency's food safety system. It is obvious, he said, consumers aren't getting enough public health bang for their FDA bucks.

To counter 'nicotine illiteracy' – Lorraine Mullaney
Taking nicotine out of a tobacco context and inspiring confidence in the role it can play in harm reduction is the goal of Sudhanshu Patwardhan, medical director at the Centre for Health Research and Education (CHRE), a private healthcare company in Hampshire, UK.

He will be taking this mission to next month's Global Forum of Nicotine in Warsaw, where he wants to open up the conversation and "make the change happen".

"Nicotine is tightly associated with tobacco and its harms and a lot of the policymakers around the world harbour a mix of nicotine misperceptions and industry suspicions.
---

---
Update on Vaping in Canada
An update on vaping in Canada from Jan 2022 – April 2023. A summary of Canada's Tobacco Control Strategy and the Health Canada website as they relate to vaping. Information about recent smoking cessation conferences in Canada. Latest figures for youth vaping and smoking prevalence. A review of the regulations about vaping, snus nicotine pouches and HNB devices. Link to a blog post with full information and links to relevant documents – https://oyston.com/blog/canada2023/
With Professor Gerry Stimson – CASAA
On this episode we have guest Professor Gerry Stimson to discuss his great Filter Magazine article, "Why I'm Still Fiercely Optimistic About Tobacco Harm Reduction." We'll hear about his involvement with the Global Forum on Nicotine, the importance of the inclusion of consumer perceptions and experiences in discussions, and find out why he's still optimistic about Tobacco Harm Reduction!

Why I'm Still Fiercely Optimistic About Tobacco Harm Reduction by Gerry Stimson

Fernando Fong
As the popularity of vaping continues to rise, governments worldwide are grappling with how to regulate this relatively new industry.

In Malaysia, lawmakers are considering legislation regulating the sale and use of e-cigarettes and other vaping products.

Proponents of vaping argue that it is a healthier alternative to smoking.
An international doctor and specialist in tobacco treatment encouraged the Philippines to be open in educating Filipinos about the benefits of vaping as a way to stop smoking.

Contradicted by many Filipinos, the presence of vaping in the country was seen as an 'unhealthy habit' related to smoking.

Hence, based on previous research, vaping is not as unhealthy as traditional smoking is to the body, and this is an effective way to stop smokers from taking conventional cigarettes.
For initiative against the ban on e-cigarette flavours
More than 10 000 people have signed the petition called "Free choice for adults! On preservation of e-cigarette aromas" on Manabalss.lv platform, according to Tobacco-free Products Association.

Because the initiative has received the necessary number of votes, it will be submitted to the Saeima for review. The objective of this initiative is to invite the parliament to not ban various flavours of e-cigarettes and instead adopt solution to battle the illegal market and educate society about healthy choices.
---
A look back at how things have moved on or otherwise…
Dave Cross, Planet of the Vapes
In a new study published in BMC Health Services Research, a team led by University College London's Dr Sharon Cox asked 99 individual homeless services across the UK how they support reducing smoking through various policies and cessation support options. The paper contains powerful support for vaping and highlights the need for further action.

Sharon Cox, Jaimi Murray, Allison Ford, Lucy Holmes, Deborah Robson, and Lynne Dawkins say: "Tobacco smoking is a leading cause of premature death and disease and is strongly associated with deprivation and health inequalities. Homelessness and housing shortages are growing problems in the UK, leading to exacerbated poverty and poor health. Smoking rates are exceptionally high amongst adults accessing homeless support services, with rates ranging between 57 and 82%, this is up to four times higher than the national UK average (14.1%)."
Spark retailer anger – betterRetailing
Independent retailers have shared concerns over new proposals to further restrict the advertising and promotion of vaping products by the Scottish government.

Under new plans, the advertising of e-cigarettes, through leaflets and flyers and in-store media would be banned, alongside free or cut-price samples.

The government claims more stringent measures are needed because of a rise in people taking up e-cigarettes as a "lifestyle choice" rather than to quit smoking.
---
Visit Nicotine Science & Policy for more News from around the World

---