Vapers Digest 19th June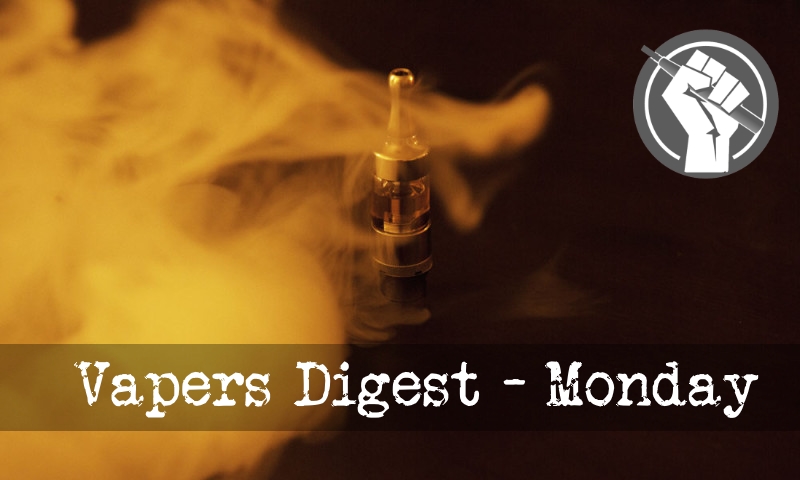 Monday's News at a glance:
The Gateway "Myth", Again – Avoiding bureaucratic destruction – Smoking Rates Among Youth – Vaping v Plain Packaging – American Lung Association – Local government steps up the pressure – "Tide turning" on smoke-free products – Recommended core items – E-cigs are less addictive than regular cigarettes – Singapore asks for public comment – 'Irresponsible, inaccurate' statements on e-cigs – Why don't more smokers switch to using e-cigarettes? – Vaping In The News June 11th – 17th – Nicotine Science and Policy Daily Digest
Paul Barnes, Facts Do Matter
Here we go again. Yet another "study" that "suggests that among non-daily smokers, young adults who use e-cigarettes tend to smoke more cigarettes and to do so more frequently. Such individuals may be at greater risk for chronic tobacco use and dependence."

Amusingly, this study was 'accepted' by the journal Preventative Medicine in March this year – which would have been around the time that the latest figures from the CDC was being compiled – that data was published in June.
Of the US vaping market – proposals for a new approach by FDA
Clive Bates, The Counterfactual
Can the impending near-complete destruction of the U.S. vaping market be averted?  A group of public health experts believes it can – though time is running out. Led by Iowa Attorney General Tom Miller (@AGIowa) they have written to the new Commissioner of the Food and Drug Administration, Dr Scott Gottlieb (@SGottliebFDA) with proposals and supporting material. The focus is on what can be done by the FDA itself, without Congress amending the Tobacco Control Act.
Fergus Mason – Vaping Post
Local authorities in California, Colorado and New York are pushing ahead with tougher restrictions on vaping; proposed laws cover the full spectrum from flavour bans to age restrictions and inclusion in smokefree laws. Meanwhile the latest data shows that smoking among American teenagers is still falling sharply, with e-cigarettes now the leading "tobacco" product despite vaping also having lost ground. Many of these issues were discussed over the weekend in Warsaw, where more than 300 people attended this year's Global Forum in Nicotine.
Paul Barnes, Facts Do Matter
Y'see, in April this year one particular anti-smoking group kicked the bucket. It became an ex-anti-smoking group. Most folk I know celebrated the demise of Healthier Futures, which followed on from the demise of Smokefree South West – both groups tried a last ditch re-brand in order to stay current with "public health epidemics" – with Fresh NE taking ownership of the Healthier Futures IP.

Now it seems that Fresh are intent on swinging a club towards taking control of what you do in your own home.
Now At "Unimaginable" Levels – Kevin Crowley
Smoking rates are now dropping MUCH faster than anticipated. That is against the master tobacco control "endgame".

The propaganda of e-cigarettes being "gateways" and creating "new addicts" are unfounded. The ever-popular phrase "think of the children™" squealed by experts is another contrived and unsuccessful effort to keep themselves relevant.

Smoking rates have now plummeted "among youth" AND adults.
---

---
Sinclair Davidson – Catallaxy Files
In December 2012 Australia adopted a draconian anti-smoking policy in plain packaging. The evidence seems to suggest this policy has failed to substantially reduce smoking prevalence in Australia. At about the same time (2012) vaping became very popular in the UK.
Is Lying About Health Effects of Smoking
Michael Siegel – The Rest of the Story
It used to be that the tobacco industry lied to the public in order to downplay the severe health effects of cigarette smoking. Today, it is the Wisconsin branch of the American Lung Association (ALA) that is lying about the risks of smoking.
Smoking Fell by Half – Jacob Sullum
Survey data published last week cast further doubt on warnings that e-cigarettes are a gateway to the real thing for teenagers. Between 2011 and 2016, according to the National Youth Tobacco Survey (NYTS), the share of high school students who reported smoking cigarettes in the previous month fell from almost 16 percent to 8 percent, even as past-month use of e-cigarettes rose dramatically.
Tobacco companies are in a race to "reinvent" cigarettes. Philip Morris International's Asia President shares his outlook on the industry's future in a region that contains some 60% of the world's smokers

Cigarettes have been with us for centuries. With consumers becoming ever-more health-conscious, however, tobacco companies are in a race to reinvent them. Their share prices have soared as a result.
---
---
To assess e-cigarette use in population-based surveys – BMJ
A consistent approach using standardised items to assess e-cigarette use in both youth and adult populations will aid cross-survey and cross-national comparisons of the effect of e-cigarette (and tobacco) policies and improve our understanding of the population health impact of e-cigarette use. Focusing on adult behaviour, we propose a set of e-cigarette use items, discuss their utility and potential adaptation, and highlight e-cigarette constructs that researchers should avoid without further item development.
Despite the fact that many studies have already found that e-cigarettes are significantly safer than tobacco cigarettes, misinformation and bad publicity about the products keep spreading incessantly. Hence many health experts and government regulators had been sitting on the edge of their seats awaiting the first results of the Population Assessment of Tobacco and Health (PATH) study, which were published in Preventive Medicine.
Claudeth Mocon-Ciriaco
LOCAL consumer groups on Monday denounced as "irresponsible and grossly inaccurate" the recent statements of a Department of Health official who said electronic cigarettes (e-cigarettes or "vapes") contain the same chemicals used in cigarettes and can lead to more serious addiction to tobacco.
On proposal making possession of a vapor product illegal
Singapore is asking the public to comment on a proposal to raise the minimum legal age for smoking, as well as prohibit the purchase, use and possession of vaporizers and e-cigarettes beginning tomorrow (June 13).

The proposed changes to the Tobacco (Control of Advertisements and Sale) Act include raising the minimum legal age for the sale, purchase, use and possession of tobacco products from 18 to 21, as well as closing a loophole in the existing rules regarding vaporizers and electronic nicotine delivery systems
---

---
To using e-cigarettes? – Simon Clark
Remember The Pleasure of Smoking report, published at the end of last year?

Co-authored by Dr Neil McKeganey, director of the Centre for Substance Use Research in Glasgow, and funded by Forest, it was based on a survey of 650 'confirmed smokers'.
Kevin Crowley, Vaping Links
Tobacco will grow ~ E-Cigarettes Less Addictive Than Cigarettes, PATH Study Shows~ Rodent ~ 3D Printing Proves Scientists Really Have No Clue ~ Pariahs, predators or players? ~ Smoking Fireman ~ Dick Puddlecoat ~ Youth Smoking (A Threefer) ~ Heat Not Burn ~ Global Forum On Nicotine
---
A look back at how things have moved on or otherwise….
Mawsley –  Planet of the Vapes
The New England Medical Journal (NEMJ) carried an article where a doctor posed a hypothetical situation of a man seeking to quit smoking. "What," writes James Yeh, "is your recommendation for this patient?" Christopher Bullen and Stanton Glantz provide the solutions.
EurekAlert
A new study from the UK Centre for Substance Use Research, being presented today at the Global Forum on Nicotine, shows e-cigarettes are playing an important role in reducing the likelihood of young people smoking, in many cases acting as a 'roadblock' to combustible tobacco.

In detailed qualitative interviews with young people aged 16 to 25 across Scotland and England, the majority of participants viewed e-cigarettes as having reduced – not increased – the possibility of both themselves and other people smoking.
---
Visit Nicotine Science & Policy for more News from around the World

---