Vapers Digest 19th April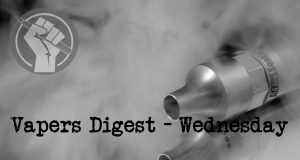 Wednesday's News at a glance:
It's Time to Reform Vaping Laws Through a "Harm Reduction Lens" ~ PH can learn from Japan's drastic smoking rate decline after heated tobacco introduction ~ Expert reaction to study suggesting a link between concurrent vaping in early teen smokers and persistent and heavier smoking in late teens ~ Call to reconsider nicotine vaping regulations in Australia ~ CBS Mornings' Tony Dokoupil Highlights UK's Support for Vaping as a Quit-Smoking Tool vs. U.S. Head-in-the-Sand Denial ~ UK Gets Harm Reduction Right Once Again ~ Consumer Requirement for COP10 ~ Innco Weekly Issue | Apr 17th, 2023 ~ How should Australia regulate nicotine vaping products? – new research ~ High cigarette prices are boosting black market purchases by French smokers ill-informed about safer alternatives.
Paul Gregoire, Sydney Criminal Lawyers
Right now, in NSW, an adult can buy some cigarettes at a shop and puff away to their ailing heart's content. But if they'd prefer legal nicotine vaping liquid, a much healthier alternative, they need to obtain a doctor's prescription.

Yet, if that same individual wants to purchase an imported nicotine vaping product, they can readily do so at a store, illegally from under the counter, with no guaranteed quality control. Indeed, under 18-year-olds can more easily obtain nicotine vapes, than the legal ones that don't contain the drug.
Manila Bulletin
The Philippines – where 1 in 4 adults are smokers and the smoking quit rate is a measly 4 percent – can learn from the experience of Japan where the use of heated tobacco products has led to drastically reduced smoking rates.

"The dramatic drop in smoking prevalence in Japan happened because of the availability of heated tobacco products which enabled many smokers, who would have otherwise continued to smoke cigarettes, to switch to less harmful smoke-free alternatives," said Dr. David Khayat, a professor of Oncology at Pierre et Marie Curie University and head of Medical Oncology at La Pitié-Salpétrière Hospital, both in Paris, and adjunct professor at the MD Anderson Cancer Center in Houston, Texas.
---
Prof Lion Shahab, Dr Jamie Hartmann-Boyce, Dr Sharon Cox, Prof Peter Hajek, Prof Caitlin Notley, Science Media Centre
A study published in Tobacco Control looks at e-cigarette use among early adolescent cigarette smokers.
---
Bridget Druery, The University of Queensland Australia
Dr. Brad Rodu, Tobacco Truth
Broadcast journalist Tony Dokoupil co-anchors "CBS Mornings".  Last year, Variety magazine reported, "He's also developing a reputation for explaining abstract concepts to viewers in ways that make the subjects stick."  Dokoupil says he emphasizes "talking to regular people where the story is happening and happening to them."
World Vapers' Alliance (WVA)
---
If you haven't done so already, read this excellent paper on India's ban on e-cigarettes and its impact on public health outcomes by @rajeevgowda and @ShonaliThangiah published in the March issue of @IPPRJournal https://t.co/JYd7HMyUrC pic.twitter.com/lPMQDOwdqi

— Anupam Manur (@anupammanur) April 18, 2023
---
Dave Cross, Planet Of The Vapes
Delegations to the World Health Organization's (WHO) Conference of Parties (COP10) must include consumers, says the Coalition of Asia Pacific Tobacco Harm Reduction Advocates (CAPHRA). The member organisations of CAPHRA have written to their respective country FCTC delegations attending COP10 asking that each includes at least one consumer of safer nicotine products.
---

---
Innco
Hi Dear Friends,

We hope you are doing amazingly well. It is more than evident that the most important news of last week was the United Kingdom government announcing that it will be providing 1 million free vaping devices for adults who are unable or unwilling to quit smoking in England and giving financial incentives for women who are pregnant to stop smoking; all of this measures to help the United Kingdom achieving its goal of becoming smoke-free by 2030. Once again, the United Kingdom consolidates as a global leader in Harm Reduction. Read more about it here.
---

---
Dr. Colin Mendelsohn, colinmendelsohn.com.au
The current prescription-only model has been rejected by doctors and consumers and has created a thriving illicit market selling dodgy, mislabeled vape products freely to children and adults.
A look back at how things have moved on or otherwise…
Brad Rodu, Tobacco Truth
A PubMed search reveals thousands of articles on the myriad toxic chemicals present in tobacco products and smoke, but reports of health-positive tobacco attributes are rare.

In a 2000 study I co-authored with Boxin Ou of Brunswick Laboratories, we demonstrated that "manufactured tobacco products…have antioxidant capacity in moderate to high concentrations.
Philip Morris International (PMI) recently asked the U.S. Food and Drugs Agency (FDA) to start telling the public the truth about nicotine. PMI was particularly concerned about false claims that nicotine causes cancer. Disgraced ex-academic Stanton Glantz is still beating his nonsense drum and offered his 2¢, which the makers of the film 'You Don't Know Nicotine' (YDKN) fact checked.
---
Visit Nicotine Science & Policy for more News from around the World

---