Vapers Digest 21st April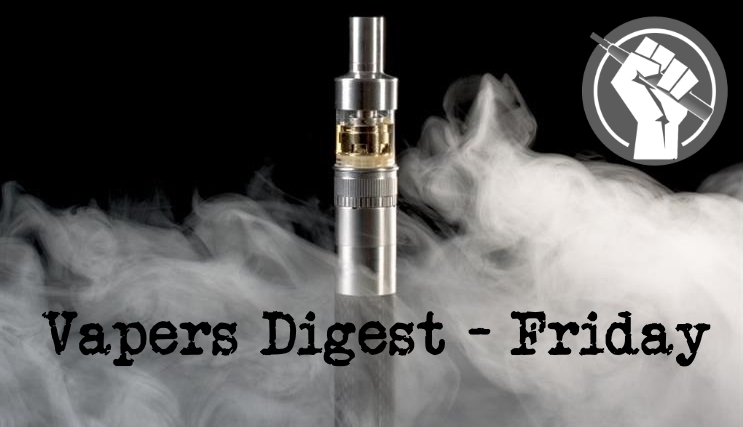 Friday's News at a glance:
Newly published GSTHR research – Who is the new WHO French guy? – 'Typical Belgium' – If in doubt, ban it – NNA Praises Government Plans – Media Needs To Play Fair – Health Professionals Should Know Vaping Facts – Industry Responds to Government Action – Warner Argues for Acceptance – Panama Knocks Back Regulation – Canadian Vaping Association – Quebec Vapers Face Flavor Prohibition – Quebec Unleashes Black Market – Missed Opportunity – Heated Tobacco Products Help – Call to reconsider nicotine vaping regulations in Australia – How Old Do You Have to Be to Vape? – An examination of quitting smoking – The Last Beacon of Hope – #Safer Special: What is Harm Reduction? – Nicotine Science and Policy Daily Digest
Shows significant rise in global number of vapers
A week after the UK Government announced its Swap to Stop scheme, which will see one million smokers given a free vaping starter kit to help them quit smoking, the latest research from the Global State of Tobacco Harm Reduction (GSTHR) shows a significant rise in the global number of people who vape.

The new peer-reviewed paper published this week in Drugs, Habits and Social Policy estimates there are now 82 million vapers worldwide. The GSTHR project, from Knowledge•Action•Change (K•A•C), a UK public health agency, found that the total for 2021 represents a 20% increase on the figure for 2020 (68 million).

Vaping offers a significantly safer alternative for the 1 billion people around the world who continue to smoke. Each year, there are eight million smoking-related deaths worldwide.
COPWatch
The World Health Organization's Director General has appointed a new leadership team following his re-election last year. Naturally, we are interested in who has been handed the brief of overseeing the WHO's future efforts towards smoking and nicotine.

According to Health Policy Watch, the appointee is Dr Jérôme Salomon from France, who will act as Assistant Director-General for Universal Health Coverage, Communicable and Non-communicable Diseases. Copwatch believes it prudent that his credentials be checked for suitability in such an important role so we have investigated his track record.
---

---
Health experts criticise the country's ambitious tobacco plan
Belgium's new tobacco plan is facing sharp criticism from some health experts, not only because of its ambitious targets and lack of new measures, but also because of the way it lumps together cigarette smokers and users of other nicotine products.

It's the last point that dismays some public health experts, given evidence that vaping, nicotine pouches and other types of non-combustion tobacco products contain a fraction of the negative health consequences of smoking cigarettes.

Alternative products can also help traditional smokers ultimately quit. The UK has just launched a "swap to stop" scheme that offers smokers vape starter kits as part of its "smoke free" drive.
---
---
Simon Clark
Having kept a low profile when the Government announced its response to 'The Khan review: make smoking obsolete' last week, the author of that 'landmark' report has broken his silence.

After urging the Government to promote vaping 'to help people to quit smoking tobacco', Javed Khan, a former CEO of Barnardo's, now believes his proposals to simultaneously deter young people from vaping didn't go far enough.

One of the 15 critical recommendations Khan included in his review was to:

Six from Dave Cross, Planet of the Vapes:
The New Nicotine Alliance has praised what it called "enlightened and proportionate" Smokefree 2030 proposals made by public health minister Neil O'Brien last week. The Government's plans are aimed at reducing adult smoking rates in the UK and preventing adolescents from accessing vaping products.

The New Nicotine Alliance says the proposals will "cement the UK's place as the world leader in recognising tobacco harm reduction as a powerful public health tool."
Numerous industry bodies are welcoming the Government's plans to encourage smokers to swap cigarettes for vapes and tackle illegal sales of vape products. The Association of Convenience Stores is "encouraged", ANDS, a distributor of alternative nicotine delivery products, says "it's very positive", Arcus Compliance says pre-emptive strategies are needed, and Zovoo has pledged its support.

ACS chief executive James Lowman said: "We strongly welcome this course of action from government, harnessing the potential for vaping to accelerate the decline in smoking rates, and it's encouraging that the government are committing new resource and some innovative approaches to make this happen.
The media needs to play fair COP on anti-tobacco work, says the Coalition of Asia Pacific Tobacco Harm Reduction Advocates (CAPHRA). Nancy Loucas, Executive Coordinator of the organisation said: "There are some in the media who are doing their best to discredit the work we do. They should instead be investigating who's behind the constant attacks on us and vaping."

Her comments follow another media hatchet job on Tobacco Harm Reduction (THR) advocates. This time in relation to submissions to Australia's Therapeutic Goods Administration (TGA) on its recent vaping consultation.
Health professionals should know the vaping facts, according to the Independent European Vape Alliance (IEVA). The organisation points out that 700,000 people in the EU die each year as a result of smoking and every second smoker dies 14 years prematurely.

"Switching to vaping has helped millions of smokers worldwide to significantly reduce the harm to their health. The principle of harm reduction works, and millions more smokers could benefit from it. But for it to really change society, smokers need the facts: and that starts with healthcare professionals," states IEVA.
Kenneth Warner has argued that electronic cigarettes should be accepted more widely as an effective and respected tool for treating adult smokers' nicotine addiction. The Professor Emeritus at the University of Michigan's School of Public Health says there is enough evidence to support e-cigarettes' use as a first-line aid for smoking cessation in adults.

"Far too many adults who want to quit smoking are unable to do so," Warner said in a press release provided by the University of Michigan. "E-cigarettes constitute the first new tool to help them in decades. Yet relatively few smokers and indeed health care professionals appreciate their potential value."
The Panamanian Government continues its fight against reduced risk nicotine delivery products as it refuses to listen to Panamanian users. In March, the Panamanian Tobacco Harm Reduction Association together with civil users, presented a proposal for the regulation of electronic nicotine delivery systems in order to modify Law 315 of June 30, 2022, which prevents the more than 170,000 Panamanian smokers from switching to a much safer alternative.

The sensible proposal was rejected by the Technical Secretariat of Economic Affairs, which issued an unfavourable report. According to the report, the Government believes that Panama should continue with the strategy set by the WHO Framework Convention on Tobacco Control and reject the use of reduced risk products to help smokers quit.
---

---
Will harm the province's economy and weaken youth protection
Today, the Government of Quebec released the Official Gazette of Quebec proposing a ban on flavoured nicotine vaping products except for tobacco flavour. The Gazette also proposes a volume limit of 2 mL on prefilled devices and a limit of 30 mL on refill containers. Additionally, that the draft regulations would restrict nicotine concentrations to 20 mg/mL and prohibit the use of any form, appearance or function that may be attractive to minors, both of which have already been regulated by the federal government.

The Canadian Vaping Association (CVA) is aggrieved by the proposed regulations which have come after the association and industry advocates clearly outlined the negative consequences of such policy to the Government of Quebec.
Jim McDonald
The health ministry of Quebec has introduced draft regulations that would prohibit the sales of flavored vaping products (except tobacco flavor), and ban e-liquid bottles with a capacity greater than 30 mL and prefilled devices that hold more than 2 mL. The regulations would also limit nicotine strength to 20 mg/mL (2 percent)—although the same limit is already mandated in federal rules.

The draft regulations were published Wednesday, and are scheduled to take effect 90 days after publication (July 20). People opposing the regulations have just 45 days to comment by contacting Minister of Health and Social Services Christian Dubé.
With Vape Flavour Ban | RegWatch
Quebec Minister of Health Christian Dubé announced a ban on flavours in nicotine vaping products which could go into effect in only 90 days.
Under the proposed regulation, all flavoured vapes, except for tobacco flavoured, will be forbidden in the province.

It's devastating news for the 250,000 nicotine vapers who rely on various flavours to stay smoke-free. And for the hundreds of small business owners and the thousands of workers in Quebec's vaping industry, the flavour ban amounts to a death sentence for their businesses.
Quebec Government loses chance to be a pioneer in THR
Right4Vapers, Canada's largest vapers' rights advocacy group, is profoundly disappointed that the Government of Quebec has chosen to dismiss the health of Quebecers who vape and smoke and to succumb to the pressure of government-funded special interest groups by banning all flavoured vapour products.

"Quebec had a golden opportunity. It could have looked to markets like the UK and New Zealand and moved forward with a progressive tobacco harm reduction platform but allowing flavours in adult-only specialty vape shops," said Maria Papaioannoy, spokesperson for Rights4Vapers. "Instead, the government moved backwards. Banning all flavours will deprive people who vape of the products that have helped them quit smoking; it will close small businesses; and it will drive the vapour market underground."
Will shut down 400 shops
A Quebec government ban on flavoured vaping cartridges will result in the shutdown of 400 vaping shops across the province, an industry group says.

David Lévesque, spokesperson for the Alliance des boutiques de vapotage du Québec, says the vaping industry creates $300 million in economic spinoffs and the province's 400 vaping boutiques employ more than 2,200 people.

When he announced the ban Wednesday, Quebec Health Minister Christian Dubé said the only flavour permitted in the province for vaping cartridges would be that of tobacco. The industry argues that other flavours represent a major part of its sales.

Help People Quit Smoking, Even Unintentionally
People who smoke switched entirely to using safer heated tobacco products when provided with them, found an important new study—even if they had no intention of quitting cigarettes, or had experienced past challenges in doing so.

The first-of-its kind study, known as CEASEFIRE, enrolled 220 participants. On average, they were 41 years old and smoked about a pack a day. They averaged two previous attempts to quit smoking.

The participants were randomized into two groups: one given a refillable vape, and one given a heated tobacco product—a device that heats sticks of tobacco to produce vapor, without the combustion that produces smoke. Researchers sought to compare effectiveness and tolerability between the two harm reduction options.
Before starting filming the second episode of the Documentary Series, we made a quick visit to participate in a Conference in Colombia; we had the opportunity of talking with Ethan Nadelman (Founder of the Drug Policy Alliance), Ignacio Leiva (Asovape Chile), Julio "El Mono Vapeador" Ruades (ANESVAP Spain), and Jessica Harding (Knowledge-Action-Change). We asked them what Harm Reduction is to them, their goals, and if their dedication to the cause of improving public health through the more empathetic approach of Harm Reduction has provoked a division within their personal life and the passionate advocate they are.
Selling nicotine vaping products in licensed shops with a strict age verification process will restrict youth access and help adult smokers quit, a University of Queensland drug expert has recommended.

Emeritus Professor Wayne Hall from UQ's National Center for Youth Substance Use Research said current nicotine vaping regulations are ineffective, a view acknowledged by the Therapeutic Goods Administration.

"In Australia, nicotine vaping products can only legally be prescribed by a doctor and sold in pharmacies to adults who want to quit smoking," Emeritus Professor Hall said.
Jim McDonald
Vaping has grown rapidly over the last decade, becoming the most popular consumer competition to cigarettes, and the most common product used to quit smoking. But along with its increased popularity has come a troublesome group of customers: curious teenagers. Regulators and legislators have used a variety of strategies to keep adolescents away from vapor products, and by far the most common has been regulating how old you have to be to buy vape products.

As with alcohol, enforcing a legal minimum sales age for e-cigarettes isn't a perfect solution, but it is the most reliable way to reduce teen vaping. For legislators, deciding how old you have to be to vape, how old to buy a vape, the penalties for retailers who break the law, and how to enforce an age-to-purchase law isn't easy.
UK's "Swap to Stop"program | Ep. 2
In this episode of the Vaping Unplugged, we are talking about the latest announcement by the United Kingdom's "swap to stop" scheme proposal aimed to encourage smokers quit traditional cigarettes by switching to free vapes. We are joined by Martin Cullip, international fellow at TaxPayers Alliance and tobacco harm reduction expert based in the UK.
As a reason for vaping by the type of nicotine vaping device used most often among adults who smoke and vape: Findings from the Canada, England and the United States 2020 ITC Smoking and Vaping Survey
Several nicotine vaping product (NVP) device types are available to consumers, and many people who smoke report vaping to help them quit. This study included data from the Wave 3 (2020) ITC Smoking and Vaping Survey in the US, Canada, and England and included 2324 adults who were smoking cigarettes and vaping at least weekly. Device types currently used most often (disposables, cartridges/pods, or tank systems) were assessed using weighted descriptive statistics. Multivariable regression analyses were used to compare differences between respondents who reported vaping to quit smoking ('yes' vs. 'no/don't know') by device type, overall and by country. Overall, 71.3% of respondents reported vaping to help them quit smoking, with no country differences (p = 0.12). Those using tanks (78.7%, p < 0.001) and cartridges/pods (69.5%, p = 0.02) were more likely to report this reason for vaping than those using disposables (59.3%)
---
A look back at how things have moved on or otherwise….
---
Visit Nicotine Science & Policy for more News from around the World

---