Vapers Digest 24th April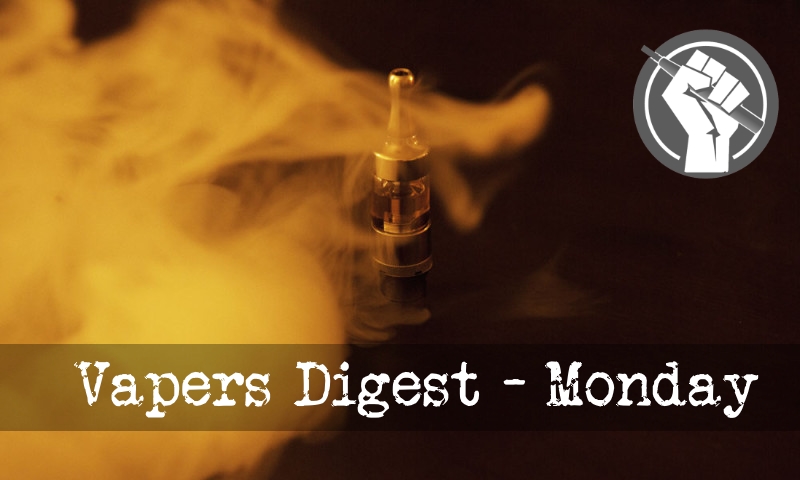 Monday's News at a glance:
Vaping Illegally – Will Thailand Soon Overturn One of the World's Harshest Vape Bans? – Update on Vaping in Canada – Australia should follow HealthCanada's updated vaping guidelines – Biden's Cancer Moonshot will fail – Vape confusion holds smokers back from kicking habit – Kendal retailers commended – Increasing tobacco tax and vape restrictions – Nicotine Science and Policy Daily Digest
Dave Cross, Planet of the Vapes
Thailand is famous for being one of those countries that has chosen to ignore the ever-growing volume of scientific evidence and successes experienced by progressive nations when it comes to electronic cigarettes. Faced with the prospect of fines, jail, or being thrown out of the country, what did one British vaper discover when holidaying?

Packing for a trip always holds the potential to be a fraught process. The desire to ensure you have covered for every eventuality balanced against weight restrictions is exceptionally problematic when your vape, spare vape, spares for the spare vape, batteries and bottles of juice could land you with a £2500 fine or time inside the Bangkok Hilton – Bang Kwang Central Prison.
One of the World's Harshest Vape Bans? – Kiran Sidhu
Thailand's general elections on May 14 might just bring about the end of the country's draconian vape policies. Merely possessing a nicotine vape can currently get your item confiscated, land you with a big fine or even send you to prison for up to five years. Severe penalties and corrupt enforcement have seen Thailand branded the world's worst country to be a person who vapes. But Thai tobacco harm reduction activists are hopeful that things will soon change.

Possessing, selling or importing vapes has been banned in the kingdom since 2014. And its punitive laws have fostered police extortion. After one incident this year, amid a crackdown in the capital of Bangkok, six cops were charged with forcing a group of tourists to pay a bribe of 27,000 baht (about $800) in order not to be detained for vape possession.
---

---
Dr John's Blog
Canada seems to have a good plan for dealing with tobacco use. "Each year, approximately 48,000 Canadians die from a tobacco-related disease. Canada's Tobacco Strategy (CTS) is the current federal strategy to address tobacco use in Canada and is designed to help achieve the target of less than 5% tobacco use by 2035."

"The Tobacco and Vaping Products Act was passed on May 23, 2018. It makes it legal for adults to buy vaping products that contain nicotine, as a less harmful option than smoking."

The CTS website also notes that giving people who smoke access to less harmful options than cigarettes will "help reduce their health risks and possibly save lives."
---
---
Colin Mendelsohn
HEALTHCANADA HAS UPDATED ITS ADVICE ON VAPING to reflect the latest scientific evidence and supports of vaping as a quitting aid for adult smokers. In stark contrast, advice from Australia's health department remains out of date, discourages vaping and continues to mislead the public.

In 2018, nicotine vapes were made an adult consumer product in Canada, and are sold widely from vape shops, convenience stores, petrol stations and online. The Canadian Tobacco and Vaping Products Act was reviewed last year and government advice was updated on the HealthCanada website in February 2023.

Without reform of the FDA – Martin Cullip
The Biden Administration's much-trumpeted Cancer Moonshot campaign was launched just over a year ago with the goal of reducing cancer rates by more than 50 percent in the next 25 years. However, considering that The White House has identified almost a third of cancer deaths in the United States are caused by smoking, progress will depend heavily on good tobacco control policy. Unfortunately for President Biden, this is just a pipe dream unless he reforms the Food and Drug Administration (FDA), the agency tasked with regulating tobacco. The FDA is catastrophically failing in this area with no sign of its inadequacies being corrected internally any time soon.
---

---
From kicking habit – Nick Webster
A lack of clear information around less harmful cigarette alternatives is preventing more smokers from quitting, new research shows.

In a recent survey commissioned by British American Tobacco (BAT) and carried out by market analysts Kantar, 41 per cent of adult nicotine users in the UAE and Saudi Arabia were aware of how to reduce the harm imposed by smoking.

Data also showed 85 per cent of adult UAE smokers were open to switching to nicotine products such as vapes, compared with 35 per cent of smokers in Saudi Arabia.

After 100% success rate in test purchasing
Westmorland & Furness Council's Trading Standards service and Cumbria Police have praised retailers following a covert operation to test the sale of e-cigarettes products to under 18s.

Acting on intelligence from concerned parents, schools and members of the public, the services visited 12 premises in Kendal and found all retailers refused to sell vapes to the underage test purchasers.

"Our staff work closely with traders to ensure compliance with the law and these undercover checks form a vital part of this process," a spokesperson from Westmorland and Furness Trading Standards said.
Will further grow black market – ABC Tropical North, Lillian Watkins
As calls grow to ban disposable nicotine vapes, a criminologist warns that it could do more harm than good.

When the federal government opted to increase taxes on tobacco to curb smoking, Deakin University senior criminology lecturer Dr James Martin predicted it would trigger a mammoth black market.

In 2013, tobacco taxes increased by 12.5 per cent and continued to increase each year.

"The purpose behind that was there's good evidence from around the world that increasing tobacco prices is a really good way to get people to quit," Dr Martin said.

"It's been quite effective in that. But we're starting to encounter problems with this policy."
---
A look back at how things have moved on or otherwise…
Samples are 80% lower risk than smoking
Catania, 21 April 2022- The debate over the safety and efficacy of electronic cigarettes demands strong and accurate evidence by the scientific community. The growing body of knowledge on alternative nicotine delivery systems and the potential benefits for human health if compared to conventional cigarettes pushed researchers to analyze ecig liquids, which differ in nicotine percentages, type and flavors.

The e-liquid consist largely of propylene glycol and vegetable glycerin, and a smaller part of food chemical flavorings and nicotine (which may also be absent). Substances mixed according to the quality of the liquid or the specific marketing of the product.
Colin Mendelsohn
A recent article published in the Australian and New Zealand Journal of Public Health on how to manage tobacco dependence in Australia totally omitted any role for tobacco harm reduction. I wrote a letter to the editor arguing that THR should be included in the national approach. The letter was rejected.

Rejection was based on the comments of two reviewers who were clearly opposed to vaping and were not well informed. The arguments raised by the reviewers were not evidence-based. There were factual errors, unsubstantiated claims and selective use of data. The comments showed a lack of understanding of tobacco harm reduction.
---
Visit Nicotine Science & Policy for more News from around the World

---