Vapers Digest 26th April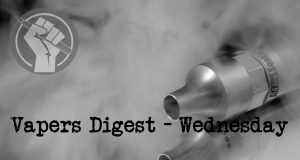 Wednesday's News at a glance:
Britain must stand up to the WHO on vaping to save millions of lives ~ The WHO meetings that never are or were ~ Clearing The Air For 30+ Million Smokers ~ Why is Australia's Health Minister misinformed about vaping? ~ EU TPD Consultation: Will the EU follow the Swedish model? ~ IBVTA Responds ~ Flavours Play Pivotal Role ~ New Brunswick Vape Shops Will Challenge Flavor Ban in Court ~ Vape shops to challenge flavour ban ~ FDA Commissioner Califf's Anti-Misinformation Campaign Must Start at Home ~ Tobacco industry's 'wellness' tactic: Ethical dilemma and solutions
Andrew Lewer MP, Mary Glindon MP
We all know someone who still smokes, and we have all felt their struggles as they battled to quit. It's not for lack of trying, nor "willpower". Smoking is a pernicious addiction that kills 75,000 people every year in the UK, with 6.6 million people – or more than 13 percent of the adult population – continuing the habit.

As Vice Chairs of the All-Party Parliamentary Group for Vaping in Westminster, we have both seen the benefits that vapes offer smokers, allowing them to move away from smoking-related diseases – and death – towards a less harmful alternative.
You may think this stinks like a week old fish. There is a WHO meeting taking place this week for three days which you will not have heard of. That's because you are not meant to. It is the intention of the WHO and FCTC Secretariat that the meeting takes place in secret and those present do not report its discussions. Ever.

Copwatch alerted readers to the Global Tobacco Regulators Forum (GTRF) last year. We described it as a "WHO meeting organised behind closed doors" which excludes key stakeholders including "sovereign nations who are signatories to the FCTC."
---
Matthew R. Holman, Forbes
We've come a long way in tackling smoking since the 1950s, an era when cigarettes used to be ubiquitous and, according to public health data estimates, over 1 in 5 American males smoked them regularly. Movie icons smoked on the big screen, people smoked in cars, and bosses smoked at the office. We were surrounded by ashtrays everywhere we went, from airplanes to taxi cabs, bars, and restaurants. Smoking was commonplace, but the health risks associated with cigarettes were—and continue to be—severe.
---
Dr. Colin Mendelsohn, ColinMendelsohn.com.au
WHO IS ADVISING AUSTRALIA'S HEALTH MINISTER Mark Butler on vaping? The Minister has been seriously misinformed about the benefits and risks of vaping, and its huge public health potential. His views are out-of-step with Health Ministers in New Zealand, the UK and Canada which have evidence-based policies on vaping.

His advisers appear to be a small group of ideologically-driven tobacco control academics and health bureaucrats with extreme anti-vaping views.
Smoke Free Sweden, smokefreesweden.org
The authors of a landmark report on reducing the death toll from tobacco are urging the European Commission to adopt the successful strategies of Sweden in their upcoming revision of the Tobacco Products Directive (TPD).

The report, titled "The Swedish Experience: A Roadmap to a Smoke-Free Society," highlights how Sweden is on the brink of becoming the first nation to achieve a smoke-free status, with less than 5% of its adult population smoking tobacco. This impressive milestone will be reached 17 years ahead of the EU target date of 2040, and it is attributed to the country's comprehensive approach to tobacco control, which includes embracing harm reduction strategies and promoting smoke-free alternatives.
---
Please consider checking out the four definitions of Harm Reduction according to the legendary @ethannadelmann , as well as the brilliant words by @isnaleiva , @ElMonoVapeador , and @jetsipha .
Complete video #Safer : https://t.co/wwcgFHbaph
Captions: English & Spanish pic.twitter.com/W1QdlJxnyx

— Jeffrey Zamora (@jeffzam8) April 22, 2023
---
Two from Dave Cross, Planet Of The Vapes
The Independent British Vape Trade Association (IBVTA) has responded to the Government's "swap to stop" scheme and its announcement to tackle illicit vapes and underage sales. The IBVTA says it is delighted by the announcement by Public Health Minister Neil O'Brien and welcomed the new task force and ring-fenced funding to tackle illegal vape sales.
"Flavoured devices play a pivotal role in helping adult smokers stop using cigarettes", says vape industry experts RELX International following rumours of a ban on certain flavours. The comments come following the government announcement to promote its 'swap to shop' initiative, with the vape brand pledging to support its further drive to tackle underage sales.
---

---
Jim McDonald, Vaping 360
A lawyer representing vape shops charged with selling flavored products in the Canadian province New Brunswick says he will mount a constitutional challenge to a 2021 provincial ban on flavored vapes.

Canadian federal and provincial laws must conform to Canada's Constitution, including its Charter of Rights and Freedoms, or are subject to challenge. The possibility of overturning Canadian flavor bans on human rights grounds has been proposed before, but has not been tested in court.
Don Macpherson, ftonindependent
A Fredericton-based vape retailer accused of violating a provincial ban on the sale of flavoured vaping liquids plans to challenge the constitutionality of that ban, its lawyer told a court recently.

East Coast Vape Inc., based in Fredericton, is charged with selling a vaping liquid with a noticeable flavour at its Oromocto location Dec. 12, in contravention of the Tobacco and Electronic Cigarette Sales Act.
---

---
Dr. Brad Rodu, Tobacco Truth
In a recent interview with CNBC, FDA Commissioner Dr. Robert Califf said that "misinformation" is driving down U.S. life expectancy, which is now three to five years lower than in other developed countries.  Dr. Califf said that combating misinformation is one of his top priorities, and he called for more regulation by "specific authorities at FDA, FTC and other areas to root out misinformation."

The Commissioner should put his own agency in order first.
A look back at how things have moved on or otherwise…
Alice Davies, Cancer Research UK
It's been a decade since e-cigarettes first gained popularity in the UK. Since then, the types of devices available and the number of people using them has risen sharply.

And as the popularity levels of e-cigarettes grew, so did the debate around them.
Lindsey Stroud
As lawmakers across the country seek to reduce youth tobacco and vapor product use, many have introduced and passed legislation that regulates, taxes, and in some cases, prohibits the sales of such products.

This analys
---
Visit Nicotine Science & Policy for more News from around the World

---