Vapers Digest 17th April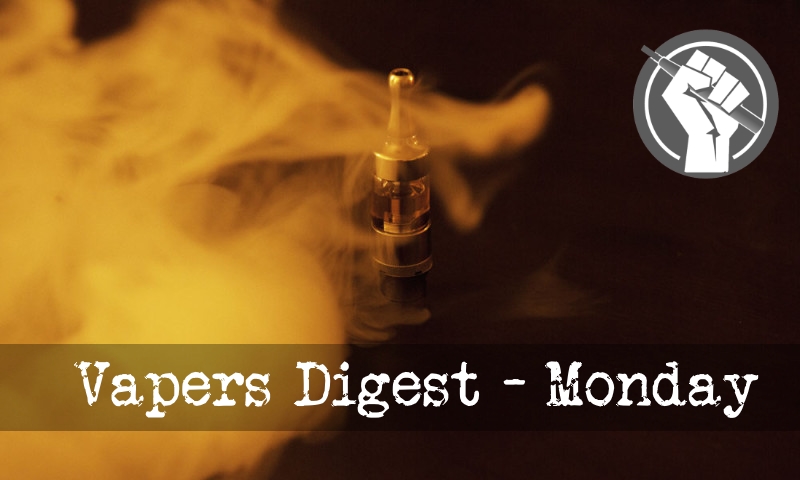 Monday's News at a glance:
Thirteen ways of looking at a blackbird – New GSTHR Briefing Paper – Is vaping safe or not? All you need to know about e-cigarettes – Why disposable vapes should not be banned – Curt Enzell: the tea-loving scientist – Youth Tobacco and Vapor Product Use – What Is the Congressional THR Caucus? – Situation Looks "Dire," Say Opponents – Swap To Stop' – Nicotine Science and Policy Daily Digest
Harry Shapiro
The title of this blog is the title of a famous poem by the American poet, Wallace Stevens. It has been quoted since to symbolise that there are many different perspectives on any number of societal issues – anything from the Trump indictment and conflicts in the Middle East to arguments about nuclear power and re-wilding. So there can be any number of 'truths', but when it comes to providing accurate public health information, this must be founded on evidence – not convenient versions of the 'truth' to align with moral preferences or vested interests.

Professor Lynn Kozlowski has written several papers on the human rights aspect of providing accurate public health information, arguing that people have a right-to-know so they can be equipped with agency over their own health.
Dave Cross
A new GSTHR Briefing Paper has been released that addresses the tobacco harm reduction potential of nicotine pouches. The Briefing Paper the latest in a series of Papers produced by the UK-based public health agency Knowledge·Action·Change (K·A·C) as part of its Global State of Tobacco Harm Reduction (GSTHR) project.

The Paper, "What are nicotine pouches?", provides an overview of the latest information about the scientific evidence, market data, regulatory landscape and tobacco harm potential for this relatively new safer nicotine product.
---

---
All you need to know about e-cigarettes – Nicola Davis
E-cigarettes are being promoted in England as part of the government's efforts to help people quit smoking tobacco at the same time as it cracks down on youth vaping. We take a look at why there are two very different campaigns on the devices.

What are e-cigarettes? There are a variety of e-cigarettes, or vapes, on sale in the UK but they generally work in a similar way: heating a liquid to produce a vapour that can then be inhaled. The liquid usually contains nicotine and chemicals including propylene glycol, vegetable glycerine and flavourings.
---
"Last month I wrote an article…

I was surprised at the level of vitriol and trolling from some anti-vaping campaigners on social media. If you have to resort to personal attacks, maybe your argument doesn't hold up as well as you might like."

Professor Nicole Lee https://t.co/xWDYnCkjlP

— Jukka Kelovuori (@jkelovuori) April 17, 2023
🔎🙋‍♀️
AVM has sent this letter to the managing editor at @statnews, @GideonGil, requesting corrections for the multiple errors and chicanery in @NicholasFlorko's article from late last week. pic.twitter.com/ro5F57bDl5

— American Vapor Manufacturers (@VaporAmerican) April 17, 2023
---
Simon Clark
The All Party Parliamentary Group on the Environment will today host a discussion about a possible ban on the sale of disposable or single-use vapes.

The event was first publicised two weeks ago. Chaired by Selaine Saxby MP, vice chair of the Environment APPG, three of the panellists – Libby Peake, Green Alliance; environmental campaigner Laura Young; and Caroline Johnson MP – have all called for a ban on disposable vapes.

Another panellist – the FT's Alexandra Heal – will likely be less partisan and more nuanced but here's how her colleague, Oliver Barnes, summarised, on Twitter, a feature they co-wrote in March:

Who spawned a snus revolution – Snusforumet
For the latest in our Harm Reduction Heroes series, we tell the story of Curt Enzell, the little-known Swedish scientist who had an outsize impact on snus and modern oral nicotine products. And it all started with his love of tea.

In 1967, readers of the Swedish newspaper Svenska Dagbladet were met with the following headline: "Experiment with snus in a 'tea bag'".

The accompanying text explained that Professor Curt Enzell had wrapped loose snus in tea bag paper and pitched the innovation to his employer, Swedish tobacco monopoly Tobaksbolaget – the company that eventually became Swedish Match.
Has Declined (Modestly) in Massachusetts – Lindsey Stroud
The Massachusetts Department of Public Health recently published the results from the Bay State's 2021 Massachusetts Youth Health Survey. The biennial survey "contains health status questions in addition to questions about risk behaviors and protective factors." There is great news for policymakers as youth vaping rates have significantly declined while youth use of traditional tobacco products such as cigarettes is at record lows.

In 2021, among Massachusetts middle school students, 4.4% reported having ever tried cigarette smoking and 10.1% had ever tried an e-cigarette product. Between 2019 and 2021, ever-use of combustible cigarettes decreased by 15.4% and ever-use of vapor products declined by 31.3%.
---

---
Jim McDonald
A congressional caucus dedicated to encouraging tobacco harm reduction is being formed with the backing of Philip Morris International (PMI). Congressional caucuses are informal groups that gather to pursue common legislative goals.

The existence of the caucus was first reported by Politico earlier this week, which noted that lobbyists had been hired in January by PMI to "lobby on tobacco harm reduction, FDA oversight and the creation of a harm reduction caucus." The lobbyists are former congressional staffers (one also worked at the Department of Health and Human Services) associated with health issues.
Say Opponents of Oregon Vape Flavor Ban – Ben Adlin
Oregon lawmakers are attempting to ban sales of flavored vaping and tobacco products in the name of reducing youth nicotine use. But the move would outlaw popular smoking-cessation tools, shutter small businesses and send at least some consumers to the illicit market.

To supporters of House Bill 3090, it's worth it.

"It's always better to prevent the problem than to solve it."

"I'm a believer in upstream," said Senator Elizabeth Steiner (D), a physician and one of the bill's four chief sponsors, during a first public hearing in March. Sidestepping criticisms that a ban would remove key alternatives to smoking, she argued that the state would be best served by trying to prevent nicotine use in the first place.

UK to Provide One Million Smokers Free Vape Starter Kits | RegWatch
In an astonishing announcement, the UK government released details of a new program to cut smoking rates in Britain dramatically. Dubbed 'Swap to Stop,' the initiative provides one million current smokers with free vaping starter kits and dedicated behavioral support in what is being called a "world-first."

Joining us today from England to talk through the new plan is Louise Ross, a clinical consultant at UK's National Centre for Smoking Cessation and Training, the business development manager for the Smoke Free app, and chair for the New Nicotine Alliance, a registered charity dedicated to promoting issues around tobacco harm reduction.

Will "Stop the Swap" finally silence anti-vaping campaigners? Find out!
---
A look back at how things have moved on or otherwise…
To quit smoking – Jamaica Observer
An increasing number of Jamaicans are turning to vape retail outlets across the island to curtail their smoking habit.

One such outlet, The Mez Vape & Smoke Shop, which has been in operation since 2013, has seen an influx of customers wishing to quit smoking by using this method.

The entity has locations in Kingston and Montego Bay and is operated by owner Ravn Rae who provides a host of offerings to her customers, including vaporisers, pipes, and other smoking merchandise. Rae prides herself on only selling "authentic, certified, quality-assured and proven products to buyers over the age of 18 years".
For Our Health & Our Planet – AHRA
The road to a healthier future for our people and our planet must be paved by three elements: compassion, collaboration, and pragmatism.

World Health Day is celebrated annually on 7 April, which was the founding date of the World Health Organisation (WHO) in 1948. Each year focuses on a specific health topic of concern to people all over the world. This year, global attention will be directed towards 'our planet, our health'1; "Are we able to reimagine a world where (…) economies are focused on health and well-being? Where cities are liveable and people have control over their health and the health of the planet?"
---
Visit Nicotine Science & Policy for more News from around the World

---