Vapers Digest 14th April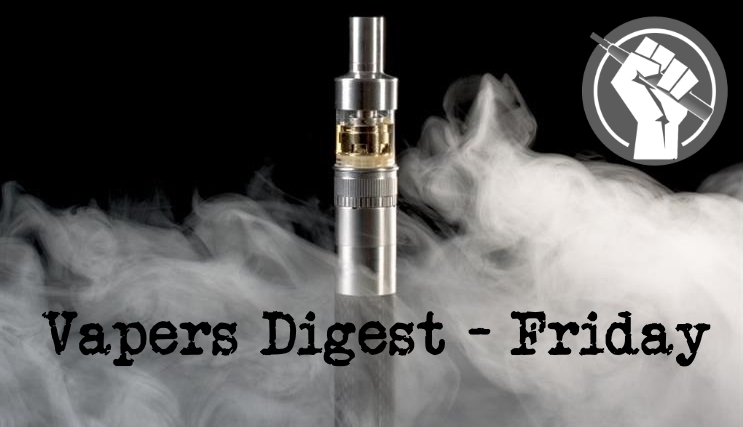 Friday's News at a glance:
E-cigarettes on the NHS – UK's World-First Plan to Give Vape Kits to a Million People Who Smoke – Juul Settles with Six More States for $462 Million – Youth Vaping Rates Declined More Significantly – Consumers Issued A Call To Action – Flavour Ban Rumours – WVA Applauds UK Government – Can we learn to love Big Tobacco? – Minn. proposed flavor tobacco ban faces opposition – E-cigarette attitudes and use in a sample of Australians aged 15–30 – All 'rational roads' lead to vaping being the 'better choice' – Lawmakers' best intentions – The Problem with Prohibition – Nicotine Science and Policy Daily Digest
Christopher Snowdon, Velvet Glove Iron Fist
The British government is going to start giving e-cigarettes to some smokers, particularly pregnant women. It is also going to start clamping down on underage sales.

I've been calling for the latter for some time. I've been sceptical of the former but I'm coming round to the idea. I still think that if you can afford to smoke, you can afford a disposable cigarette, but the biggest problem with e-cigarettes at the moment is that people think they are much more dangerous than they are. That has led to fewer smokers switching to them than would be the case if people were well informed.

As I wrote in a report for the IEA last year…
To a Million People Who Smoke – Kiran Sidhu
The United Kingdom will be offering free nicotine vape kits to one million people who smoke cigarettes. Nothing like this has ever been done on such a scale, and the move solidifies the UK's reputation as a world leader in tobacco harm reduction.

On April 11, a government press release stated that almost one in five people who smoke in England will be "provided with a vape starter kit alongside behavioral support," to encourage smoking cessation in a "world-first" national "swap to stop" scheme.
---

---
For $462 Million – Jim McDonald
Juul Labs has settled lawsuits with six states, including California and New York, for $462 million, leaving just five states that haven't agreed to terms with the vape manufacturer. The lawsuits contended that Juul intentionally marketed its nicotine-containing product to underage customers.

The settlement announced today included agreements with California, Colorado, Illinois, Massachusetts, New Mexico, New York, and the District of Columbia. On Monday, West Virginia Attorney General Patrick Morrisey announced his state had settled with Juul for $7.9 million.
---
So Cancer Research UK, the NZ Ministry of Health, and Health Canada all say that there has never been a case of popcorn lung from vaping.

How are people getting the idea that the opposite is the case? https://t.co/a1ylwSCLXR

— Phil (@phil_w888) April 13, 2023
We can do like England, namely give smokers an escape route to less dangerous intake of nicotine, says Karl Erik Lund (@LundKarl), senior researcher at FHI and an expert in drug research. https://t.co/BsC82TaJv6

— European Tobacco Harm Reduction Advocates (@europethra) April 14, 2023
---
More Significantly in States Without Flavor Bans – Lindsey Stroud
As the U.S. Food and Drug Administration (FDA) continues to delay authorizing flavored e-cigarette products, as well as mulling over a potential flavored cigar and cigarette ban, states have also sought to introduce bans on the sale of flavored tobacco and vapor products. Proponents of such policies point towards the so-called fake epidemic among youth vaping, even though vaping rates have significantly declined in the past few years. Moreover, there were greater declines in youth vaping rates among states that did not have flavor bans in place.

Massachusetts banned the sales of flavored tobacco and vapor products in 2020. Similar to national and other state data, youth vaping peaked in the Bay State in 2019 when 14.7% of middle schoolers and 51.1% of high schoolers reported ever trying a vapor product.

Three from Dave Cross, Planet of the Vapes:
Consumer charity The New Nicotine Alliance (NNA) has issued a call to action for UK vapers as the World Health Organisation (WHO) plans "a global assault on vaping". The charity says it is "calling on our supporters, consumers of reduced risk nicotine products, and others who understand the benefits of harm reduction to act on significant threats planned by the WHO later this year."

The NNA says the threats posed by WHO include:
Following rumours in the media about a government ban on vape flavours, a survey out today reveals that most (83%) vapers say flavours helped them quit smoking and 1 in 3 fear a ban would lead them back to cigarettes, which would equate to 1.5m people reverting to smoking.

One in three vapers fear a ban on flavoured devices and liquids will lead them back to cigarettes, which could see close to 1.5 million former smokers returning to their habit. This comes as Ministers are considering putting a stop to the sale of fruit and sweet-flavoured vapes, which are hugely popular among children.
---
With flavoured e-cigarettes potentially set to be banned in the UK and US, many are wondering whether lifestyle regulation is going too far.

In this Swift Half with Snowdon, IEA Head of Lifestyle Economics Christopher Snowdon talks to author and journalist Jacob Grier about free choice and creeping prohibition.
---
UK Health Minister Neil O'Brian announced the United Kingdom will further double down on backing vaping as a smoking cessation tool by encouraging one million smokers to swap cigarettes with free vape starter kits, provide financial incentives to pregnant women to quit smoking, and introduce mandatory information sheet inserts into cigarettes packs.

The World Vapers' Alliance, a global vaping consumer organisation, praised the UK government's commitment. These measures will strengthen the UK's position as one of the tobacco harm reduction champions worldwide, said Michael Landl, Director of the World Vapers' Alliance:
---

---
Marc Gunther
In Sweden, the popularity of snus, an oral tobacco product placed between the teeth and gums, has helped drive the percentage of adults who smoke down to six percent, lower than any other country in Europe. Sweden also has the lowest rate of tobacco-related mortality in the EU.

In Japan, cigarettes lost market share to newfangled electronic devices that heat tobacco to a high temperature but do not burn it. Sales of cigarettes declined by 9.5 percent a year during the mid-2010s, likely the most rapid reduction in smoking ever in a major market.
Providing Adult Smokers Less Harmful Alternatives to Cigarettes
According to a survey released today by Altria Group, Inc. (NYSE: MO), two-out-of-three Americans support tobacco harm reduction, an established public health strategy that supports transitioning adult smokers who can't or won't stop smoking to less risky tobacco products, over blanket prohibition as the better policy approach to tobacco regulation. The survey also shows that 82 percent think it is important for the FDA to focus on making smoke-free tobacco products available to adult smokers to help them switch from cigarettes.
Jack O'Connor
A bill banning the sale of flavored tobacco is leaving some tobacco shops and tobacco users with concerns.

Products like menthol cigarettes, flavored vapes and other flavored nicotine and tobacco products will be banned if the bill passes. The measure won't punish anyone owning flavored tobacco but would prohibit businesses from selling it.

While the sale of flavored tobacco is already banned or restricted in multiple cities and counties across Minnesota, this bill would prohibit the sale statewide. The bill was introduced on Feb. 27 but has not been passed by the House or the Senate yet.

In a sample of Australians aged 15–30 years
Colin P. Mendelsohn
The study by Pettigrew et al. provides much needed data on vaping and smoking among 1,006 young people aged 15-30 years in Australia. [1]

It is of concern that nearly half were either current (14%) or past (33%) users of e-cigarettes. Young people should not smoke or vape.

However, it is of note that only 8 of the 1,006 respondents were non-smokers who vaped at least once in the last month.
Exciting public health policy. Interview on Channel 9 Perth. 12April 2023
The UK will be providing 1 million smokers with a free vape kit and behavioural support to help them quit smoking. This is exciting, evidence-based health policy that will save lives.
Being the 'better choice' over tobacco
Sky News host Cory Bernardi says all rational roads lead to vaping being the "better choice" over tobacco as he pushes the government to regulate and tax it.

He said the government should use vaping to continue the campaign to "get people off tobacco".

"It's not the perfect solution, but then again, nothing in this world is," Mr Bernardi said.

"That doesn't mean we should let the perfect be the enemy of the good."
On vaping could cost lives – Marc Hyden
Lawmakers typically have a bias for action. When they perceive a social problem, they quickly draft legislation—however flawed—to try to address it. It's their job, but sometimes their cures are worse than the disease, which reminds me of a quote from Jurassic Park: "Some of the worst things imaginable have been done with the best intentions."

Fortunately, no Louisiana legislators are mulling an effort to bring extinct killer dinosaurs back to life, but a quick perusal of the new bill filings reveals a slew of problematic measures. One in particular jumps out—HB 179—which aims to ban the sale of most flavored e-cigarette products. While this may seem innocuous at first glance, it will spectacularly backfire if passed.
Allison Boughner
Overall, the problem with prohibition is that it often leads to unintended consequences that can be more harmful than the banned substance itself. It is important to consider alternative approaches, such as harm reduction strategies and education, to address the negative effects of substance use while minimizing harm.

Prohibition has been implemented in various forms throughout history. One of the most notable examples is the prohibition of alcohol in the United States from 1920 to 1933, known as the "Prohibition Era."
Harm reduction strategies: Dr. Peter Harper
There are estimated to be over 1.1 billion smokers today, of which more than 100 million are in India – more than any country in the world outside China. Smoking cessation policies and programs generally present smokers with two unpleasant options; quit or die. A third approach to tobacco harm reduction involves using alternative sources of nicotine, including modern smokeless tobacco products.

Is there a way to stop people from consuming tobacco, is there a way for them to overcome their addiction to smoking?
---
A look back at how things have moved on or otherwise….
Tobacco Reporter
Malaysia's longtime ban on the sale of vaping products is set to end, according to the Malaysian Organization of Vape Entities (MOVE).

Taking effect on Aug. 3, the regulation of vaping devices precedes the imminent legalization of vape sales. It follows years of campaigning by MOVE and other tobacco harm reduction supporters.
Dr Colin Mendelsohn
The first Australian real-world study of vaping nicotine has found that using e-cigarettes to quit increased the odds of success by 68%-124% compared to not using a vape.  The results suggest vaping may be more effective than NRT and other stop smoking medications.

The study published in the journal Addiction today, included 1,601 smokers in the 2019 National Drug Strategy Household Survey who had attempted to quit in the previous 12 months. Successful quitting was defined as self-reported abstinence of at least 4 weeks.
---
Visit Nicotine Science & Policy for more News from around the World

---