Vapers Digest 18th October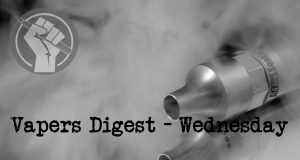 Wednesday's News at a glance:
Harry's blog 121: International tobacco control and the search for intelligent life ~ The WHO publishes anonymously-written papers designed to gaslight Parties at COP10 ~ 'Banning isn't the answer': Poll reveals Australians want better vape regulations ~ Richard Pruen – Of Safer Nicotine Wiki – Chats To Ecigclick!! ~ 11 things you can do to advocate vaping ~ European consumers urge Belgian presidency to prioritise harm reduction ~ Asia Harm Reduction Forum 2023: ~ UKVIA and ACS Respond to Government Plan ~ The IBVTA Welcomes The Government Consultation ~ EU: Anti-Vaping Bureaucrats Plot to Bypass Democracy ~ Netherlands: No Vapor Tax Before Elections ~ India can lead COP10 to a science backed policy for Tobacco Control
Harry Shapiro, Nicotine Science and Policy
KAC has published an updated version of our Briefing Paper on the Framework Convention on Tobacco Control's Conference of the Parties (FCTC COP) meeting due to take place in Panama in November. While a billion people still smoke, the WHO and allies deflect attention away from the failure of traditional tobacco control policies to put a significant dent in death and disease from smoking by instead attacking tobacco harm reduction.
LOREMIPSUMDOLOR, COPWatch
The one where COP delegates are invited to take opinions about vapes on trust

Copwatch has detailed many instances of the WHO and FCTC Secretariat playing fast and loose with evidence or cherry-picking research to suit its anti-harm reduction agenda. It is unscientific and shameful but nothing we have not seen before. But two new reports, on disposable vapes and nicotine pouches, have been published on a separate page to the main COP10 menu which seem specifically designed to mislead COP10 delegates based on nothing more than opinion.
---
Michelle, EcigClick
Welcome to another of my "THR Superstars" interviews!

This series is to recognise those who work hard to advocate for safer nicotine products and thank them for standing up for those of us who benefit from them!

This week I have been chatting to Richard Pruen who is the main man behind the excellent resource "Safer Nicotine Wiki". It is run as a Wiki where multiple people add information on safer nicotine alternatives.
---
Two From World Vapers' Alliance
How to Take Action When Public Health Ignores Scientific Evidence

When public health authorities or institutions appear to be ignoring scientific evidence or failing to address public health concerns adequately, it can be frustrating and challenging. Here are some steps you can consider taking to address this issue:
European members of the World Vapers' Alliance urge the Belgian government to address harm reduction as their health priority in the upcoming Council presidency term which starts on 1 January 2024.

Earlier today, Politico published a working program of the Belgian presidency that addresses its five health priorities, including resiliency of health and health systems, health equality, and healthy population among others. "Tobacco harm reduction should be the cornerstone of the EU health priorities as smoking is still the number one preventable cause of deaths in the EU," says Michael Landl, director of the World Vapers' Alliance.
---
Three From Dave Cross, Planet Of The Vapes
The Asia Harm Reduction Forum (AHRF) will take place 19 October 2023 at The Manila Hotel in the Philippines. As a non-profit and interdisciplinary organisation, AHRF is dedicated to advancing public health education for the improvement of lives and environments across the globe.
The UK Vaping Industry Association (UKVIA) and the Association of Convenience Stores (ACS) have responded to the Government announcement of 8-week consultation on vaping in the UK. While the UKVIA welcomes some of Rishi Sunak's proposals, it warns that enforcement should be the priority – not new legislation. The ACS agrees that the key issue is the enforcement of current regulations.
The Independent British Vape Trade Association has welcomed the Government's new consultation. The consultation comes off the back of the Prime Minister's announcement at the Conservative Party Conference earlier this month, that smoking is to be phased out as the UK moves towards its ambition to be smoke free by 2030. The IBVTA sees this as being an opportunity to help shape the future of the industry.
---

---
Jim McDonald, Vaping 360
European Union bureaucrats intend to bypass the EU's regular democratic process to support mandated laws in EU countries that could restrict or ban vapes and other low-risk nicotine products. If they succeed, they could force EU member countries to adopt the harsh anti-consumer laws favored by the World Health Organization (WHO) and anti-nicotine organizations funded by Bloomberg Philanthropies.
---

---
---
Visit Nicotine Science & Policy for more News from around the World

---