Vapers Digest 20th October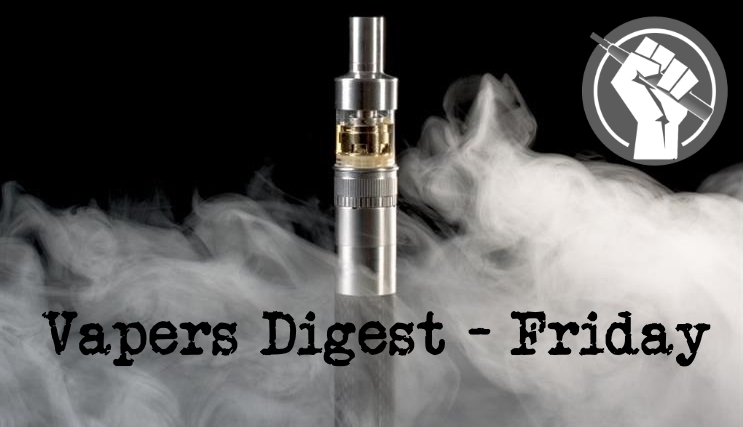 Friday's News at a glance:
70,000 American Vapers Attest that sweeter Ecig flavours help to quit – Effect of unguided e-cigarette provision – Parents for Vapes? – GSTHR Raises Alarm On FCTC COP10 Decisions – New GSTHR Briefing Paper on COP10 – WHO Told To Modernise Strategy – UKVIA's Sustainable Vaping Week – Parliament – UK Vaping Rules and Smokefree Generation: – NJOY/Altria Asks Court to Stop Sales – R.J. Reynolds Asks ITC to Ban Disposable Vape Imports – Harm Reduction in Sweden – Capitalism vs. nicotine – Tobacco purchases rise following restrictions – What could the future hold for a smoke-free UK? – PMI accelerates smoke-free growth – Harm Reduction Should Guide Regulation – Those that Vape in Ontario are Worried –
That sweeter Ecig flavours help to quit – CoEHAR
The question of which flavors can help smokers quit represents a central issue in the scientific and political debate on nicotine-releasing electronic devices. In many cases, widespread commercialization is hindered by the fear that these devices may serve as an incentive for young people to try e-cigarettes and, consequently, initiate them to traditional smoking. To date, the availability of flavors on the market, which were over 7,700 according to a 2014 analysis, raises questions about the behavioral patterns of smokers approaching electronic cigarettes.

An assessment that could provide additional decision-making tools for policymakers, especially to avoid excessive concern directed at specific population groups, which could reduce the chances of success for those struggling to quit smoking.
On uptake, use, and smoking cessation among adults who smoke in the USA
Riccardo Polosa, Pasquale Caponnetto
The large, randomized, quasi-naturalistic study by Carpenter et al. [1] holds significant importance. Not only does it support the notion that e-cigarettes may contribute to cigarette reduction or cessation, as demonstrated in numerous other publications [2], but it does so in a real-world context.

A key finding of this research is that smokers spontaneously ceased smoking even when they had no intention of quitting. This finding aligns with earlier work that revealed accidental cessation and complete substitution of cigarettes with e-cigarettes among smokers who initially expressed no desire to quit [3]. Importantly, these participants received no encouragement, motivation, or rewards for their smoking cessation efforts during the trial [3].
---

---
Why Some Are Buying Them for Their Teens – Kiran Sidhu
Outcry over youth vaping continues to drive headlines and policies around the world, fueled in part by parents who have formed prominent anti-vaping groups—like Parents Against Vaping e-cigarettes (PAVe) from New York City, and Mothers Against Vaping in India.

Tobacco harm reductionists lament how this youth-vaping narrative erases the needs of adults who switch from cigarettes to vapes. And while vaping is not entirely risk-free, some dispute the contention that youth vaping causes net harms at a population level. But parents who portray their children as under threat have always been powerful advocates.
---
---
CAPHRA
The Global State of Tobacco Harm Reduction (GSTHR) has released a new briefing paper, which should be alarming to the New Zealand Government delegation about to head off to the WHO's Framework Convention on Tobacco Control COP10 meeting in Panama.

"These Government officials need to be aware of the potential negative implications of their support of decisions taken at the FCTC COP10 on the future of safer nicotine products," said Nancy Loucas, a public health policy expert and passionate advocate for tobacco harm reduction and executive coordinator of CAPHRA.

Four from Dave Cross, Planet of the Vapes:
A new GSTHR Briefing Paper analyses the FCTC COP10 Agenda and meeting documents, identifying concerning implications for tobacco harm reduction. The 10th session of the Conference of the Parties (COP10) to the WHO Framework Convention on Tobacco Control (FCTC) is taking place in late November in Panama. Decisions taken at these biennial meetings of nations that are signatories to the WHO FCTC ('Parties') influence how tobacco control policies are implemented at a national level.

A new Briefing Paper launched by the Global State of Tobacco Harm Reduction (GSTHR), a Knowledge·Action·Change project, provides an analysis of the meeting's provisional Agenda and publicly available papers (as of late September 2023).
Quit For Good, a non-profit organisation promoting harm reduction in the Philippines, said strategies that provide smokers with less harmful alternatives to cigarettes are far more likely to reduce smoking than the World Health Organization's Framework Convention on Tobacco Control (FCTC) recommendations to prohibit them while cigarettes remain widely available.

"To remain at the forefront of adopting effective strategies to reduce smoking, countries that have experience regulating these new products, including the Philippines, must continue to advocate at the global stage for science to guide policy response, not vice versa," Dr Lorenzo Mata, president of Quit For Good, said in a recent global forum.
The UK Vaping Industry Association (UKVIA) says it is taking the lead on vape recycling education as its Sustainable Vaping Week is rolled out. It has officially launched its Sustainable Vaping Week – a first-of-its-kind campaign which encourages consumers to recycle their vapes and the sector to be more environmentally responsible.

The initiative follows new research from Material Focus which found five million single-use vapes are thrown away every week in the UK and comes as the vape sector faces increasing scrutiny for its impact on the planet.
With the push to limit vaping freedoms well underway, questions are still being asked in Parliament. Helen Hayes was interested in packaging processes, Kirsten Oswald was all about the numbers and Margaret Greenwood worried about costs to the NHS. Meanwhile, at the Labour Party Conference, Wes Streeting offered words of encouragement to vapers and the industry – but, in Wales, Mark Drakeford advertised his ignorance by claiming there isn't good evidence to show vapes help smokers quit and wants prescription-only vapes.
---

---
Three from Jim McDonald, Vaping 360:
The Conservative Party UK government is also proposing so-far undefined restrictions on vaping products, specifically noting the government is "considering new legislation to regulate the flavours of vapes and their descriptions" to reduce adolescent vape use. (Note that the government policy document consistently uses the term "children" to describe teenagers—probably a red flag.)

The government seems determined to take some action on flavors, although they aren't giving it away in their policy document, which acknowledges that flavored vapes are also preferred by adults and improve smoking cessation outcomes.
Altria vape subsidiary NJOY today filed a federal lawsuit against 34 manufacturers, distributors and retailers of disposable vapes, which NJOY says are sold unlawfully in California and elsewhere.

The brands targeted in the lawsuit are Breeze, Elf Bar, Esco Bar, Flum, Juice Box, Lava Plus, Loon, Lost Mary, Mr. Fog and Puff Bar. The lawsuit, filed in the U.S. District Court for the Central District of California, asks for a nationwide injunction that would prevent the import and sale of the named disposable vapes, and compensatory and punitive damages paid to NJOY.
Tobacco industry giant R.J. Reynolds has filed a U.S. International Trade Commission (ITC) complaint, charging multiple manufacturers, distributors and retailers of the most popular disposable vapes with unfair imports. The action follows other Reynolds efforts this year to stem the tide of disposable vapes that compete with its Vuse products.

The ITC has not yet taken action on the complaint. Vaping360 has obtained a copy of the document, which was filed Oct. 13.
---
With Tobias Andersson | Vaping Unplugged Podcast Ep.26
Sweden has long been recognized as a champion in tobacco harm reduction, thanks to innovative approaches like vaping and snus products. Sweden's success in reducing tobacco-related harm serves as an exemplary model for other nations. Join us as we learn from Tobias Andersson and gain a deeper understanding of how Sweden is leading the way in tobacco harm reduction through vaping and snus products.

Tobias Andersson, a prominent figure in Swedish, has been a Member of the Riksdag since September 2018. He brings a wealth of knowledge and expertise to our discussion on harm reduction – exploring policies, initiatives, and strategies aimed at minimizing the negative consequences of smoking.
---
No real winner in this debate – Chea Waters Evans
I don't drink vodka straight up. This is because I don't find the flavor that pleasant on its own. Throw in some olive juice, vermouth and an olive or three, and I'm delighted; a martini tastes good.

Sometimes, too, on a summer day when I'm mowing the lawn and working on my tan and age spots, I'll have one of those cocktails in a can, or a High Noon, or some other fruity alcohol item. These are also delicious. They're also not for children, or teenagers, or anyone under 21. And I'd be sad if they were against the law.

I don't vape nicotine, but I imagine it doesn't taste very good. I bet the fruit-flavored and menthol ones taste a lot better.
Following restrictions on e-cigarette sales – Jenny Blair
The immense popularity of electronic cigarettes, or e-cigarettes, among young people has led many policymakers to restrict the sale of flavored varieties. But rather than nudging people away from "vapes," as these e-cigarettes are called, such measures could backfire by driving users to instead buy conventional cigarettes, a much more dangerous product, according to researchers at the Yale School of Public Health (YSPH).

In a large-scale, long-term analysis of policies and sales data, the researchers found that for every 0.7 milliliters of "e-liquid" (the consumable content inside e-cigarettes, also known as vape juice) that goes unsold due to flavor restrictions, 15 additional traditional cigarettes are sold.
May increase cigarette sales, study finds
In a large-scale, long-term analysis of policies and sales data, the researchers found that for every 0.7 milliliters of "e-liquid" (the consumable content inside e-cigarettes, also known as vape juice) that goes unsold due to flavor restrictions, 15 additional traditional cigarettes are sold. The substitution was especially evident among cigarette brands popular with young people aged 20 and under, suggesting that flavor restrictions may increase smoking among youth as well as adults.

The results suggest that this type of policy, which is intended to curb nicotine-related harms, may instead magnify them.

For a smoke-free UK with tighter vaping restrictions?
Prediction is a dangerous thing, but perhaps being caught wrong-footed is worse. And in the case of the British government's new raft of proposals on regulating tobacco products, it's possible to make some tentative predictions merely from the questions being asked in a current consultation.

This covers, in essence, two completely different ideas. First, there's the plan to create a smoke-free generation by making it illegal to sell tobacco products to anyone born on or after 1st January 2009. This would include heated tobacco but not vapour products, which – it's now clear – have been explicitly excluded from the proposal.
Strong sales momentum behind Philip Morris International (PMI)'s Zyn nicotine pouches in the US helped drive the company's growth in the third quarter.

Zyn US sales volume was up nearly 66% on the same quarter a year earlier, and PMI has now slightly raised its expectations on full-year global shipment volume.

During the third quarter, the company also relaunched Zyn in Switzerland and, following positive regulatory developments, rolled it out in Finland. It also expects to introduce Zyn in the Philippines soon.
Joseph Magero
Nairobi, 19th October 2023… Stakeholders in the health sector have been challenged to consider harm reduction as a key guide in driving public health strategies in Africa.

Harm reduction refers to interventions aimed at reducing the negative effects of health behaviours without necessarily extinguishing the problematic health behaviours entirely or permanently.

Speaking during the third annual Harm Reduction Exchange themed: 'Amplifying the voice of Harm Reduction advocacy across Africa', the president of the African Medical Association and the Association of Medical Councils of Africa Dr. Kgosi Letlape challenged African governments to adopt harm reduction approaches when regulating public health challenges.
Rights 4 Vapers
It has been too long since we last spoke about vaping. I suspect that this is partly because my time has been taken up fighting other battles in the vaping world over the last few years. The vaping regulations that you enacted in Ontario have been working. I thank you for that.

I also want to share it is because of you and your late brother Rob that I can fight for fair regulations. The two of you were the first politicians to listen and keep your promise. It is because of the two positive experiences in 2014 with Rob, and 2018 with yourself, that I have been able to ensure legal access to Tobacco Harm Reduction in Canada. Sadly, many provincial leaders do not hold the same integrity as the Fords, in my opinion.
An open forum at COP10 to have an effective global tobacco policy
Professor Tikki Pangestu, former director, research policy & cooperation, World Health Organization (WHO) has shared his views on how nicotine alternatives could be helpful in reducing tobacco induced harm. Sharing parallels of policy stance in his home country, Indonesia, with other countries who have regulated these alternatives & witnessed a significant fall in the smoking rates. Further, Prof Pangestu called for an open discussion at COP10 to develop an effective tobacco control policy for the world. The use of alternative tobacco products is becoming increasingly well-known in Indonesia.
---
A look back at how things have moved on or otherwise….
Martin Cullip – Snusforumet
In this instalment of our Harm Reduction Heroes series, Snusforumet talks to consumer advocate and former New Nicotine Alliance chair Martin Cullip about his participation in the grassroots movement that forced the UK government to see the harm reduction potential of e-cigarettes.

Over the last decade, Martin Cullip has made a name for himself as a prolific writer and blogger on free market and lifestyle consumer issues. He's also a particularly passionate advocate for all forms of tobacco harm reduction, with a keen interest in the rapidly-evolving nicotine market and the politics surrounding it.
By Lambeth council – Robert Firth
Pregnant mums will be handed free vapes by a council to stop them spending money on cigarettes.

Lambeth council estimates the scheme will save parents £2,000 a year – money they would otherwise squander on tobacco.

Smokers who are pregnant or care for young kids will be handed electronic cigarette products, as part of the council's stop smoking service.

Officials at the Labour-run council hope the plan will improve people's health and help them with the rocketing cost of living.
---
Visit Nicotine Science & Policy for more News from around the World

---