Vapers Digest 21st October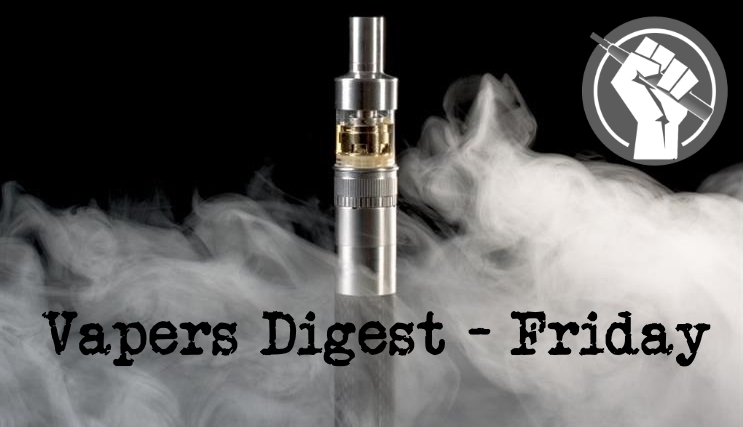 Friday's News at a glance:
Defending nicotine against the 'nanny state' – Pregnant mums to be given free vapes – FDA Targets Small Vape Companies – Clandestine Actors From China – Remarks for Reagan-Udall Foundation – The Role of Tobacco Harm Reduction – Pouch Study Underway – Environmental Impact of Disposables – Indian Docs Debate Ban – Physicist Slams Dutch Proposals – The Top Five Compliance Pitfalls – e-Cigarette Summit 2022 – Clive Bates on FDA, EVALI & Youth Vaping Stats – Korean Trade Group Sues Government – Statewide Flavored E-Cigarette Bans – Cancer Council NSW untruthful – Regulation can solve Australia's broken vape laws – Vapers Agree With ASH – Growing Case In Favour Of Safer Alternatives – Role of Nicotine in Public Health – Population-level counterfactual trend modelling
Martin Cullip – Snusforumet
In this instalment of our Harm Reduction Heroes series, Snusforumet talks to consumer advocate and former New Nicotine Alliance chair Martin Cullip about his participation in the grassroots movement that forced the UK government to see the harm reduction potential of e-cigarettes.

Over the last decade, Martin Cullip has made a name for himself as a prolific writer and blogger on free market and lifestyle consumer issues. He's also a particularly passionate advocate for all forms of tobacco harm reduction, with a keen interest in the rapidly-evolving nicotine market and the politics surrounding it.
By Lambeth council – Robert Firth
Pregnant mums will be handed free vapes by a council to stop them spending money on cigarettes.

Lambeth council estimates the scheme will save parents £2,000 a year – money they would otherwise squander on tobacco.

Smokers who are pregnant or care for young kids will be handed electronic cigarette products, as part of the council's stop smoking service.

Officials at the Labour-run council hope the plan will improve people's health and help them with the rocketing cost of living.
---

---
Are Profiting from FDA's Regulations – Lindsey Stroud
Many argue that the Food and Drug Administration's regulation of novel tobacco products, particularly electronic cigarettes, is failing. Most of the FDA's critics point to the so-called youth vaping epidemic even though youth vaping has dramatically declined.

The FDA is undoubtedly a problem, but a much more pernicious problem is increasing: counterfeit vapor products manufactured in Chinese factories with absolutely zero regulatory oversight and no accountability. And this market will only increase as the FDA and states move to push a nearly 2-decade-old market completely underground.
With Permanent Injunctions – Alex Norcia
On October 18, the Food and Drug Administration (FDA) and the Department of Justice (DOJ) announced that they had filed for permanent injunctions against six small vape manufacturers in the United States.

Those companies include E-Cig Crib in Minnesota, Soul Vapor in West Virginia, Vapor Craft in Georgia, Super Vape'z in Washington, Lucky's Vape & Smoke Shop in Kansas and Butt Out in Arizona. None of them, according to the FDA, submitted premarket tobacco product applications (PMTAs)—an expensive and labor-intensive process that required vape producers to show their products would be more likely to help adults switch from cigarettes to safer alternatives than introduce a new generation to nicotine.
---
---
Amanda Wheeler – AVM
My name is Amanda Wheeler and I'm the president of American Vapor Manufacturers, a trade association I co-founded because independent vape businesses are so absurdly overmatched in trying to navigate FDA's labyrinth on their own. So when I speak here about the catastrophe of FDA's approach to vaping regulations, I do so as a small business owner, an entrepreneur and working mom, a cancer survivor and former smoker who quit thanks entirely to nicotine vaping. I am also the representative of thousands of small businesses just like mine that are helping millions of Americans to take charge of their own health destiny.
In Addressing Tobacco Use Disparities – Pritika C. Kumar
Recent policy and regulatory announcements from the U.S. Food and Drug Administration on tobacco control—including the ban on menthol cigarettes, approval of very low nicotine cigarettes (including menthol flavor) and the on-again-off-again ban on a major e-cigarette brand—have confused many as to how the United States is addressing the harms from combustible tobacco use.

Tobacco dependence is a chronic disease. Disproportionally higher smoking rates exist in marginalized groups such as people who identify as lesbian, gay, bisexual, transgender and queer (LGBTQ+); racial and ethnic minorities; people living in rural areas; and people with HIV/AIDS, to name a few.

Six from Dave Cross, Planet of the Vapes:

British American Tobacco (BAT) has conducted an innovative cross-sectional clinical study of Velo, which is designed to provide new insights into the real-world health impact of its modern oral nicotine pouch product compared to smoking. Protocol details explaining the design have been published in the journal JMIR Research Protocols.

The study evaluates exposure to certain toxicants and early indicators associated with smoking-related disease in people who have been exclusively using Velo for over six months and compares them with groups of smokers, former smokers, and never-smokers.
Tony Harwood, a Kent-based environmentalist, has launched an attack on disposable vapes. He has highlighted that irresponsible disposal of disposables has led to an increase in pollution that effects rivers and animals. He also pointed out that by not recycling the products, users are wasting rare and valuable resources too.

At the beginning of the year, Andrej Kuttruf, CEO of vape company Evapo, spoke about how the company engages with a carbon offset scheme that involves planting a tree for every four disposables sold. Also, Evapo encourages regular customers to switch up to vape products with a reduced environmental impact. Welcome moves, but what about the actions of consumers?
India's best-known doctors have debated tobacco harm reduction on the third anniversary of the e-cigarette ban during an online event. Policy Circle is one of the leading multimedia platforms for in-depth discussions on economy, policy and governance. It hosted a roundtable on 'Tobacco Harm Reduction – Risks and Benefits' to mark three years to India's ban on Electronic Nicotine Delivery Systems (ENDS).

The roundtable was in continuation of the earlier discussions where experts such as parliamentarians, lawmakers, eminent doctors, and policymakers deliberated on India's tobacco policy and highlighted the need of harm reduction. Three years after the ban, the market is flooded with illegal products.
Professor Roberto Sussman has launched a stinging attack on Netherlands legislators for their proposals to restrict access to the full range of vape opportunities. The senior researcher at the Institute of Nuclear Sciences at National Autonomous University of Mexico has written to them so that they can benefit from his expertise.

Professor Roberto Sussman is an ex-smoker and has been vaping for 6 years. He has peer reviewed publications on the physical properties of aerosol emissions of e-cigarettes.
Compliance experts Arcus have drawn up a list of the five most common ways in which vaping products can fall short of regulators' requirements. It provides wholesalers and retailers, especially convenience stores and supermarket chains, with a useful checklist they can use to challenge producers before agreeing to stock their products.

Arcus Compliance was established in 2017 to help clients implement best-practice compliance. The company develops robust processes to support customers' regulatory compliance and product stewardship while providing ongoing advice and education through online content.
Organisers of the E-Cigarette Summit are delighted to announce that the 10th anniversary edition will take place at the Royal College of Physicians (RCP) in London on the 9th December, 2022. The opening keynote speech will be delivered by Dr Sanjay Agrawal, Chair of the RCP's Tobacco Special Advisory Group. Organisers say that he will be joined by an unrivalled line up of leading global experts.

The E-Cigarette Summit has gained an unrivalled reputation as a neutral meeting point for scientists, regulators, industry, public health and practitioners to explore the latest research on e-cigarettes and facilitate respectful debate on what remain highly controversial issues. The aim will always be to ensure that disparate views can be explored in context of a common aim, which is to reduce smoking related death and disease.
---

---
Clive Bates on FDA, EVALI & Youth Vaping Stats | RegWatch
The War on Vaping continues unabated, as the U.S. Centers for Disease Control states in a group call with anti-vaping lobbyists that the teen vaping "epidemic" is NOT over.
And the FDA digs in, refusing to set the record straight with the American public over the perceived risks and harms of vaping.

Regulators and government have created a "chaotic hot mess" in the U.S., says Clive Bates, tobacco control policy expert and former Director of Action on Smoking and Health (UK), in today's episode of RegWatch. Hear Bates break down the 2022 NYTS youth vaping stats, his call for the CDC to stop its dishonest spin of youth vaping data, and his assessment of the FDA's failed "authorization regime."
Have Led to Increases in Young Adult Smoking – Lindsey Stroud
Massachusetts, New Jersey, New York, and Rhode Island are the only states that ban the sale of flavored e-cigarette products. Citing the then-so called "youth vaping epidemic," lawmakers were quick to ban flavors in these tobacco harm reduction products, purporting that flavors were only meant to attract youth.

The actions of those four states are based on hysteria, not science. There is a plethora of evidence from foreign government public health agencies that finds vaping to be significantly less harmful than combustible cigarettes. Numerous studies have also found that flavors in these products both help adults transition away from combustible cigarettes, as well as assisting them in maintaining cessation.
For Vaping Misinformation – Jim McDonald
A South Korean vaping industry organization is suing two government agencies for spreading misinformation about nicotine vaping that it says caused financial distress for many of its members. The group wants the government to correct the record.

The Korea Electronic Cigarette Association (KECA), which represents about 4,000 vape product retailers, alleges that the Republic of Korea's Ministry of Health and Welfare (MOHW) and Korea Disease Control and Prevention Agency (KDCA) damaged the reputation of small vape businesses and caused them great financial harm.

Dr Colin Mendelsohn
CANCER COUNCIL NSW is misleading the public with its latest advice for parents on vaping: 5 Things Parents Should Know about Vaping. The alarmist information contains numerous unsubstantiated, false and misleading claims.

The public expects accurate and evidence-based information from the Cancer Council. Young people should not vape or smoke, but exaggerating the risks of vaping will lead to more people smoking and undermine public confidence in the charity. This blog addresses four of the more egregious claims in the latest document.
Tom Oakley-Newell
The Victorian Government is facing a renewed call to overhaul its vaping laws following news that 75 per cent of vapes are purchased through illegal channels.

In February this year, the Australian Association of Convenience Stores (AACS) recommended the Victorian Government introduce a retail licensing scheme, strengthen investigation and enforcement powers, and increase penalties to crack down on illicit tobacco and vaping products.
Flavour Limits Are Flawed – AVCA
"New Zealand's leading anti-smoking lobby, ASH, is 100% right in its assessment that limiting vaping flavours in general retail is flawed. This now needs to be fixed as unintended consequences are not helping youth vaping nor Smokefree Aotearoa 2025," says Nancy Loucas, co-founder of Aotearoa Vapers Community Advocacy (AVCA).

The Tobacco Harm Reduction advocate's comments follow a submission by ASH (Action for Smokefree 2025) to Parliament's Health Select Committee on the Smokefree Environments and Regulated Products (Smoked Tobacco) Amendment Bill.
FIERCE RESISTANCE | Is Harm Reduction a Winning Argument for Vaping?
Of Safer Alternatives To Smoking – Joseph Magero
Science should logically trump suspicion, superstition and downright stubbornness when it comes to policymaking.

In terms of scale, that most certainly applies to actions aimed at reducing smoking-related disease, which currently kills 8,100 Kenyans every year.

So we must hope that our policymakers are fully digesting a new international scientific study, which yet again reinforces the life-saving potential of alternative nicotine products as part of a smoker's quitting 'journey'.
Muzammil Ferozi
There is clear evidence that smokers of any age can reap significant health benefits from quitting smoking. Surveys show that most smokers want to quit while many have even made multiple attempts to quit. However, traditional smoking cessation methods require smokers to completely abstain from tobacco and nicotine, which can be a difficult task for many, if not most, smokers, who try to quit cold turkey due to increased chances of relapse. As a result, people continue to smoke despite the impending adverse health effects.
Modelling to examine the relationship between smoking prevalence and e-cigarette use among US adults
Floe Foxon, Arielle Selya, Joe Gitchell & Saul Shiffman
Studies have suggested that some US adult smokers are switching away from smoking to e-cigarette use. Nationally representative data may reflect such changes in smoking by assessing trends in cigarette and e-cigarette prevalence. The objective of this study is to assess whether and how much smoking prevalence differs from expectations since the introduction of e-cigarettes.
---
A look back at how things have moved on or otherwise….
The Daily Blog
A significant round-the-clock global broadcasting event, featuring world-leading Tobacco Harm Reduction (THR) experts and consumer advocates for safer nicotine products, has been announced.

Vowing they won't be silenced, event organisers will broadcast during the length of a key World Health Organization (WHO) conference on tobacco control.
European Tobacco Harm Reduction Advocates, ETHRA
ETHRA and partners have today, Tuesday 19 October, written to the Heads of Delegation of the European Parties to the Framework Convention on Tobacco Control (FCTC), in advance of the 9th Conference of the Parties (COP9).  We are calling on delegates to urge the WHO to modernise its approach to tobacco policy, and to include tobacco harm reduction in the FCTC.  We attached the recent expert letter, signed by 100 specialists in nicotine science, policy and practice, which calls on the Parties to the FCTC to take a positive stance on tobacco harm reduction.  Read our letter to delegates below.
---
Visit Nicotine Science & Policy for more News from around the World

---