Vapers Digest 14th July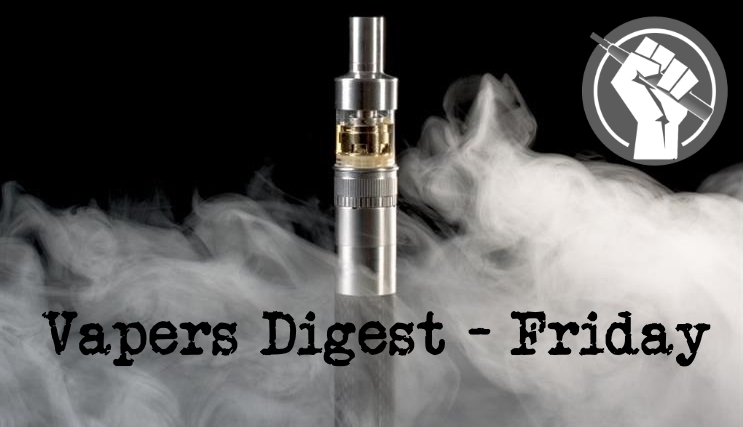 Friday's News at a glance:
More Good News From the 2022 NHIS – E-cigarettes and the Comparative Politics of Harm Reduction – Time Short to Stop the WHO's Assault on THR – One Step Forward, Two Steps Back – It's Time to Change the Way We Look at Youth Vaping – New President of ARDT Iberoamérica Speaks – Swedish Agency Wants Stronger Regs – Trading Standards Are "Thinly Spread" – Experts Dispute Gateway Claim – UKVIA's Commissioner Response – FDA's Disposable Vape Crackdown – Is it time to remove the 'cigarette' from 'e-cigarette'? – Tumors, Polosa (CoEhar) – Stop Lying About Vaping – FDA Flavor Bans Create a Dangerous Black Market – Orchestrated Campaign Tying Fentanyl to Nicotine Vapes – Researchers receive $3.9 million grant – Nicotine Policy separate from Tobacco Control Policy
But You Won't Hear It from U.S. Health Authorities – Brad Rodu
Following on my post last week discussing dramatic improvement in vaping and smoking rates from the 2022 National Health Interview Survey (NHIS), today I present additional positive news from that survey.

The CDC last year counted 14.9 million current vapers, representing a 64% increase in just two years.  Importantly, 6.1 million vapers, or 41%, are former smokers.  This is the fourth NHIS survey in a row with 40+% of vapers having stepped away from the fire.  Can we prove that all of them used vapes to quit?  Of course not, but former means smoke-free, and it doesn't matter how they quit, or how they stay that way.
Of Harm Reduction: History, Evidence and Policy – Hannah Farrimond
Why can't public health agree on what to do about e-cigarettes? This book aims to answer that conundrum. More specifically, why have entirely divergent regimes of public health control emerged in the US, UK, and Australia? In an era of shrinking resources, this controversy wastes time, energy and confuses the public. So why is a scientific and policy consensus on vaping so elusive?

The editors, Virginia Berridge (UK), Wayne Hall (Australia), and Ronald Bayer and Amy Fairchild (US) have come together to offer us answers. The collective starting point is that policy cannot be about evidence per se; the same set of evidence has produced startlingly different regulatory regimes. Rather, we must look for clues within the histories and values of tobacco control in each country to understand how such schisms have arisen.
---

---
On Tobacco Harm Reduction – Martin Cullip
You may not have heard it, but the final lap bell has been rung in the race to inflict maximum damage on tobacco harm reduction at a World Health Organization (WHO) meeting later this year. From here on in, it's a sprint to the finish. If the WHO is successful, public health worldwide will be the loser.

At the end of November, Panama City will host the 10th Session of the Conference of the Parties (COP10) to the WHO Framework Convention on Tobacco Control (FCTC).
Joseph Hart
Sweden looks set to reach the near-mythical smoking prevalence rate of 5% this year. But as ever, meddling EU bureaucrats seem determined to undo all that excellent work with questionable policies like a high nicotine pouch tax and a flavour ban.

As reported by the Financial Times last year, the European Commission plans to make changes to the 2011 tobacco taxation directive. These plans include raising taxes on cigarettes, vapes, heated tobacco, and nicotine pouches.

While this is an EU-wide issue, it's worth looking at in the Swedish context. When Sweden joined the EU, Snus was not part of the discussions. Oral tobacco was illegal in Europe, so it was agreed that EU regulations would not affect the popular cigarette alternative product. However, nicotine pouches are not outside the regulator's glare.
---
Experts advise an urgent review of @Mark_Butler_MP's proposed #vaping reforms which are likely to make things worse
Instead sensible adult-only consumer regulation is needed to provide legal access for adult smokers and to reduce access to #vapes by young people

My OpEd in… pic.twitter.com/G0H5FADax8

— Dr Colin Mendelsohn (@ColinMendelsohn) July 12, 2023
---
We Look at Youth Vaping – Colin Mendelsohn
Underage vaping continues to dominate discourse and drive public policy. Daily, alarmist media headlines feed the anxieties of parents, teachers and public health officials and have created a full-blown moral panic. However, the fear of youth vaping greatly exceeds the objective threat it poses—and benefits are almost universally overlooked.

In fact, vaping may be beneficial overall to young people.

That statement will undoubtedly spark angry reactions. I hasten to add that in an ideal world, it is generally best for young people's health not to vape (nor, of course, smoke). But the real world is different, and youth will always experiment with pleasurable activities, especially if we tell them not to.
Lindsey Stroud
The Centers for Disease Control and Prevention (CDC) recently published the results of the 2021 Youth Risk Behavior Survey (YRBS) for Kansas high school students. The biennial survey examines various student behaviors from diets and physical activity to mental health and substance use. There's great news for policymakers in the Sunflower State as youth vaping has declined significantly since peaking in 2019, while youth use of traditional tobacco products including cigars, cigarettes, and smokeless tobacco, is at all-time lows.

Five from Dave Cross, Planet of the Vapes:
The New President of ARDT Iberoamérica, Jeffrey Zamora speaks about the keys to success in the fight against smoking. Zamora, a prominent Costa Rican advocate and current president of ASOVAPE Costa Rica, has recently assumed the presidency of ARDT, an umbrella organisation with a main focus on the defence and promotion of strategies for reducing harm associated with tobacco consumption in Latin America and the Iberian Peninsula.

ARDT Iberoamérica, with affiliates from 12 countries, has been committed since 2020 to advocate and promote harm reduction. Its work is focused on the promotion of proportional and differentiated regulation for low-risk nicotine delivery products.
The Swedish Public Health Agency, Folkhälsomyndigheten, has called for stronger regulation of nicotine products such as snus and e-cigarettes. According to the World Vapers ' Alliance, such recommendations are a step backwards for Sweden. It ignores crucial scientific evidence, consumer experience, and expert opinions and endangers Sweden's anti-smoking progress.

Commenting on the recommendation, Michael Landl, Director of the World Vapers' Alliance, said: "It is a tragedy for public health when a country's leading health agency fails to acknowledge the harm reduction potential of snus and vaping.
New Freedom of Information data indicates that 'thinly spread' Trading Standards teams mean unscrupulous vape traders are getting off scot-free, according to the UK Vaping Industry Association (UKVIA). Just two successful prosecutions were made against illicit vape traders across six major UK cities over the past three years.

A new report reveals a staggering lack of regulatory enforcement is being taken against rogue vape traders.

Data gathered through FOI requests by Arcus Compliance has shone a light on the activities of local Trading Standards in addressing youth access and illegal products.
Recent claims from Otago University in New Zealand that vaping is a gateway to smoking have been disputed by leading global harm reduction experts Roberto Sussman, Konstantinos Farsalinos, and Gerry Stimson. These experts have highlighted the importance of harm reduction strategies in reducing the negative health impacts of smoking.

Dr Roberto Sussman is a lecturer at the Institute for Nuclear Sciences of the National University of Mexico and the founder of Pro-Vapeo Mexico. He said: "There is no evidence that vaping is a gateway to smoking. In fact, studies have shown that vaping can be an effective tool for smoking cessation."
Trade body UKVIA has responded to calls from the Children's Commissioner for England to ban all legal disposable vapes. She claimed companies were insidiously marketing vapes to teens and that kids using them were no longer able to concentrate in class. She also claimed that vapes contain "dangerously high levels of chemicals like nickel and lead".

Speaking at the launch of her report attacking vaping, Dame Rachel de Souza said: "I want all children to be able to grow up physically and mentally well, with access to support quickly and locally when they need it. As part of The Big Ask, I asked children about all aspects of their health and wellbeing. I was shocked and concerned to hear from children as young as 12 who told me that vaping was normalised among their peers – even on school premises."
---

---
Threatens Public Health – Alli Boughner
The FDA's assault on vaping has yielded devastating consequences. Not only have millions of adults been denied legal access to low-risk vaping products they rely on to stay smoke-free, federal regulations are rapidly destroying thousands of jobs and billions of dollars worth of income, depriving ordinary Americans of their livelihoods.

The manifold problems begin with the FDA's authorization process for e-cigarettes. Known as the Premarket Tobacco Application (PMTA) pathway, the agency's regulatory approach is designed to ensure that a product appeals to adult smokers without enticing non-smokers, especially children.
From 'e-cigarette'? (The 'e-' is a bit old hat too) – Barnaby Page
What's in a name? Where the novel nicotine products sector is concerned, what's more significant may be what's not in the names of its categories – specifically, the word "nicotine".

The Tamarind Intelligence team was discussing terminology recently in an effort to ensure that our standard language to describe the industry reflects both reality and common usage. (We settled on "heated tobacco" rather than "heat-not-burn", given that the former seems to be the more widely-used phrase now, and on "herbal sticks", though I still think there's a left-field case to be made for "e-tea".)
Integrating the principle of harm reduction to bring smokers from 25 – 5%
"The European Oncology Plan has set itself the goal, by 2040, of a 'tobacco free generation', ie having less than 5% of the population who will use tobacco, against 25% today. It is evident, not only to experts but to everyone, that to achieve a goal of 5% of smokers by 2040, current policies to combat smoking are not sufficient. We have a long history of failures behind us. A decisive change of pace is therefore necessary by integrating the principle of harm reduction with existing measures, taking the example of virtuous countries such as Great Britain, Sweden, Norway and Japan where evident reductions in smoking have been demonstrated not by scientific studies, but by from federal, national data".
Derek Hunter
As a former smoker who quit with the help of vaping, I find it disturbing that so many people, particularly politicians, appear to be doing all they can to prevent people from following in my footsteps. Anything that can break the cycle of smoking – gum, patches, hypnosis, vapes, whatever – should be employed as soon as you can convince yourself or someone else to use them. To limit those options is to call into question the seriousness of all the virtue signaling about ending tobacco use.

Senate Majority Leader Chuck Schumer (D-NY) led the fight to shut down Juul and now has a company called Elf Bar in his sights. Politicians from both parties have been pushing to ban flavored cigarettes, then flavored vapes. OK, fine. Not exactly the cornerstone of a free society – limiting what adults can choose to do with their own bodies – but whatever.

Create a Dangerous Black Market – Christina Smith
The hysteria and fearmongering around the supposed increase of youth e-cigarette use have created the perfect storm for widespread government overreach and bans on tobacco harm reduction (THR) products. The restrictions and prohibitions on THR products like e-cigarettes ignore the fact that they are less dangerous alternatives for adult smokers to quit smoking traditional cigarettes. According to a February 2023 Metrics & Insights tobacco harm reduction survey, 74 percent of support the concept of harm reduction and 66 percent adults think the Food and Drug Administration (FDA) should focus on harm reduction instead of prohibition.
Orchestrated Campaign Tying Fentanyl to Nicotine Vapes | RegWatch
It's the greatest threat to confront vaping, and likely you may have missed it. Over the past 18 months, a dangerous misinformation campaign has emerged, falsely linking nicotine vapes to fentanyl.

The media calls fentanyl-laced nicotine vapes an alarming trend that may be poisoning kids. A possibility that FDA Commissioner Robert Califf recently told Congress was likely only a matter of time.

Joining us today to talk through the details of this threat is Tony Abboud, Executive Director of the Vapor Technology Association. Could this be another EVALI?
To evaluate effects of e-cigarette flavors on smoking behaviors
A new $3.9 million grant from the U.S. Food and Drug Administration (FDA) will allow researchers with the Center for Tobacco Research at The Ohio State University Comprehensive Cancer Center to evaluate effects of e-cigarette flavors on the smoking behaviors of current adult smokers.

The study, co-led by Theodore Wagener, PhD, director of Ohio State's Center for Tobacco Research, and Tracy Smith, PhD, of the Medical University of South Carolina (MUSC) Hollings Cancer Center, will be the first to provide definitive information about the impact of non-tobacco e-cigarette flavors for helping adult smokers stop smoking.
From Tobacco Control Policy needed for Africa
The presence of a thriving black-market trade for electronic cigarettes (e-cigarettes) and other new nicotine products in Africa is a concerning issue. The growth of this illicit trade has been facilitated by regulatory burdens, as traditional World Health Organisation Framework Convention on Tobacco Control (WHO-FCTC) tobacco control policies and regulations were not designed to specifically address these new products, leaving a regulatory void.

When the WHO drafted the Framework Convention on Tobacco Control (FCTC), cigarette sales in Africa were dominated by combustible cigarettes. The emergence of new technologies, such as e-cigarettes and tobacco-heating products, along with a deterioration in attitudes toward cooperation have rendered many of the assumptions on which the treaty is based obsolete.
---
A look back at how things have moved on or otherwise….
New Nicotine Alliance
At the end of June, the EU Commission launched a call for evidence on a proposal to extend a 2009 recommendation on smoke-free environments to include vaping products and heated tobacco. The purpose is to encourage all EU member states to implement bans on vaping and heated tobacco use in a variety of public places.

Additionally, a supporting document describes the current recommendation as covering "indoor and enclosed spaces" and that policies for "outdoor spaces, such as schools, playgrounds and outdoor eating establishments" are not included in the scope of the EU recommendation, but rather decided on a case-by-case basis by national or local governments.
James Dunworth
The vape industry is currently contending with two major problems. The first is illegal devices, which often have an e-liquid capacity of more than 2ml (and may have higher nicotine levels than allowed). As I've written before, the real danger is not higher nicotine levels or higher capacity, but the danger that untested, poor-quality e-liquid is used.

Secondly, more younger people are starting to experiment with vape devices, with some going on to regular use.

To some extent this was inevitable. Vape devices are easier to use, more attractive and hugely less harmful than smoking, but are still forbidden for under-18's… and still deliver a stimulant.
---
Visit Nicotine Science & Policy for more News from around the World

---