Vapers Digest 12th July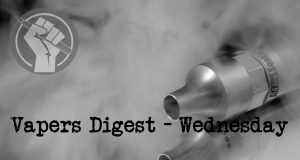 Wednesday's News at a glance:
Harm reduction is key to health and social equality ~ European smoking policy is drifting away from scientific realities ~ Switching smokers to vaping central to UK public health ~ Parliament ~ NNA Details Committee Concerns ~ Police Punch and Arrest Another Vaper on Ocean City Boardwalk ~ New York City Lawsuit Accuses Vape Distributors of Racketeering ~ Youth Use Of Traditional Tobacco Products At Record Lows In Georgia, Vaping Slightly Up ~ Report Refutes Claims Vaping is Gateway to Youth Smoking ~ Backlash against new tobacco bill gets white hot
---
Two From Dave Cross, Planet Of The Vapes
MPs in the House of Commons continue to look at tobacco harm reduction and ask questions about vape products. Alison Thewliss wanted to know more about disposable recycling, Navendu Mishra wants child use numbers reduced, as did Tulip Siddiq, while Matt Vickers wants nicotine content to be guaranteed.
The New Nicotine Alliance (NNA) has written to express its concerns about statements made during the Health and Social Care Committee oral evidence session conducted last Wednesday. Two panels of witnesses gave evidence and were questioned by MP members of the committee and the NNA was "extremely disappointed" by the "many instances of incorrect statements, myths, mistaken beliefs and even simple falsehoods expressed by MPs and panellists."
---

---
Two From Jim McDonald, Vaping 360
Two years after Ocean City, Maryland, police beat, tasered and arrested four black teenagers for vaping on the city's famous boardwalk, a Washington, D.C. man had a similar confrontation with Ocean City police last week for the same reason.

Ocean City prohibits smoking and vaping on the beach and boardwalk. When the law banning public vaping was passed in 2015, City Manager David Recor assured the public that violent confrontations with police wouldn't happen.
Facing a breaking campaign scandal and the typical overflowing to-do list of any big city leader, New York City Mayor Eric Adams decided Monday to take a break from reality and tackle the issue of flavored vaping products.

At a podium flanked by members of Parents Against Vaping (PAVE), Adams and the city's corporation counsel announced New York City has filed a lawsuit in federal court charging four vape product distributors and six associated individuals with illegally selling flavored vaping products in New York.
---

---
Lindsey Stroud, Independent Women's Forum
There is welcome news for policymakers in the Peach State. According to the 2021 Youth Risk Behavior Survey (YRBS), conducted in coordination with the Centers for Disease Control and Prevention (CDC), the use of traditional tobacco products including cigars, cigarettes, and smokeless tobacco, is at record lows among Georgia's high schoolers. Further, ever-use of e-cigarettes has declined, while current use increased slightly between 2019 and 2021.
Nate Scherer, The American Consumer Institute Center for Citizen Research (ACI)
Policymakers, and federal health agencies, have long insisted that teenage vaping serves as a gateway to future smoking. The theory goes that allowing a variety of vape products on the market entices young Americans to try e-cigarettes and eventually transition to combustible tobacco products where they establish lifelong addictions.

Consequently, policymakers have sought to impose harsh new restrictions on adult vaping products including blanket flavor bans, heavy taxes and limits on nicotine levels.
Ciaran Ryan, MoneyWeb
Legislation that would force retailers to conceal cigarette displays and restrict vaping products has been called anti-science and counterproductive. Smokers feel they have had it rough these last few years, what with the outright tobacco ban for five months during Covid and tighter restrictions on where and how you can smoke. Older smokers recall with fondness the days you could smoke on aircraft, in pubs and restaurants, and at the office.

Those days are over, but the war on smokers continues, and a quarter of South Africans who smoke don't like this one bit, as the comments on the Dear South Africa platform make clear.
---
Visit Nicotine Science & Policy for more News from around the World

---