Vapers Digest 10th July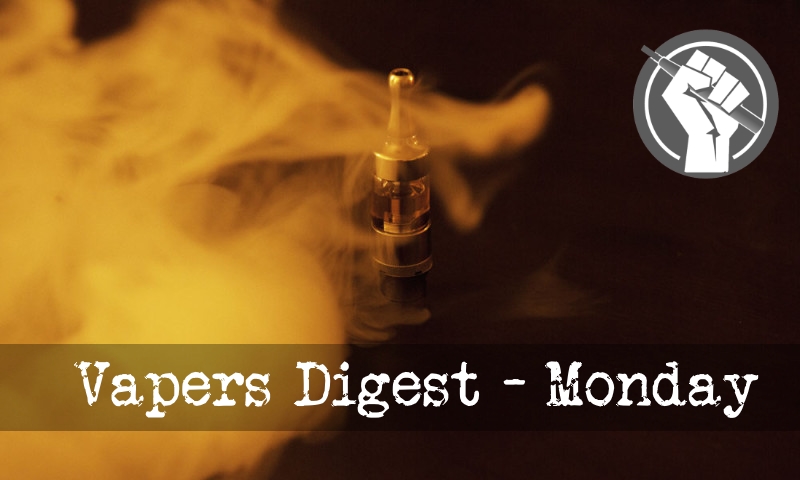 Monday's News at a glance:
Do you know the real, inside story of e-cigarettes? –Ministers Attack Vaping – Leeds councillors call for plain packaging for e-cigarettes – Demise of Big Tobacco looms with rise of vaping – Interview with Amplicon – Pharmacy-only sales of vape is not a solution – Should NZ introduce a prescription-only model for vaping? – Expert committee's advice on vaping is dynamite – WHO asked to stop opposition to THR – Nicotine Science and Policy Daily Digest
Pritam Sengupta
A newly published book, "E-Cigarettes and the Comparative Politics of Harm Reduction: History, Evidence and Policy", has offered some serious arguments about benefits of vaping and the troubles of tobacco.

The book has made policymakers of health in India sit up and take notice, ostensibly because public health campaigners in India and some parts of the world have routinely used fear campaigns to highlight risks of e-cigarettes.

They have rarely attacked tobacco manufacturers. Such is the power of the campaign that in Australia, opposition to e-cigarettes has become something of a moral crusade against youth vaping and smoking.
After Leeds councillors call for plain packaging for e-cigarettes
The UK Vaping Industry Association (UKVIA) says such a move, which was recently proposed by the Children's Commissioner, would "conflate vaping and smoking". A Leeds council scrutiny meeting was told on Wednesday that underage teenagers are flocking to the city centre to buy vapes from certain shops.

Conservative councillor Dan Cohen claimed the marketing of e-cigarettes was "outrageous", saying they were "unambiguously designed to attract young people". The bright colouring and flavouring within vapes were among the features highlighted in the criticism.
---

---
Dave Cross, Planet of the Vapes
Ministers have attacked vaping during a Backbencher Business debate on Electronic Cigarettes. It was led by Conservative Dr Caroline Johnson, a politician who has become a vocal opponent to tobacco harm reduction and is seeking to ban all disposables. She said vapes have "moved from being a stop- smoking device to an alternative addiction".

Dr Caroline Johnson began the debate by telling attending MPs that vapes "are attracting many non-smokers". Intentionally misleading the House didn't end to well for her namesake ex-Prime Minister.

Despite knowing that repeated studies have proven the efficacy and popularity of vapes, and the substantial decline in the number of smokers by 4 million as vaping soared in the UK, Dr Johnson remains a denialist – stating it "cannot be attributed entirely to vapes."
Jonathan Devery – VIANZ
"In 2017 less than 1% of New Zealanders were vaping and according to the KPMG survey, tobacco consumption remained stubbornly high at 2087 tonnes. In 2019, vaping numbers reached 3.3% and for the first time New Zealand saw a meaningful drop in tobacco consumption of 81 tonnes to 2006 tonnes. This was followed by an increase in vaping rates to 8.3% in 2022 when New Zealand embraced vaping as a quit-smoking tool which coincided with a rapid drop in tobacco consumption rates to 1384 tonnes, with health experts attributing this 31% decline in smoking over just three years, to the disruptive force of vaping," says Jonathan Devery, Chair of the Vaping Industry Association of New Zealand (VIANZ).
---
---
Producers of Småå Nicotine Pouches – Richard Crosby
Designed and produced in Sweden – these nicotine pouches feature Amplicure's unique bioceramic material technology – 'Amplicon'.

Bioceramic materials are a type of ceramic material that has been specifically designed and engineered for use in medical and healthcare applications.

Traditionally, bioceramic materials have been used in the field of dentistry, particularly for dental implants and prosthetics. Orthopaedic implants, like hip replacements, often utilise bioceramics due to their capability to seamlessly integrate with the surrounding tissues.

Is not a solution to curb rising underage sales
In an oral evidence at the House of Commons on 'Youth Vaping' called by the Health and Social Care Select Committee (HSSC) to figure out action needed to reduce vaping among those under 18.

Rachael Maskell, York Central MP's suggested on vape products being available from licensed pharmacies.

Marcus Saxton, Chairman, Independent British Vape Trade Association (IBVTA) said: "We are calling for further regulation to tighten up what has now been an extreme growth in single-use products. If you put them into those environments, as New Zealand and Australia are telling us, the perception of the public is that, while they can buy tobacco freely anywhere, the vaping product that is up to 95% safer is licensed through a pharmacy. It makes absolutely no sense. The negative consequence of considering such a thing will take us backwards years."
---

---
Model for vaping? NO! My interview on NZTV 7July2023
Australia's prescription-only model for vaping has been a spectacular failure. It has been rejected by doctors and vapers and has created a thriving black market selling dodgy products to adults and children.

Is dynamite to Butler's prohibition model – Dr. Colin Mendelsohn
INTERNAL CONFIDENTIAL EMAILS from the Australian National Advisory Council on Alcohol and Other Drugs (ANACAD) have blown Australia's prohibition policy on vaping out of the water.

The Council advises the Health Minister confidentially, but emails released under Freedom of Information in the Sydney Morning Herald by journalist Natassia Chrysanthos [document here] reveal the view that current government vaping policy has predictably created a dangerous black market and increased youth vaping. Mr Butler's ban to crack down harder with further bans is the wrong approach. As one expert stated
To help over a billion smokers
Public health advocates who attended a recent global forum called on the World Health Organization to stop its opposition to the tobacco harm reduction approach and insistence to ban less-harmful tobacco alternative products like vapes and heated tobacco.

Dr. Lorenzo Mata, president of Quit For Good, a non-profit organization promoting harm reduction to mitigate the damage caused by cigarettes in the Philippines, said: "I have been a doctor for over 40 years, and I know how difficult it is for smokers when they have no alternatives that are less harmful. They get stuck with the deadliest product in the market."
---
A look back at how things have moved on or otherwise…
To Destroy Juul – Helen Redmond
Shock and disbelief. That's what ripped through the tobacco harm reduction community when the US Food and Drug Administration (FDA) ordered Juul e-cigarettes off the market on June 23. The reason? After examining $100 million worth of scientific submissions, and with certain knowledge that millions of people have used Juul vapes for years—mostly to replace deadly cigarettes—with no significant demonstrated adverse health effects, the agency claimed, "there is insufficient evidence to assess the potential toxicological risks of using JUUL products" and that they are not "appropriate for the protection of public health."
Jim McDonald
In Ukraine, where underfunded and poorly supplied soldiers and citizens are fighting a war with a major military power, enterprising patriots have cobbled together weapons from almost every kind of ordinary consumer product. That includes some products very familiar to Vaping360 readers.

While disposable vapes have become ubiquitous around the world, and have created mini moral panics in some countries, they're now serving a valuable function in Ukraine, helping that country's effort to repel the Russian invasion.
---
Visit Nicotine Science & Policy for more News from around the World

---