Vapers Digest 17th July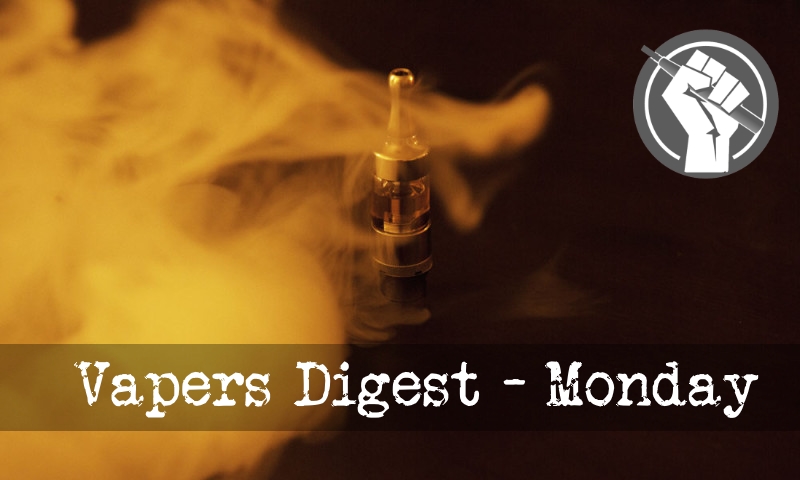 Monday's News at a glance:
NNA Calls For Support – Smokers who get e-cigarette flavour advice more likely to quit – City aims for 'smoke free' target with vaping push – I have finally kicked a decades-long smoking habit – Vaping advocates fight for recognition – Checking in on Michael Bloomberg – Tobacco Use At All-Time Low Among Iowa Youth – FDA Doubles Down on Prohibition – 19 Consumer Groups call on South Africa
Dave Cross, Planet of the Vapes
The New Nicotine Alliance is asking for support from vapers for its advocacy work. The charity was founded in 2014. The founders, volunteer trustees and friends of the NNA have, individually and through their links with leading smoking and tobacco researchers and policy analysts, contributed to improving individual, organisational, and public understanding of Tobacco Harm Reduction (THR).

The NNA says: "THR is a term used by the UK Department of Health and Social Care, the Office for Health Improvement and Disparities and the National Institute of Health and Care Excellence (amongst others) to describe ways of reducing harm from cigarette smoking for those who choose to quit with reduced risk nicotine products.
More likely to quit, Sarah Marsh
Smokers who get help picking the flavour of e-cigarette they will use and receive supportive text messages are much more likely to quit, research has found.

The study, led by London South Bank University (LSBU), explored in what settings vapes could help those addicted to smoking give up the habit. After three months, a quarter had quit and a further 13% reduced their cigarette consumption by more than half.

The research showed that those who received help to choose a vape flavour and got supportive messages were 55% more likely to give up in three months than those who did not get these services.
---

---
City aims for 'smoke free' target with vaping push
A city is on target to become "smoke free" by 2030 by encouraging smokers to vape, a health boss claims.

Director of public health, Krishna Ramkhelawon, said figures showed less than 5% of Southend-on-Sea's population might smoke by the end of the decade.

He said the approach was to encourage smokers to quit tobacco and instead "move people on to vaping".

"The challenge for vaping," he said: "I think the jury is still out." Mr Ramkhelawon said the "quit rate" in Southend remained above 40% while "most places" had dropped to about 30%.
---
---
Smoking habit – banning vapes would be a disaster – Kevin Lynch
God protect us from do-gooders. You will have discerned that I'm upset, maybe even angry. You would be correct.

I'm currently on my third week without a smoke – a longstanding addiction going back several decades.

Vaping has helped me to quit thus far. So, when the Local Government Association called for a ban on disposable vaping devices the other day I almost went out and bought a pouch of Dutch shag tobacco, liquorice papers and extra slim tips. My drug of choice. Up yours and all that…

Bill fails to differentiate harm reduction from smoking – Vuyile Madwantsi
South Africa is home to 11 million tobacco smokers, with 41% attempting to quit in the past 12 months. Studies show that most people who smoke relapse within eight days after a quit attempt and only 3%-5% of self-quitters are still smoke-free a year later.

For many smokers who had successfully quit, it took up to 30 tries before they eventually did. Furthermore, research shows that vaping is eight times more effective in helping smokers quit and twice as effective as nicotine replacement products like patches and gum.
---

---
Multi-million dollar global crusade against harm reduction
For years, we've covered the extent of former New York City mayor Michael Bloomberg's multi-million dollar campaigns to try to shape the lives of ordinary consumers.

What began as an erstwhile nanny state campaign on Big Gulps in New York City has ballooned into a massively funded operation that uses grants and NGO funding on many tobacco issues, mostly on outlawing nicotine alternatives like vaping products.

In 2019, Bloomberg pledged $160 million to get US states and localities to ban flavored vaping products, mostly funneled to anti-tobacco groups who've pivoted from "stop smoking" campaigns to "stop consuming nicotine in all forms."
Among Iowa Youth – Lindsey Stroud
The Centers for Disease Control and Prevention (CDC) recently published the results of the 2021 Youth Behavior Survey. There is great news for policymakers in the Hawkeye State as youth use of traditional tobacco products including cigars, cigarettes, and smokeless tobacco is at all-time lows while youth vaping has steadily declined since peaking in 2019.

In 2021, among Iowa high school students, less than one-fifth (17.4%) reported having ever tried a combustible cigarette, while 4.1% reported current cigarette use. Current use is defined as having used the product on at least one occasion in the 30 days prior to the survey. Between 2019 and 2021, ever-use of cigarettes decreased by 30.4% while current use declined by 38.8%.

Allison Boughner
On July 10th the FDA denied the PMTA for myblu Menthol E-Cigarettes. FDA issued the MDO and released a statement on the reason they issued the denial, "thorough scientific review of tobacco applications is a key pillar under FDA's role to protect the public from the dangers of tobacco use," said Matthew Farrelly, Ph.D., Director of the Office of Science within FDA's Center for Tobacco Products. "This application lacked the scientific evidence needed to demonstrate that the product provided a net benefit to the public health that outweigh the known risks."

FDA didn't forget to pat themselves on the back for approving 23 tobacco flavored e-cigarette products.
To stop killing harm reduction – World Vapers' Alliance
Cape Town, 14 July 2023 — Representatives of the 19 international harm reduction groups called on the South African Parliament's Portfolio Committee on Health to embrace vaping and other alternative nicotine products as tools to combat smoking.

The proposed text of the Tobacco Products and Electronic Delivery Systems Control Bill intends to regulate alternative nicotine products and combustible products in the same manner with provisions covering extra restrictions on sale and manufacturing of tobacco and nicotine products, a ban on advertising for tobacco heating and vaping products, a ban on public use of tobacco heating and vaping products, a power of the Minister to impose flavour bans for tobacco heating and vaping products and others.
---
A look back at how things have moved on or otherwise…
On the Public Health (Tobacco and Nicotine Inhaling Products) Bill.
New Nicotine Alliance Ireland
We are disappointed to see the Joint Committee on Health has been gripped by a moral panic over vaping products and has chosen to ignore the fact that smoking has plummeted since e-cigarettes became popular. Instead, they are seeking to further extend the stalled tobacco control policies to include the competing vaping products. This will only serve to protect combustible cigarettes from the competition.

We have forwarded a letter from some of the top global experts on smoking and nicotine clearly setting out why this strategy is wrong. In it, they say the proposal, "is likely to do more harm than good and would be a significant setback for the country's public health policy".
thatgotmethinkingblog
"I'm not angry as much as I'm disappointed in you" has been the most feared reaction from any Irish mammy. After the report from the Public Health Committee (Tobacco and Nicotine Inhaling Products Bill), I have to admit it was my first reaction. They didn't even ask the main stakeholders in this bill, the users of vaping products, to give evidence. The NNA Ireland has reacted to this report, you can read that here

They felt we should put up with what they decided and be thankful they are looking out for us.

They claim the aim of this bill is "to ensure a smoke-free future for younger people growing up today and to assist smokers who wish to quit a life-long addiction" and "achieve a Tobacco Free Ireland by 2025 which would mean a reduction in smoking levels to less than 5% of the population by 2025."
---
Visit Nicotine Science & Policy for more News from around the World

---