Vapers Digest 13th November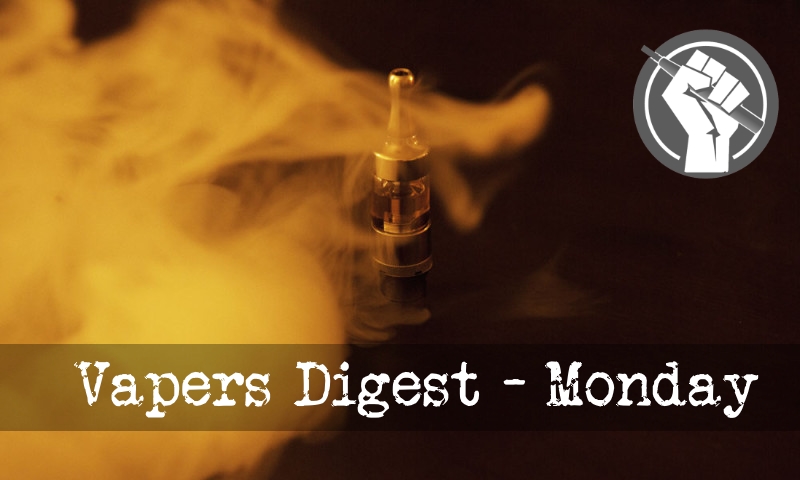 Monday's News at a glance:
ENVI Committee in the European Parliament – IBVTA Conference 2023 – More FDA Warning Letters for Online Elf Bar Sellers – expert reaction to research letter on smoking / vaping in young adults – Local vape shops fear for their survival – Mixed reaction to smoking and vaping legislation changes – Vaping Activist Responds to Critics | #GFNTVInterviews – CoEHAR: No Health respiratory effects – Sweden's Road to a Smoke-Free Nation – Why vaping reform in Australia makes economic sense
A step towards the recognition of vaping and harm reduction – ETHRA
In this guest post ETHRA partner Sovape writes on the adoption of the Subcommittee on Public Health report on non-communicable diseases by the ENVI Committee in the European Parliament. The original article, in French, is available here.

The ENVI Committee of the European Parliament has voted on a report on non-communicable diseases, recognising the role of vaping in smoking cessation and making harm reduction a pillar of public health policies. SOVAPE welcomes this progress while remaining vigilant about certain ambiguous points.

On November 8, 2023, Members of the European Parliament in the ENVI Committee (Environment, Public Health and Food Safety) adopted a Report1 aimed at preventing and reducing the prevalence of non-communicable diseases (NCDs) in the European Union (EU).
Dave Cross, Planet of the Vapes
The Independent British Vape Trade Association's (IBVTA) national vape industry conference took place at the end of October and heard about proposals to meet forthcoming challenges in the sector. The organisation has outlined a series of policy recommendations designed to tackle key challenges in the sector and deliver a sustainable future for the UK vaping industry.

IBVTA says: "The Government is currently consulting on the future of the industry after the Prime Minister earlier this month outlined his plans for a smoke-free generation. Vaping has been shown to be one of the most effective tools when it comes to kicking smoking, but the industry has seen a slew of negative headlines in recent months due to underage sales…."
---

---
For Online Elf Bar Sellers – Jim McDonald
The FDA sent warning letters yesterday to seven online retailers of popular disposable vapes, ordering the products removed from the market. Six of the companies were cited for Elf Bar (or EBDESIGN) sales, two for Cali Bar, and one each for selling Bang and Lava products.

"FDA's robust surveillance of the e-cigarette landscape helps us to identify youth-appealing products and to act quickly to protect public health," said FDA Center for Tobacco Products Director Brian King in a press release. "The goal is to identify, prevent, and reduce these risks to our nation's youth before they escalate further."
---
"A key point that is often forgotten is the acceptance of the products. The best alternative is useless if it is not valued by the user. With e-cigarettes, taste is an important factor. We would all rather eat chocolate ice cream than suck snow"https://t.co/LvZGX0qSbL

— European Tobacco Harm Reduction Advocates (@europethra) November 13, 2023
Thread 👇 https://t.co/Uer8I0TpSs

— Jukka Kelovuori (@jkelovuori) November 13, 2023
---
On smoking / vaping in young adults
A research letter published by JAMA Internal Medicine looks at smoking and vaping in young adults.

Dr Sarah Jackson, Principal Research Fellow at the UCL Tobacco and Alcohol Research Group, said:

"There has been substantial concern that vaping may act as a 'gateway' to smoking among young people, which could undermine the progress that has been made in reducing smoking rates over recent decades. However, studies are increasingly suggesting that vaping may in fact be displacing smoking, diverting those who would otherwise have smoked toward using a less harmful product.

Makes economic sense – Colin Mendelsohn
REGULATING NICOTINE VAPES AS ADULT-ONLY consumer products like cigarettes would not only benefit public health but would also be a significant boost to the Australian economy.

This blog explores the economic impact of bringing Australian policy into line with other advanced countries such as NZ, the UK, EU and Canada.

Legalising and regulating vapes could potentially generate $510 million per year from GST, company taxes (retail and wholesale) and a 5% import tariff. These figures are based on calculations by UK consultancy Independent Economics, for the current market of 1.6 million adult vapers. There would also be personal income tax from employees.
Amid new provincial tax – Tyler Evans
Orillia vape shops are fearing for the future of the industry after the province announced it is planning to add a tax as a way to reduce the prevalence of vaping, particularly among young people.

Finance Minister Peter Bethlenfalvy's fall economic statement contained an announcement that Ontario will be adding a provincial excise duty to vaping products, which would double the current federal duty rates.

The combined tax would see manufacturers and importers paying $2 per two millilitres of vaping liquids for the first 10 millilitres, then $2 per 10 millilitres for volumes beyond that.
---

---
Smoking and vaping legislation changes from Sask. vape store owners
While retailers in Saskatchewan are mostly supportive of the province increasing its minimum legal age for buying tobacco and vaping products to 19, at least one says it should be even higher.

Angee Doepker, owner of RPI Vapor in Saskatoon, said to make any kind of impact, the province should have changed the new legal age requirement to 21.

"The age of majority is 18, so when you tell a legal adult that they're not allowed to do legal adult stuff it makes it a bit of a tougher situation," she said.

#GFNTVInterviews
Canadian tobacco harm reduction advocate and nicotine vape retailer takes a stand against anti-vaping critics at home while preparing to take on the WHO at the upcoming FCTC COP10, the Conference of the Parties in Panama, this November.
Reported with ecig substitution for smoking
Somos Innovación
Join us in an exploration as international health experts and advocates from across the globe converge to discuss Sweden's groundbreaking approach to achieving a smoke-free society. In this video, we delve into the perspectives of non-Swedish professionals who have witnessed Sweden's exceptional tactics in reducing smoking prevalence to under 5 percent — a feat unparalleled in most countries.

Discover how Sweden's unique blend of tobacco control and innovative harm reduction strategies, such as the use of snus, vaping, heated tobacco, and nicotine pouches, have drawn admiration and calls for emulation from health leaders and activists in New Zealand, Spain, Argentina, India, and beyond.
---
A look back at how things have moved on or otherwise…
Dave Cross, Planet of the Vapes
Consumer body INNCO (International Network of Nicotine Consumer Organisations) has expressed its "horror" at the recent purchase, by Philip Morris International (PMI), of Swedish Match, the only tobacco company that has ever voluntarily quit making combustible cigarettes. INNCO, a non-profit alliance of 37 non-industry independent volunteer-led member organisations around the world, supports the rights of adult People Who Use Safer Nicotine (PWUSN) to avoid toxic forms of tobacco. INNCO members and leaders are informed ex-smokers.

The organisation says: "To salvage something from this dumpster fire, INNCO calls upon PMI's leadership to direct their vast marketing and distribution capacities to ensure that Swedish Match's snus and nicotine pouch products – which do not cause cancer, heart or lung disease – are available, affordable and acceptable to all smokers in low- and middle-income countries (LMICs).
Jim McDonald
Philip Morris International has succeeded in its bid to gain control of Swedish Match, the world's leading manufacturer of snus and nicotine pouches. The move will increase the tobacco giant's non-combustible tobacco and nicotine product footprint.

Philip Morris International (PMI) offered to buy Swedish Match in May, and later raised its offering price from 106 Swedish krona (about $10.22 US) per share to 116 krona. Reuters reported on Nov. 7 that 83 percent of investors had accepted the offer, which will cost PMI about $16 billion. Some large investors fought the deal for months, but wound up selling in the end.
---
Visit Nicotine Science & Policy for more News from around the World

---