Vapers Digest 10th November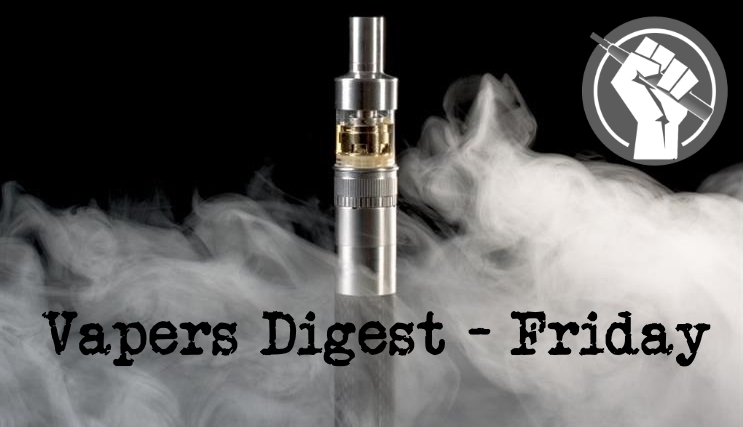 Friday's News at a glance:
WHO tobacco conference cancelled again – COP10 FCTC Postponed Until 2024!!! – Is UK Government's "Smoke-Free Generation" Bid Losing Its Way? – Why do we not have Stop Vaping Services? – Vapers 'would go back to smoking' – North Northants Nabs Naughty Ne'er-do-wells – Smoke Free Sweden Sets Out Recommendations – CAPHRA Urges Harm Reduction Support – The EU and the WHO's sinister collusion – THR consumer advocacy organisations – FDA Failures and How to Fix Them – Remember the Teen Vaping 'Epidemic'? – Youth Vaping Rate Reaches New Low – Sweden has experienced a miracle – Lower Taxes on Tobacco in Sweden – Alternatives Boost Cessation: – Persistence Pays – Panama's Vapes Ban Heads to Supreme Court
Christopher Snowdon, Velvet Glove Iron Fist
The corrupt and incompetent WHO's anti-nicotine shindig in Panama was suddenly cancelled last night "due to the current security situation". It will now be held in 2024, good luck permitting.

As CopWatch explained earlier in the week, there are huge protests against the government giving a Canadian company access to the world's biggest copper mine.

This is yet another example of the misfortune – of, if you prefer, karma – that has plagued this conference for years, as CopWatch notes…
Michelle – ECigClick
Wow this took me by surprise! As you may be aware the COP10 (Conference Of the Parties) FCTC (Framework Convention on Tobacco Control) meeting organised by WHO (World Health Organisation) was due to take place between the 20th and 25th of November in Panama.

Anyway to cut a long story short the FCTC have published a press release stating that it has been postponed until 2024.

We have plenty of resources to help you understand the COP10 here.
---

---
Bid Losing Its Way? – Kiran Sidhu
The tobacco plan, unveiled in October, is controversial in itself; people currently under 15 would never be able to buy cigarettes legally, ultimately leading to full prohibition. But the government's bill also allows the possibility of new vape taxes and restrictions, as it promises to crack down on youth vaping.

On October 12, the government launched a public consultation on youth vaping. Participation is open to UK residents of any age, with "teenagers, parents, teachers, medical professionals, academic experts and others" invited to submit opinions and experiences. The consultation period ends on December 6.
And tackle youth vaping attracts large response
Over 12,000 responses have been received as part of the government's consultation on plans to create a smokefree generation and crack down on youth vaping – the most significant public health intervention in a generation.

The Prime Minister recently announced plans to introduce a historic new law to stop children who turn 14 this year and younger from ever legally being sold cigarettes in England. He also set out the government's concerns about the worrying rise in vaping among children and announced a public consultation on plans to reduce the appeal and availability of vapes to children.
---
---
Robert West, Andy McEwen, Lou Ross, Sarah Jakes, Martyn Wilmore, Tom Coleman-Haynes, Nicky Coote, Julie Jerram
Prevalence of vaping in England has risen in the past few years to 12% of the adult population, but most people who vape are doing so to reduce the amount they smoke, to help them stop smoking or to remain smokefree.1 The prevalence among adults who have never smoked regularly is around 3%.1

While there are differing views about exactly how harmful vaping is, analysis of the chemicals ingested and health effects experienced by vapers to date support the view that, at worst, it carries a small fraction of the harm of tobacco smoking.
There is also a risk that stopping vaping may lead some people back to smoking but evidence on this is lacking.
If disposable vapes are banned – Steven Smith
New data has found that one in five vapers (21%) would go back to smoking if the Government banned disposable vapes. Following a recent report by the British Medical Association (BMA) Board of Science, which has made a number of recommendations regarding the flavours, packaging and sale of vapes, the government is currently undertaking an eight-week consultation process to decide whether all disposable vapes and flavours should be banned.

Vape Superstore surveyed 1,048 of its customers to find out attitudes towards the potential disposable vape ban and the impact it might have on vapers. It said the data showed that nearly one in three (29%) vapers would go back to smoking if the Government banned all sweet e-liquid flavours, with 15% sharing that they would try to buy them on the black market instead.

Three from Dave Cross, Planet of the Vapers:
In response to an increase in complaints and intelligence, officers from Trading Standards worked with partners at North Northamptonshire Council (NNC) Licensing and Northamptonshire Police to inspect four premises in Rushden. As part of an ongoing operation tackling the illegal importation and sale of goods across North Northamptonshire, officers oversaw the seizure of 111 packets of hand rolling tobacco, 866 packets of cigarettes and 1,042 non-compliant vapes last month.

Officers say that a monetary value totalling approximately £24,541.60 was seized. This figure was reached by taking the average of the resale price for each product; £10,420 in vapes, £3,729.60 in hand rolling tobacco and £10,392 in illegal cigarettes.
The Smoke Free Sweden movement has set out policy recommendations for building a smoke free society ahead of the Framework Convention on Tobacco Control's Tenth Conference of Parties (FCTC COP10) in Panama next month. Over the past six months, the Smoke-Free Sweden movement has visited four continents and engaged with dozens of international public health experts.

Smoke Free Sweden's report, entitled "Learnings from Smoke-Free Sweden. A Global Consultation", offers seven distinct and straightforward recommendations for reducing smoking rates to become smoke-free, as Sweden is on the brink of doing.
The Coalition of Asia Pacific Tobacco Harm Reduction Advocates (CAPHRA) has launched a scathing criticism of the World Health Organization (WHO) and the Framework Convention on Tobacco Control (FCTC) for their opaque and closed-door decisions at the COP10. The attack comes as part of its submission to the United Nation's Special Rapporteur.

"The WHO FCTC's refusal to acknowledge Tobacco Harm Reduction (THR) contradicts the acceptance of harm reduction in other areas of public health," said Nancy Loucas, a public health policy expert and passionate advocate for tobacco harm reduction and executive coordinator of CAPHRA.
---

---
Against vaping – Martin Cullip
The European Commission's manoeuvre to exploit the upcoming Conference of the Parties (COP) 10 meeting on Tobacco Control for the promotion of anti-vaping measures is nothing short of disgraceful. Leaked documents have laid bare the disturbing collusion between European Commission and European Council bureaucrats to exploit the minimal scrutiny and accountability of COP10 in order to push for draconian legislation on vaping. By pushing for extreme positions favoured by the WHO, the Commission aims to evade democratic scrutiny, bypass the European Parliament, and implement regulations that could have far-reaching implications for public health and personal freedom, and even influence other nations like the UK to follow suit.
GSTHR
Tobacco harm reduction is a potentially life-saving intervention for millions of people across the world.[i] To those who use high-risk tobacco products, like cigarettes and some oral tobaccos, it offers the chance to switch to a range of safer nicotine products that pose fewer risks to their health. These include nicotine vapes (e-cigarettes), snus,[ii] nicotine pouches[iii] and heated tobacco products. While some governments are encouraging people who smoke to switch to safer nicotine products, in many countries, access is being limited or even banned entirely.

There are now about 82 million people who vape worldwide,[iv] and a total of around 112 million users of all harm reduction options. However, only a small fraction of this large group of consumers actively advocate for tobacco harm reduction.
---
---
Brad Rodu, Tobacco Truth
Insulin is a hormone made by the pancreas that plays a vital role in all human metabolism.  Before insulin was discovered in 1922, people who developed diabetes died quickly.  A hundred years later, people still die quickly if they can't obtain the hormone to inject.

Henry I. Miller, the Glenn Swogger Distinguished Fellow at the American Council on Science and Health, has written an outstanding article on "The Tale of Human Insulin, FDA, and the Bureaucrat's Mindset."  He is an authority on the subject, having been "the medical reviewer and head of the [FDA] evaluation team" in 1982 for the first human insulin made by recombinant genetic engineering.  Prior to that, the only sources of insulin were pigs and cows.
Jacob Sullum
Remember the "epidemic" of underage nicotine vaping? For years, activists, politicians, and public health officials have been warning that a surge in e-cigarette use by teenagers would hook a generation of young people on nicotine and encourage them to smoke.

That never happened, as new federal survey data confirm. But policies adopted in response to that overblown threat continue to undermine the harm-reducing potential of vaping products by making them less attractive to current and former smokers.
Allison Boughner
When the CDC released its new 2023 National Youth Survey (NYTS) data last week, vapers were thrilled to learn that youth usage had decreased to 10% from 14% the previous year (with a 61% drop over the past four years). Tobacco harm reduction advocates saw a glimmer of hope that this might persuade the CTP at the FDA to change their stance on vaping and, more importantly, flavors.

As the day progressed, we started to see posts from many ANTZ groups like Campaign for Tobacco-Free Kids and The Truth Initiative spin this positive information into a negative, all the while still urging FDA "to protect young people by removing all products without marketing authorization from the market, as the overwhelming majority of these products are flavored and appeal to youth"…

Everyone should want to share in it – Tobaccoharmreduction.net
Most people will not have noticed, but an experiment has been ongoing for the past few decades. It has not been commissioned, has required no specific funding, and has not been administered by people in white lab coats. It was not created by anyone, but occurred naturally, and the results are now in. The experiment has concluded that a miracle has happened in Sweden.

This year, the World Health Organization and the European Network for Smoking and Tobacco Protection predict that Sweden will be the first EU member state to become officially smokefree, defined as a national smoking rate of less than 5%, simply for the fact that it is unique in the EU of allowing the sale of snus as an alternative to combustible tobacco.
Patrik Strömer
While Sweden is the only country in the EU where snus is allowed, it is also the country with the lowest smoking prevalence – and, hence, lesser risk of disease and premature death due to tobacco use – at least among the male population. The fact that even though Swedish men receive the same information, health warnings, and taxation as Swedish women but reported lower smoking rates for decades, needs an explanation. Indeed, with help from counselling or nicotine replacement therapy (NRT) pharmaceuticals, people can quit smoking cold turkey. Nonetheless, the Swedes, to a large extent, have chosen to switch from cigarettes to snus.

What is snus? It is ground tobacco mixed with water, salt, and flavours. It is smokeless and is used by being placed under the upper lip.
Vaping Unplugged Ep. 30
In this episode, we're joined by John Dunne, the esteemed Director General of the UK Vaping Industry Association (UKVIA). With a rich background in European vaping markets and a history of advising industry leaders, John brings a wealth of expertise to our discussion.

Today, we dive into the current state of vaping in the UK, exploring the challenges that new regulatory proposals may introduce. John will also highlight the critical flaws in recent public consultations and underline the importance of consumer participation in shaping the future of vaping.
Three from Tobacco Reporter:
In the shaping of tobacco control legislation, the consumer is often ignored. Many governments find it easier to deny the health benefits of switching from combustible tobacco products to reduced-risk alternatives and simply ban less harmful nicotine-delivery systems. According to The Global State of Tobacco Harm Reduction, 37 countries currently prohibit the sale of nicotine vaping devices, and many others treat vapes like conventional tobacco products, which means restrictions on public consumption and bans on the promotion of e-cigarettes as safer alternatives to smoking.
The Tholos Foundation, in partnership with Japan-based Pacific Alliance Institute and Sweden-based consulting firm Scantech Strategy Advisors, has released a policy paper, Safer Nicotine Works, on how Sweden and Japan have successfully reduced smoking rates by introducing safer alternative nicotine products.

Safer Nicotine Works investigates oral nicotine and heated tobacco's effects on smoking rates in Sweden and Japan. It follows Vaping Works, which studied four countries' vaping experiences.
The Supreme Court of Panama has decided to hear a lawsuit challenging the constitutionality of the country's ban on e-cigarettes and heated tobacco products.

In early August, the Panamanian Tobacco Harm Reduction Association (ARDTP) filed a lawsuit with the Supreme Court, arguing that Law No. 315, which prohibits the use, sale, and import of e-cigarettes and heated tobacco in the country, is unconstitutional and should be repealed.

The Panama Association for Tobacco Damage Reduction (ARDTP) had its appeal case advanced by the Supreme Court on Sept. 21 following a lawsuit, according to media reports.
---
A look back at how things have moved on or otherwise….
Of Almost All Flavored Nicotine Products – Alex Norcia
California residents voted in the November 8 midterm elections to ban the sale of almost all flavored nicotine products, as the Associated Press confirmed. Only hookah and some premium cigars are exempt.

By the morning of November 9, with only 42 percent of the ballots counted, the result was already clear: More than 62 percent of counted votes were in favor of Proposition 31. That means the state will become the second, after Massachusetts, to prohibit retail sales to this extent, and the fifth to pass some version of a vape flavor ban. Many adults who use vapes to quit cigarettes find flavors helpful or even vital—but that reality has long been drowned out by the national outcry over youth vaping.
Flavored Vape Prohibition – Jim McDonald
---
Visit Nicotine Science & Policy for more News from around the World

---