Vapers Digest 8th November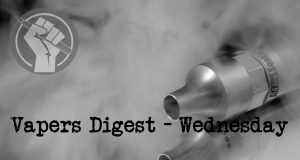 Wednesday's News at a glance:
The APPH Standard: What Does it Actually Mean? ~ Why Sweden going smoke-free may not be such good 'snus' ~ Even bigger big trouble in little Panama ~ STOP USING PEOPLE WHO VAPE AS A BOTTOMLESS PIGGYBANK ~ FDA vs FLAVOURS | Will Godfrey explores the battle over flavours in the USA ~ Between Science and Politics: The EU's Stance on Vaping at COP10 ~ Butler's vaping policy is a missed public health opportunity ~ Honesty in government. A Health Minister's press release on vaping ~ #13 Vaping, Smoking, and Health: What You Need to Know with Dr Colin Mendelsohn ~ Colin Mendelsohn Chats To Ecigclick!! ~ Special Rapporteur Questionnaire ~ Improper causal inference ~ Ontario and Canadian Federal Gov't Will Team Up to Double Vape Tax  ~ FDA Finds Another Obscure Nicotine Product to Kick Around ~ Junk e-cigarette study debunked ~ Could Plain Packaging for E-Cigarettes Reduce Teen Vaping?
Clive Bates, Slideshare
My presentation at the Food & Drug Law Institute Tobacco and Nicotine conference 26 October 2023. I discuss five problems with the APPH concept:

1. No means of trading off different types of benefits and detriments

2. Ignores vaping benefits to youth 3.

Blind to harmful unintended consequences of marketing denial orders

4. Impossible to estimate population effects at the product level – the standard only makes sense at the category level.

5. The aggregate effect of thousands of single product PMTA determinations may create adverse effects not captured in any individual application (de fact flavour ban)
Raidió Teilifís Éireann (RTE)
Sweden is poised to become Europe's first smoke-free country largely thanks to the popularity of snus, a kind of moist snuff which is placed under the upper lip.

But some are worried the tobacco industry is peddling a "fairytale" that is too good to be true.
Chaos reigns in Panama City in the lead up to COP10.

In August, Copwatch reported on disquiet in Panama about the award of $4,881,732.20 to a consortium tasked with organising the COP10 conference. Heavy criticism was directed at the government for spending such a large sum of money on bureaucrats when the country's health service was struggling to cope.

"My God, with half of that money" complains Medical Director, Fernando Castaneda to La Prensa Panamá, "we can buy incubators for newborns, thousands of medicines, supplies, and equipment to replace all the damaged ones we have."
Rights4Vapers, Canada's largest vapers' rights movement, calls on the Government of Ontario to refrain from jumping on the taxation bandwagon and penalizing Ontarians who vape even more.

"We are at a critical moment for vapour products. We are being attacked from every angle," said Maria Papaioannoy, spokesperson for Rights4Vapers. "All we want is for adult Canadians who smoke to have an affordable less-harmful choice. Signing on to the federal government's proposal to add a matching provincial excise tax to vapour products will increase a 60 ml bottle of e-liquid by $10 to $44.95. We must keep vapour products affordable."
---
---
The 10th Session of the Conference of the Parties (COP10) to the World Health Organization Framework Convention on Tobacco Control is upon us in Panama City. This event stands as a significant juncture in the vaping and tobacco control arena.

It could reshape the narrative around harm reduction strategies, mainly focusing on vaping, heat-not-burn products, nicotine pouches, and other safer alternatives to smoking. Measures like banning vaping flavours, increasing taxation on harm-reducing nicotine products, and others are up for discussion.
---
Three From Dr. Colin Mendelsohn
DURING LAST NIGHT'S Q+A PROGRAM, Health Minister Mark Butler highlighted legitimate concerns about youth vaping. However his proposed solutions could undermine public health and miss the chance to leverage vaping as a cessation tool for adult smokers. Video here.

The crux of the issue is Australia's flawed vaping regulation. The current regulations have created a thriving black market which make vapes readily accessible for young people.
Unfortunately, my government's prescription-only policy on nicotine vaping has been a total failure and this flood of illegal imports behind me is a direct result of that. I was warned this would happen but did not listen.

Vaping nicotine was designed to help adult smokers quit and is the most popular quitting aid in Australia. However, only 8% of users are willing comply with my onerous and impractical requirement to have a doctor's prescription.
Mind-Body Revolution Podcast
Welcome to the Mind-Body Revolution Podcast. In today's episode, we explore the complex world of smoking and vaping. There are many opinions out there about vaping, it can be confusing and easy to believe many of the stories shared by the media about vaping.

But what are the facts?
Michelle, Ecigclick!!
We have another "THR Superstar" for you!

This time it is the very well respected Dr Colin Mendelsohn MB BS (Hons) who is an excellent harm reduction advocate.
---
Dave Cross, Planet Of The Vapes
Harm reduction advocates are being advised of a new inquiry by the UN Special Rapporteur on the Right to Health that has a deadline of 15th November. Professor Gerry Stimson says that although the inquiry doesn't specifically mention tobacco harm reduction (THR), smoking or safer nicotine products, it remains an opportunity to draw attention that tobacco harm reduction is a right to health issue.
---
Glantz in the mud, again.

"Are e-cigarettes associated with less quitting smoking among adolescents using them in a quit attempt? Re-analysis reveals changes to findings" https://t.co/KXwcrMNg1r

— Jukka Kelovuori (@jkelovuori) November 7, 2023
Clive Bates (response), Pub Peer
The author commits one of the habitual sins of tobacco control research. There is no way a causal conclusion can be drawn from this observational data.

Ever-smoking youth who used e-cigarettes "to try to quit using other tobacco products, such as cigarettes" had lower odds of having stopped smoking cigarettes than those who did not use e-cigarettes as to try to quit.

Yet the author goes on to make a policy recommendation as if the association is causal.
That reply has now been rejected by PubPeer admins, but just in case anyone is curious, it looked like this. pic.twitter.com/RGMdHOxGH0

— Jukka Kelovuori (@jkelovuori) November 8, 2023
---

---
Two From Jim McDonald, Vaping 360
Ontario will partner with Canada's national government to double the tax added to the price of all vaping products sold in the province. Ontario is the most-populous Canadian province, with about 15.6 million residents.

The tax was announced last week in Ontario Finance Minister Peter Bethlenfalvy's fall economic statement.
Once again, the FDA has given free publicity to an obscure nicotine product while loudly ordering it removed from the market. Today the agency issued a press release and multiple social media posts to trumpet a warning letter sent to a virtually unknown manufacturer of nicotine lozenges.
---

---
Christopher Snowdon, The Snowdon Substack
A study published in the Journal of Adolescent Health last year ended with a striking recommendation.

Physicians, regulators, and educators should discourage youth from attempting to use e-cigarettes as a way to stop smoking cigarettes.

Did a cigarette company write that?

No, it was California's junk science veteran Stanton Glantz who had trawled through the US National Youth Tobacco Survey looking for something that would support his weird theory that vaping makes people smoke.
Diane Caruana, Vaping Post
The study, "Impact of E-liquid Packaging on Vaping Product Perceptions Among Youth in England, Canada, and the United States: A Randomized Online Experiment," surveyed 13,801 youth from England, Canada, and the United States, aiming to understand the impact of different vape packaging on their perceived health risks and interest in vaping.

The results revealed that standardized (white or olive) packaging compared to branded packaging, was associated with reduced interest in trying vapes and higher misconceptions about their harm.
---
Visit Nicotine Science & Policy for more News from around the World

---