Vapers Digest 6th November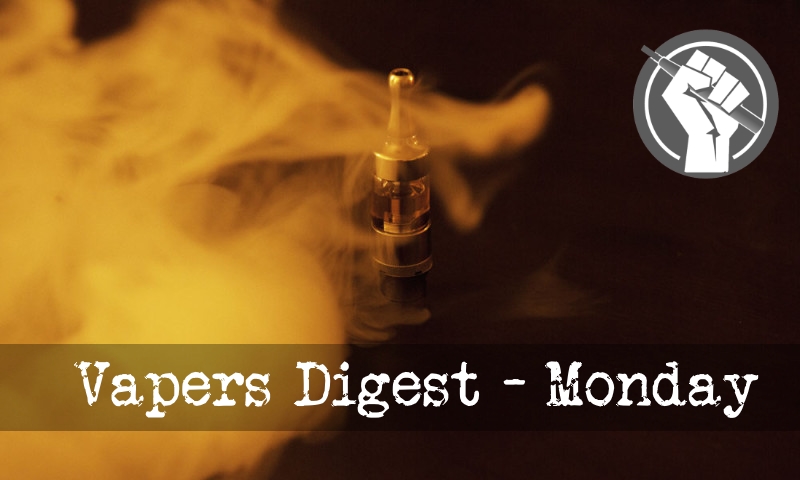 Monday's News at a glance:
Portuguese Government Jeopardises Efforts – Consumers Attack WHO Transparency – Reviewing the Recommendations of the FCTC's COP10 – WHO urged to reevaluate anti-smoking strategies – Paternalism in Public Health with Christopher Snowdon – Time for a moratorium on Australia's vaping policy – FDA Levies More Huge Fines Against Elf Bar Retailers – Blocking Smokers Access to Better Alternatives – E-cigarette use among Australian adolescents
Two from Dave Cross, Planet of the Vapes:
Jeopardises Efforts
The Portuguese Government is jeopardising smoking cessation efforts with new legislation that will discourage smokers from switching to vapes, according to the World Vapers' Alliance. The group believes the move is a retrograde step that shuns evidence-based policy making in favour of pretending banning outdoor vaping will stop smoking.

The Portuguese government is discussing a new draft law regulating tobacco use that will detrimentally damage Portugal's efforts to curb smoking. The government is currently transcribing the EU delegated act of the Tobacco Products Directive into the national legislation on heated tobacco products, including several provisions on vaping that have not been a part of the original delegated act.
The Coalition of Asia Pacific Tobacco Harm Reduction Advocates (CAPHRA) has raised serious concerns about the lack of transparency and openness in the World Health Organization (WHO) and the Framework Convention on Tobacco Control (FCTC) COP10 decisions. CAPHRA, an alliance of Tobacco Harm Reduction Advocates, has been at the forefront of advocating for pragmatic, risk-proportionate regulations that protect public health while ensuring the availability of less harmful alternatives to combustible tobacco.
---

---
Reviewing the Recommendations of the FCTC's COP10
Max Marlow, Adam Smith Institute
This year, the World Health Organisation (WHO)'s Framework Convention on Tobacco Control (FCTC) will be meeting in Panama for its 10th Conference of Parties. It will be recommending that the regulation and taxation of tobacco harm reduction technologies- such as heated tobacco and vapes- should be equalised with that of cigarettes.

As this new paper by Maxwell Marlow highlights, this could seriously set back the government's smoke free by 2030 target, impacting public services, health and tax revenue in the process.
---
---
Anti-smoking strategies – Hippocratic Post
The Institute for Tobacco Studies (ITS) in Täby, Sweden, has raised a critical question about the World Health Organization's (WHO) strategies in combating smoking and its impact on public health. In a topical paper, ITS highlights the success of Sweden's transition from traditional cigarettes to smokeless alternatives, urging the WHO to consider this approach as a means to reduce smoking-related deaths globally.

The paper, accessible on the Qeios platform, was authored by Dr. Lars M. Ramström, the principal investigator of ITS. Dr. Ramström is a renowned expert in tobacco control issues with a distinguished history of international involvement, including roles as a WHO expert and as the secretary general of the 4th World Conference on Smoking and Health.

With Christopher Snowdon | Vaping Unplugged Ep. 29
Today, we're thrilled to have the prolific Christopher Snowdon, a British author, who's made a name for himself with his critical views on government intervention in lifestyle choices.

In this episode, we delve into the theme of Paternalism in Public Health. Christopher sheds light on the often unaddressed consequences of paternalistic policies and how they affect our freedom to make choices about our health. With a focus on vaping, we discuss the balance between public health initiatives and individual liberties.
---

---
Colin Mendelsohn
HEALTH MINISTER MARK BUTLER is rightly concerned that youth smoking has increased substantially on his watch. However, his claim that youth vaping is the cause warrants closer examination.

Recent statistics are indeed troubling, with the smoking rate among 14-17-year-olds climbing to 6.7% in 2022 and 12.8% in early 2023, according to government figures. Concurrently, the vaping rate in this age group stands at 14.5%. The Minister's view is that vaping has triggered this increase in youth smoking and that more restrictive policies are needed.
To e-cigarette use among Australian adolescents – Colin Mendelsohn
The article by Jongenelis et al. seeks to identify factors associated with susceptibility to vaping by adolescents. [1]

The study confirms that there is an association between depression and vaping. However, the authors make the incorrect causal assertion that "sustained e-cigarette use has been found to worsen depressive symptoms among adolescents". Neither of the two references cited support that claim. [2, 3] Both papers report only an association between depression and subsequent vaping. Both are based on cross-sectional data and a causal inference is not possible from those data.
Against Elf Bar Retailers, Jim McDonald
The FDA used the release of 2023 National Youth Tobacco Survey results yesterday as an occasion to announce a "new wave of enforcement actions" against retailers selling unauthorized disposable vapes. The FDA actions were targeted at sellers of Elf Bar—which was also the top brand choice named by the dwindling number of school-age vapers surveyed in this year's NYTS.

Despite NYTS results showing the lowest high school vaping prevalence since 2013—and the lowest youth smoking rate since the government began tracking it—FDA Center for Tobacco Products (CTP) Director Brian King says the agency "cannot and will not let our guard down on this issue," and "will not stand by as bad actors place profit over the health of our nation's youth."

'Unconstitutional' GEG From Tobacco Bill
Cabinet has decided to drop provisions on the tobacco and vape generational end game (GEG) ban from the Control of Smoking Products for Public Health Bill 2023.

This is because Attorney-General Ahmad Terrirudin Mohd Salleh views the proposed cohort or age-based prohibition – which seeks to ban tobacco and vape products for anyone born from January 1, 2007 – as unconstitutional.

The controversial tobacco and vape control bill also lacked support from the Attorney-General's Chambers (AGC) overall that perceived the GEG as a contravention of Article 8 of the Federal Constitution that guarantees equality before the law.
To Better Alternatives Transgress Human Rights
Asa Saligupta, director of ENDS Cigarette Smoke Thailand (ECST), one of the signatories in the open letter to UN High Commissioner for Human Rights Volker Türk dated October 16, 2023, said the World Health Organization (WHO) is depriving adult smokers of the right to choose less harmful products which violates their human rights.

The WHO, founded in 1948, is the UN agency that connects nations, partners and people to promote health, keep the world safe and serve the vulnerable.
---
A look back at how things have moved on or otherwise…
To justify huge 'endgame' interventions – Clive Bates
New Zealand is planning to introduce so-called 'endgame' measures, including the removal of nicotine from legally available tobacco. We examine and review the modelling used to justify the measure and find multiple fatal flaws.

In this blog, we take a look at modelling used to justify 'endgame' legislation under discussion in New Zealand. Among other things, this would reduce nicotine in cigarettes and other tobacco available through legal channels to minimal levels. We find the modelling and data assumptions bear no relation whatsoever to the underlying processes and the effects that such legislation would trigger.
In helping pregnant women stop smoking – Peter Hajek
E-cigarettes may be more effective than nicotine patches for pregnant women trying to quit smoking, research found. The study did not raise any new safety concerns with e-cigarettes (vaping).

Pregnant women are advised to quit smoking because of the damage it can cause to developing babies. Many find this difficult. Current guidelines state that nicotine products (such as patches, gum and mouth spray) can help. This research suggests that pregnant women could also consider e-cigarettes.

In the study, similar numbers of pregnant women quit smoking, whether they were given e-cigarettes or nicotine patches. When the researchers looked at women who only used the treatment they were allocated (without using other products), almost twice as many women quit with e-cigarettes than with nicotine patches.
---
Visit Nicotine Science & Policy for more News from around the World

---