Vapers Digest 15th November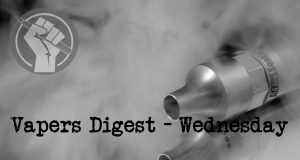 Wednesday's News at a glance:
The Core of the Confusion ~ Lester Kiewit discusses how tobacco harm reduction could save 320 000 lives in South Africa ~ Danish prevention plan on alcohol and nicotine products is well-intentioned ~ An update on Mark Butler's vaping ban ~ #COP10 PREDICTIONS | Leading THR experts discuss their hopes and fears ~ The UK King's Speech ~ Public Health Responds to King's Speech ~ Slovenia Proposes a Ban on Vape Flavors ~ Reverse Course | Youth Vaping Rates Hit Historic Low  ~ Juul Labs raises $1.3 billion in funding
Sudhanshu Patwardhan, Tobacco Reporter
A widely prevalent misperception prevailing in society is that nicotine in tobacco products causes cancer. This myth and its widespread acceptance even among healthcare practitioners worldwide was recently highlighted by a survey among 15,000 doctors from 11 countries. Nicotine misperception may be the key reason preventing the world from becoming free from risky forms of smoked and smokeless tobacco products. The origins of this misperception may have something to do with south Asia and the nasty oral tobacco products sold there.
The Danish government coalition is developing a package of 30 measures aimed at reducing the country's alcohol and nicotine use, including raising tax on nicotine products and a flavour ban. However, such measures risk resulting in a reverse outcome with the growth of illicit markets and pushing back consumers to smoking, says the World Vaper's Alliance.

"The Danish government is missing a key component here — prohibition doesn't work. What we need is a risk-based regulation.
Dr. Colin Mendelsohn, colinmendelsohn.com.au
THE HEALTH MINISTER is determined to introduce "the toughest vaping laws in the world" to tackle vaping, which he regards as a public health menace.

We are finally starting to get a clearer picture of the detail of Mark Butler's plains. Some changes will require legislation and must pass through both houses of federal Parliament. Others are simply regulations that can just be mandated by the Health Minister (more at end).
---
Global Forum on Nicotine
---
#COP10 expected to be held in March 2024
Reunión global de control de tabaco en Panamá se traslada para el 2024 https://t.co/fW3WnCea4M

— FCTCcopwatch (@FCTCcopwatch) November 14, 2023
This week's #THRSuperstar is Kevin Crowley aka @Vapingit !

Find out more about this passionate THR advocate in our interview 👉 https://t.co/GdJwhuHIcZ#THR #Vape #Vaping #VapeLife #HarmReduction #TobaccoHarmReduction #Ecigclick pic.twitter.com/7eqBjn4f2B

— EcigClick (@EcigClick) November 14, 2023
---
Two From Dave Cross, Planet Of The Vapes
"My Government will introduce legislation to create a smokefree generation by restricting the sale of tobacco so that children currently aged fourteen or younger can never be sold cigarettes, and to restrict the sale and marketing of e-cigarettes to children," said King Charles as he detailed the Government's plans to combat tobacco related illness and death.
Public health leaders including campaigners, doctors, local councillors, academics, NHS leaders and survivors of smoking from across England have come together to welcome the government's legislative plans, says Action on Smoking and Health (ASH). Surprisingly, the vaping industry has remained silent following the anti-ecig measures contained in the proposals.
---

---
Jim McDonald, Vaping 360
The government of Slovenia has proposed prohibition of vaping products in flavors other than tobacco and menthol, sending an amendment of the country's tobacco control law to the National Assembly for approval. Passage of the law would make Slovenia the eighth European country (and seventh European Union member) with such a law.

The restriction would apply to both nicotine-containing and nicotine-free vaping products. The proposed Slovenian law would also ban all non-tobacco flavors in heated tobacco products (HTPs), including menthol.
---

---
Brent Stafford, Regwatch
What will the U.S. FDA do now?

With the release of the 2023 National Youth Tobacco Survey, it's now not only certain the so-called "epidemic" of teen vaping is over, but it looks like it was mostly hype in the first place.

In the last four years, the teen vaping rate crashed to a historic low, dropping over 60% since its 2019 high.

Joining us today is Tony Abboud, executive director of the Vapor Technology Association. He says the 2023 NYTS data fundamentally undercuts the FDA's teen vaping narrative, which it has gripped onto for years while pushing the myth that flavors drive youth vaping.
Bhanvi Satijam, Reuters
Juul Labs said on Monday it has raised about $1.3 billion in funding, months after the e-cigarette maker revealed plans to lay off about 250 people in a bid to reduce its operating costs.

The company has been seeking financing alternatives and cut jobs twice since last year, in a bid to protect its business as it deals with lawsuits related to the marketing of its e-cigarettes.

Juul disclosed in a regulatory filing it had raised $1.27 billion in funding from a total offering amount of $1.6 billion.
---
Visit Nicotine Science & Policy for more News from around the World

---