Vapers Digest 11th August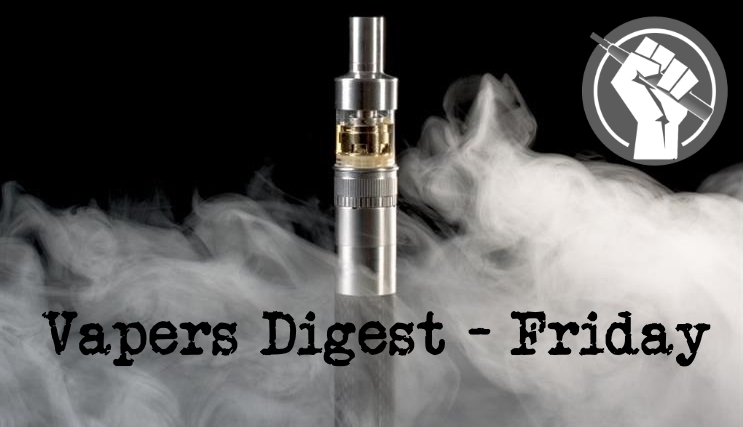 Friday's News at a glance:
The 11 Day Reprieve – Friends Of Ours – Evidence over prejudice: Ending the anti-vaping hysteria – Study Links Vaping To Success – Billion Lives back in action for theaters: – Laser acupuncture claims smoking cessation without FDA approval – NYC ignores science in war on vaping – Vaping bans on way – India Should NOT Ban Vaping – Gateway Research – Nicotine Science and Policy Daily Digest
Dick Puddlecote
Well, I knew I'd be revisiting this at some point, I just didn't expect it so very soon! Let's pop over the Atlantic again, shall we?

On July 28th, the newly-installed chief of the Federal Drug Administration (FDA), Scott Gottlieb, "announced a new comprehensive plan for tobacco and nicotine regulation that will serve as a multi-year roadmap to better protect kids and significantly reduce tobacco-related disease and death". He mentioned freezing regulations on e-cigs and the vaping world went into meltdown.
Frank Davis
On Facebook Walt has been reporting on new antismoking legislation passed by NYC city council. This from the Health Committee chair:

I tripped over the first two words – "Dear friends" – as I wondered whether the "chair" was actually addressing "friends" who were in any way "dear" to it. It seemed more likely that it was addressing a bunch of mafia thugs who were trying to put together a new protection racket. Or maybe extend an existing racket.
---

---
Mawsley, Planet of the Vapes
It's hard to read that researchers at the University of California are claiming vaping works as a tobacco quit tool without worrying what the ulterior motive is. The University of California has been a hotbed of anti-vape propaganda for so long, and yet Dr Shu-Hong Zhu and colleagues have reported that their work demonstrates smokers achieving success by switching to vaping.
Ending the anti-vaping hysteria – Guy Bentley
FDA Commissioner Scott Gottlieb recently unveiled a major shift in federal tobacco policy, heralding a new approach with the potential to champion public health through innovation, harm reduction and consumer choice over a one-size fits all approach manifested in outdated regulation.

Wading into the heated debate surrounding e-cigarettes, Gottlieb's announcement on July 28 put the brakes on what would have been the de facto prohibition of e-cigarettes.
---
---
After the big FDA news, there's been a resurgence of groups looking to host educational screenings of #ABillionLives in their local theaters for politicians & media.
Great news! The major US theater companies will do another run, but will require about 50 tickets pre-ordered for each showing. No other costs, and group leaders will get 5% of their ticket sales to put towards advocacy.
Here's the link to get started: http://bit.ly/2vu5hoU
Jim McDonald – Vaping 360
Did you know there's a smoking cessation treatment that claims a 90 percent success rate that the FDA allows on the market without approval?

Well, my friend, welcome to the magic that is low-level laser therapy — also known as "laser acupuncture."

"Low level laser therapy uses acupuncture points to stimulate points on the ear, hand and legs. NO NEEDLES! We help you quit smoking, control weight, end addictions and ease internal mental and emotional stress. We are able to help with 100+ health issues, so please contact us to discuss your needs."
---

---
Jeff Stier
The biggest loser of the City Council's crackdown on e-cigarettes this week? New Yorkers' health.

On Aug. 9, the council voted to slash the number of vape shops allowed to operate and to ban new stores from opening. It'll be devastating to small-business owners seeking to compete legally with big tobacco.

Worse, by drastically ratcheting down the number of vape shops in the city, smokers will have fewer places to buy their favored alternative to cigarettes.
Tobacco Reporter
Russia's Health Ministry is preparing a bill that, if passed, would regulate vaping and hookah smoking in the country, according to a Pravda Online story.

The bill, which is set to be drafted by February, is expected to include a ban on vaping and hookah smoking in bars and restaurants throughout Russia.

Ministry officials were quoted as saying that the general idea behind the bill was that vaping should be regulated in the same way that tobacco smoking was regulated.
If the Indian Government bans e-cigarettes it is literally sentencing hundreds of millions of its people to a slow agonizing death.

India is the next major battleground on the vaping divide with major health organizations in the country calling for a complete ban whilst Indian vapers are desperately fighting a rear guard action to change the Government's mind.
Mawsley, Planet of the Vapes
Two studies were published last month, both looking at the subject of vaping being a gateway to tobacco. One, originating in Scotland, reports a link between vaping and smoking. The other, from Canada, also laid claims to having data that supported a link.
It will come as no surprise to any vaper that these anti-vaping pieces of work are both locked away, behind paywalls, from prying eyes.
---
A look back at how things have moved on or otherwise….
Better it be an e-cigarette – Colin Mendelsohn
Experimentation is a normal part of adolescence and many will try e-cigarettes, mostly out of curiosity. However, it is rare for non-smoking youth to become regular e-cigarette users. In the United Kingdom, less than 0.2 per cent of youth have never smoked "vape" regularly and there is no evidence of progression from vaping to smoking. Regular e-cigarette use is almost exclusively confined to young people who already smoke.
Have quit or reduced smoking – Edward Anselm – R Street
Misperceptions about the safety and efficacy of electronic cigarettes abound, yet each new piece of research shows increasingly positive results.

The latest study by Konstantinos Farsalinos and colleagues surveyed 27,640 e-cigarette users from all 28 European Union member nations, finding that:
---
Visit Nicotine Science & Policy for more News from around the World

---