Vapers Digest 14th August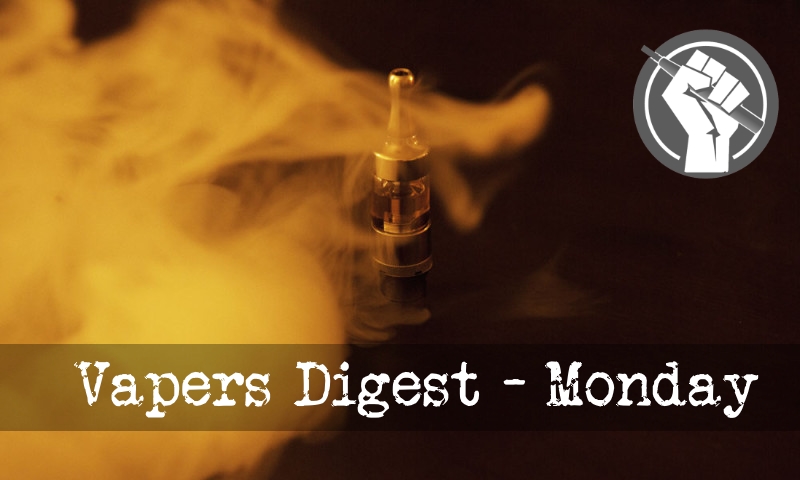 Monday's News at a glance:
Letter from Freedom to Vape to the Daily Mail – India's Challenge – More smokers lighting up, despite ever-increasing taxes – Big Tobacco's new cigarette is sleek, smokeless – A Safer Alternative – the Basics of Vaping (Part 1) – New York City passes multiple anti-vaping laws – Absurdity at its Finest – E-cig risk campaign for youths – FDA shouldn't give into irrational e-cigarette fears – Prevalence of population smoking cessation – Vaping 'the new oil rush' – Mayor defends vaping policy – Vaping In The News – Nicotine Science and Policy Daily Digest
Andrew Allison, The Freedom Association
In response to this article in the Daily Mail on 2 August, I wrote the following letter to the newspaper last week.

Dear Sir,
I refer to your article entitled "Warning on passive vaping in bars: Second-hand smoke from devices contain toxic chemicals that can irritate your eyes and skin" (Daily Mail 2nd August).

It seems bizarre that your science correspondent would put such great store on a study from Berkeley University which is known for producing partial and policy-led research in the past in order to attract clickbait headlines which bear no relation to the truth….
Mawsley, Planet of the Vapes
POTV has been documenting India's struggle with tobacco harm reduction for the last three years. The challenge the nation faces is that in a country of 1.3 billion people, there are 120 million smokers (accounting for 12% of the world's smokers). This ridiculous number results in a shameful 1,000,000 annual smoking-related deaths each year.

Part of the response, in 2015, included the production of a special chapter covering the evils of vaping in school textbooks. Quite how this would help overcome tobacco-related disease is unclear, but it ensured that certain politicians could continue to make a very healthy living from the sale of beedi cigarettes.
---

---
Despite ever-increasing taxes – Adam Creighton
The number of smokers in Australia has increased for the first time since anti-smoking campaigns ramped up a generation ago, casting doubt on the effectiveness of further taxes on cigarettes.

An unexpected standstill in the national smoking rate since 2013, combined with rapid population growth, has pushed up the number of regular smokers by more than 21,000 to 2.4 million according to Colin Mendelsohn…
But is it any better for you? – William Wan
Philip Morris International says it has created a less toxic cigarette — an innovation it claims could save lives and eliminate smoking in America.

The new technology, called IQOS, consists of a tube that gently heats up sticks of tobacco instead of burning them. By using heat instead of flame, the company says, IQOS eradicates 90 to 95 percent of toxic compounds in cigarette smoke.
---
---
The Basics of Vaping (Part 1) – Alon Ganon
Many of us are already aware of the trend of e-cigarettes and vaporizers. I myself am a "vaper" and I credit it with my ability to stay away from inhaling combustible material into my lungs.

I introduced my Rabbi, my mother, and several friends to vaping, most of whom were 1-2 pack a day cigarette smokers.

I have heard similar stories from countless numbers of people I've talked to online, as well as from just hanging around my favorite "vape" shop, the Columbus Vapor Connection.
Jim McDonald, Vaping 360
The government in the largest city in the U.S. has made it clear that vape shops and vapers are not welcome. The vaping restrictions were part of a package of tobacco-related laws that were pushed through the council rapidly, with backing from Mayor Bill de Blasio. And it was truly a package: council members weren't allowed to vote on each law separately; they were forced to choose all or none.
The New War Against Vaping Goes Against Science
Reminiscent of the days of prohibition, special interest groups are forcing personal beliefs against science, yet again. The ability to enjoy vaping is under attack with restrictive legislation from groups that are ignorant and believe the propaganda they are being fed. How can reason be interjected into this conversation, when popular belief isn't always accurate?
Richard Craver, Winston-Salem Journal
The U.S. Food and Drug Administration is preparing to walk a regulatory and marketing tightrope when it comes to youths and electronic cigarettes.

This fall, the agency will roll out an online extension of its "The Real Cost" public-health campaign.

The goal: emphasizing the risks it believes youths face when using e-cigs, vaporizers and other electronic nicotine delivery products, or, more simply, ENDS.
Michelle Minton
The Food and Drug Administration is now on the wrong side of a new anti-vaping campaign. Instead of helping teens reject using tobacco or e-cigarettes, the new FDA plan would end up discouraging people from quitting cigarette smoking — an outcome no one wants.

Where did the FDA go so wrong? During hearings before Congress, the newly appointed commissioner of the Food and Drug Administration (FDA), Scott Gottlieb, declared that "…as a physician and a cancer-survivor I'm not going to countenance a rise in adolescent smoking rates in this country under my watch."
---

---
By electronic cigarette use status in a national sample of recent smokers
This study merged data from the 2014 and 2015 National Health Interview Survey (NHIS) and restricted the sample to recent smokers [i.e., current smokers and former smokers who quit in 2010 or later (n = 15,532)]. Log-binomial regression estimated adjusted prevalence ratios (aPR) for being quit by e-cigarette use status (i.e., daily, some day, former trier, never). All analyses controlled for factors traditionally correlated with smoking cessation.
Matthew Theunissen
Law change will bring giants into market just as e-cigarettes hit paydirt in NZ The electronic cigarette industry is heating up and big tobacco is waiting in the wings for the Government to legalise nicotine-based "vapes", according to industry insiders.

E-cigarette use, commonly known as vaping, is becoming increasingly popular in New Zealand as the price of tobacco continues to rise and its associated health risks are emphatically publicised.
Zaryd Wilson
Whanganui Mayor Hamish McDouall says the council's new smokefree and vape-free policy is about education and should not be seen as punitive.

He and other councillors defended the district's new Smokefree and Vapefree Outdoor Areas Policy after councillor Philippa Baker-Hogan called it the "dumbest decision this council has made".
Kevin Crowley, Vaping Links
The FDA now headed by Scott Gottlieb, M.D. is not only on a "nicotine dangers" kick, they're funding and promoting it….

Tobacco Free Kids loves to use the illusion of tobacco companies "bullying" their way into more sales… because I care, here are a few examples below….

"Importantly, only one perspective on this issue was presented to us in the trainings. There was no room for disagreement or challenge. These ideas were presented as scientific facts, not subject to debate….
---
A look back at how things have moved on or otherwise….
Not really – Clive Bates – The Counterfactual
I was recently contacted by Sarah Knapton, Science Editor at the Daily Telegraph, asking me to set the record straight on the criticism she had received following an article on vaping, not least on this site from me.  There had been a formal complaint about her article, and she was asking me to publish the result – complaint rejected.  In the post below, I publish the findings and the email exchange that followed.
From its jamboree – Christopher Snowdon
The WHO's latest clandestine tobacco control meeting is due to take place in New Delhi in November. Readers may recall that the last shindig (in Moscow) saw a blanket ban on everybody from Interpol to the media – not to mention industry and the public – attending a conference that is paid for by the taxpayer and aims to change government policy.
1400 – 1630 on Tuesday 20th September 2016
A lot of media attention has focussed on the use of new nicotine devices – commonly known as e-cigarettes – in the UK. In May 2016, the government included in law the requirements of the EU Tobacco Products Directive, part of which applies to the devices and other non-combustible products.
---
Visit Nicotine Science & Policy for more News from around the World

---