In the News November 17th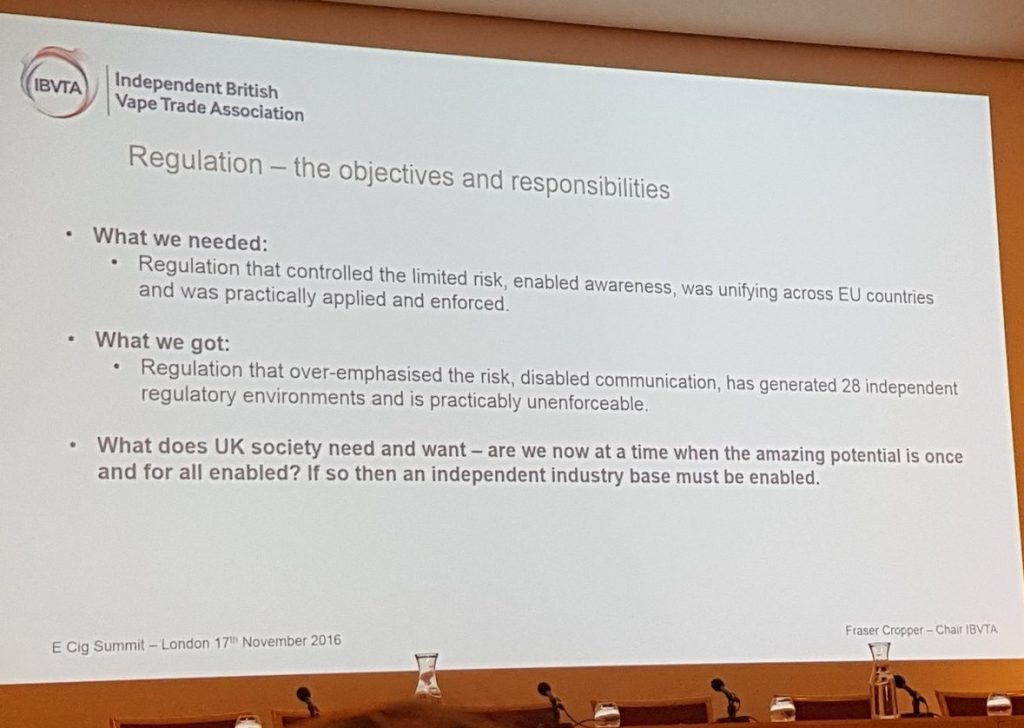 Thursdays News at a glance:
Eliquid Sweetener Research – WHO tells the world: ban vaping – Another Engineered Study Claims Teen Vaping Leads to Smoking – Folowing the Flock with Pasadena District – Why every e-cigarette user should be a free market libertarian – #ECigSummit – WHO continues focusing on risk – Vapers say smokers deserve alternatives – Need for transparency – Nicotine Science and Policy Daily Digest – Thursday, 17 November 2016
Mawsley, Planet of the Vapes
The researchers believe that the wide availability of sweet flavours is a factor in the popularity of electronic cigarettes. Especially among youth, they are keen to note (in case anybody has forgotten about the children). Demonstrating a huge grasp of eliquid manufacture, they believe the sweetness in eliquids is created by the addition of sugar, honey and caramel.
Jim McDonald, Vaping 360
Ban or restrict vaping.That what the World Health Organization (WHO) encouraged at its tobacco control meeting last week. The Framework Convention on Tobacco Control (FCTC) just concluded its seventh Conference of the Parties (COP7) in Delhi, India.

The result isn't shocking. This is the position the WHO has always taken on e-cigarettes, and the pre-meeting document issued by the FCTC set the stage by being completely focused on the potential harms of vaping without any consideration of the benefit to millions of smokers.
Claims Teen Vaping Leads to Smoking – Brad Rodu
A research letter published last week in JAMA asserts that teens who used e-cigarettes became "heavy" smokers.  The research appears to have been engineered to produce that result.

The lead author is Adam Leventhal, a University of Southern California psychologist with a history of exaggerated anti-e-cigarette claims (here).
---

---
Hertfordshire's Tobacco Harm Reduction Guidance
It is proposed that Hertfordshire County Council promotes responsibly the use of e-cigarettes to help smokers to quit or reduce smoking, whilst acknowledging that e-cigarettes are not entirely without risk, and monitors ongoing impact and evidence. This line is entirely consistent with national guidance and was included within Hertfordshire's Tobacco Harm Reduction Guidance which was approved by Panel in February 2015.
Vapers in Power
There is only one council in the entire country with a decent attitude towards vaping.

Thanks to the work of Freedom to Vape we now know that the vast majority of councils lump vaping in with smoking, against the advice of both Public Health England and the Health and Safety Executive.
Robert Innes, Vaping Post
Why on earth would anyone point the finger and name call, insult, a group of people who have moved away from 'tobacco products' and who have taken up an activity that has nothing to do with tobacco, something that is confidently acknowledged by world experts as being AT LEAST 95% safer than smoking?

Well, a quick 'Google' and the answer becomes apparent.
Should be a free market libertarian – Christopher Snowdon
The e-cigarette market in Britain has the closest thing to perfect competition that you will see in the real world. Perfect competition is a theoretical economic model but, like most economic models, it is a useful one. In a market with perfect competition there are a large number of sellers, no barriers to entry, and a largely homogenous range of products…
---
Coming to a Cinema near You –  Reserve your tickets Now!
Wed, Nov 23, 2016
Tues, Dec 6th
Weds, Dec 7th
Mon, Dec 12th
Tues, Dec 13th
---
A brief selection of Tweets from todays #ecigsummit Click Here to see more
The fourth annual E-Cigarette Summit will take place at the Royal Society in London on the 17th November 2016.

The issue of how public health should respond to the exponential growth of e-cigarettes remains a contentious issue and continues to divide scientists, policy makers and health professionals alike.
---

---
David Palacios – ECig Intelligence
The World Health Organization (WHO) has recommended wide-ranging restrictions on the sale and promotion of electronic cigarettes, even suggesting countries should consider a total ban – and immediately come under fire for doing so.
Vapers called on the World Health Organization to allow the world's one billion smokers to have equal access to safer alternatives to cigarettes.

Officials in closed-door meetings between the WHO and government health ministries in Delhi this week were considering banning electronic cigarettes, despite acknowledging they are significantly safer than cigarettes. They ejected vapers and consumer groups from their 'public', taxpayer-funded meetings on Monday.
Mary Ann Reyes
Health Organization Framework Convention on Tobacco Control (WHO FCTC) was held in Delhi, India.

Curiously, members of the media and the general public were reportedly prohibited from attending the plenary sessions and side meetings. Why the secrecy?
---
A look back at how things have moved on or otherwise…
Jessica Harding – Vapers in Power
Vaping advocacy is a very online affair so getting away from the keyboard and actually meeting people in the vaping world is always a surreal experience. This one took the (posh) biscuit though.

The Royal Society is a very impressive setting and I could have happily spent a long time wandering about in there (doubt the staff would have welcomed that though). It's a beautiful Georgian building, designed by John Nash. It's huge with enormous rooms and a staircase which goes off both ways at the bottom. You could easily imagine balls taking place there. It was a very plush affair with top notch cheese straws and Twinings tea….
Dick Puddlecote
Boy, the effect of e-cigs in exposing tobacco controllers as vacuous loons just gets better and better.

The 'public health' movement would, I'd say, overwhelmingly self-identify as left of centre and 'progressive'. Tobacco control has leapt on the back of this by using terms such as "tackling health inequalities" to explain some pretty hideous policies which hurt the poor far more than the well off (more on that later in the week). Their biggest political supporters worldwide are invariably lefties. In the UK, Labour almost swoon whenever a tobacco controller speaks….
Alan Beard – Why Oh Why
Yet again this entry was provoked by a twitter conversation(if you are not on there you should try it!) and was a request for flavours,used specifically by UK Vapers from Lorien J . This,as is usual on twitter produced a flood of information exceedingly quickly. However,some glaring differences quickly emerged, that shall be what I highlight,and examine the possible causes and implications….
---
Visit Nicotine Science & Policy for more News from around the World

---