In the News 17th November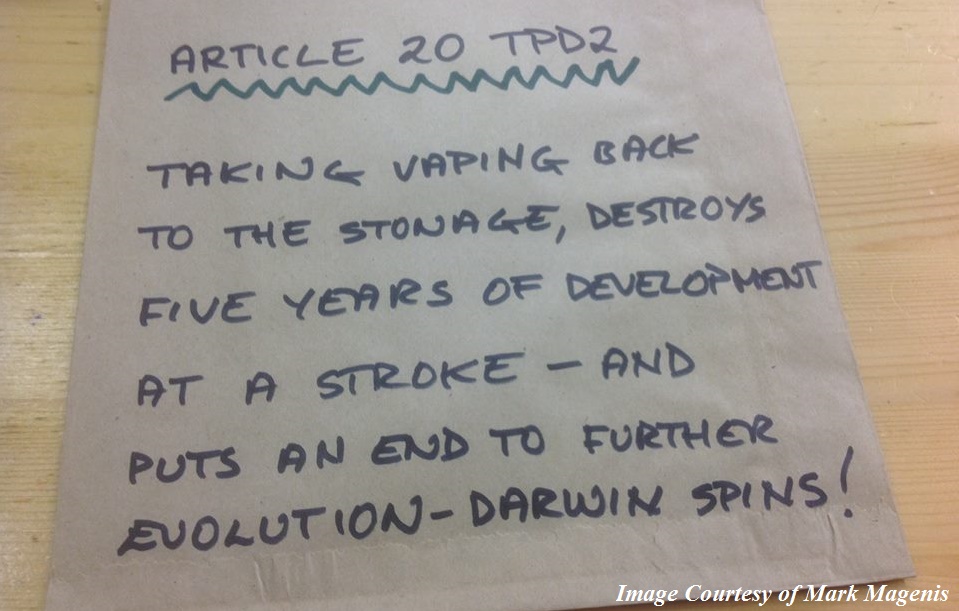 Tuesdays News at a glance:
The E-Cig Summit – Tobacco Control: Big Industry's Biggest Friend – Is Tobacco Flavour really the most popular? – Juice Flavours – Potty Pötschke – More on New England Journal of Medicine fake formaldehyde scandal – Ladies and Gentlemen, We're Floating in Vape. – E-Cigarette Use Is Soaring And Helping Smokers Quit – Norwegian vapers protest against the government's disguised TPD – Are electronic cigarettes legal in NSW? – Nicotine Science and Policy – Daily Digest – Tue, 17 November 2015
Jessica Harding – Vapers in Power
Vaping advocacy is a very online affair so getting away from the keyboard and actually meeting people in the vaping world is always a surreal experience. This one took the (posh) biscuit though.

The Royal Society is a very impressive setting and I could have happily spent a long time wandering about in there (doubt the staff would have welcomed that though). It's a beautiful Georgian building, designed by John Nash. It's huge with enormous rooms and a staircase which goes off both ways at the bottom. You could easily imagine balls taking place there. It was a very plush affair with top notch cheese straws and Twinings tea….
Dick Puddlecote
Boy, the effect of e-cigs in exposing tobacco controllers as vacuous loons just gets better and better.

The 'public health' movement would, I'd say, overwhelmingly self-identify as left of centre and 'progressive'. Tobacco control has leapt on the back of this by using terms such as "tackling health inequalities" to explain some pretty hideous policies which hurt the poor far more than the well off (more on that later in the week). Their biggest political supporters worldwide are invariably lefties. In the UK, Labour almost swoon whenever a tobacco controller speaks….
Alan Beard – Why Oh Why
Yet again this entry was provoked by a twitter conversation(if you are not on there you should try it!) and was a request for flavours,used specifically by UK Vapers from Lorien J . This,as is usual on twitter produced a flood of information exceedingly quickly. However,some glaring differences quickly emerged, that shall be what I highlight,and examine the possible causes and implications….
Steve Christie
"Most vapers don't vape tobacco flavoured Ejuice." Bollocks I thought. I liked my smokes….so?…it stands to reason I want my Ecig to taste like a fag.granted tobacco flavours don't exactly taste like a cigarette but through trial and error I found a few that came pretty close….!
Mawsley – Planet of the Vapes
Martina Pötschke-Langer once plied her trade as a person dedicated to saving lives as a surgeon but those altruistic days have gone. Now, as head of the Cancer Prevention Division at the German Cancer Research Centre, she earns a lucrative crust from the World Health Organisation's (WHO) Collaborating Centre for Tobacco Control. Nothing will stand in the way of her war against tobacco – certainly not the truth surrounding electronic cigarettes. Her latest interview with Deutsche Welle is a collection of jaw-dropping claims….
Clive Bates – The Counterfactual
On 20 October, I received an enigmatic reply (above) from the Editor-in-Chief of the New England Journal of Medicine. This was to my letter from April complaining about the publication of a flawed study on e-cigarettes and formaldehyde in the NEJM. His note didn't say much, but it was copied to around 40 others, so I thought I ought to reply. It is an opportunity to write explaining some of the fallout.
The Thin Air Magazine
Vastly becoming a popular alternative to cigarettes, Vaping is gently floating towards a cultural connoisseur phenomenon like chemex coffee, craft beer and cronuts. Ciaran McCausland attends Vapefest 2015 at the Aviva Stadium in Dublin, immersing himself in the billowing flavoured haze to discuss what attracted him and other like minded individuals to the cult of vape…
What possible benefit? – Carl V. Phillips
Continuing the assessment of FDA's proposed regulation (as far as we can anticipate what it says). For background, see the CASAA newsletter and the recent posts here. As already noted, the proposed "regulation" is really a ban on sales of all existing e-cigarettes with a provision that will probably (but might not) allow a handful of closed-system products, that FDA hand picks, back on the market. But whether regulation or ban, it can only be justified in order to solve problems. So what problems is it ostensibly solving?
Guy Bentley – Daily Caller
Ex-smokers are four times more likely to use e-cigarettes than current smokers, while those who've never taken a puff of tobacco are unlikely to ever start vaping.

A new paper by Rutgers School of Public Health and the Schroeder Institute slays a number of popular myths surrounding e-cigarettes. The paper uses some of the latest government data and suggests e-cigarettes could be a critical ingredient in getting people to give up smoking….
Vaping Giraffe
The Norwegian government's proposal to "legalize e-cigarettes with nicotine", which turned out to be an implementation of the TPD, have kicked of a bit of activity in the vaping community. Up until recently I have a feeling that most of the debate have taken place in the comments sections whenever (not too often) vaping and e-cigarettes have gotten some media coverage. Actually, a lot more has been done…
NSW Health – Disaster for B & M's in NSW Australia. They cannot even display products inside their shops. They cannot provide samples. Couldn't be worse if they tried
The sale of liquid nicotine, including in liquids in electronic cigarettes, is illegal under NSW Poisons legislation (Poisons and Therapeutic Goods Regulation 2008) without approval from the NSW Ministry of Health unless the product is listed or registered on the Australian Register of Therapeutic Goods, where other restrictions apply….