In the News 16th November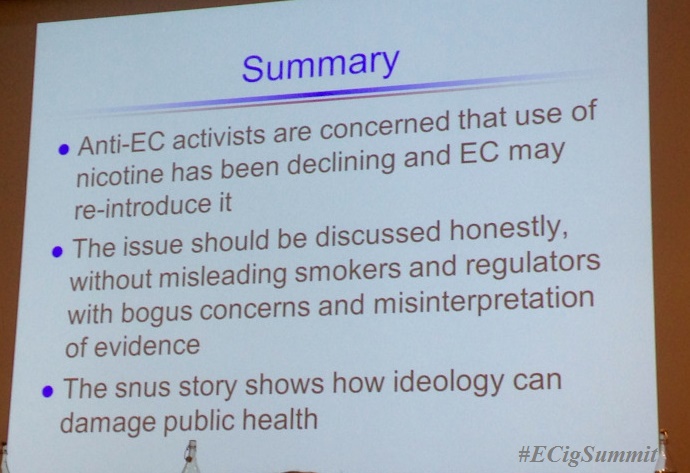 Mondays News at a glance:
Them or Us – How and why I changed my mind on e-cigarettes – E-cigarettes should be promoted as a smoking cessation – Working on insanity – Anti-Smoking Groups are Admitting that They Can't Handle the Truth – 'Dry puff' and electronic cigarettes – The Many Faces Of Tobacco Control. Simple Simon Chimpman – Regulate. Restrict. Tax. Ban – Dual Use. E-Cigarettes & Smoking. Shut UP Already – E-Cigarettes, Long Term Risks &  Health Implications – Five Pawns Hit With Multimillion Dollar Class Action Lawsuit – Banning vape not the answer – Nicotine Science and Policy – Daily Digest – Mon, 16 November 2015
Facts Do Matter
Earlier this week I had the pleasure of being able to attend the e-cigarette summit at the Royal Society. It was an eye-opening experience, not least of which the number of speakers there exalting the positives of vaping, but it wasn't that that was the most eye-opening. There were some that were conspicuous by their absence, and no I'm not talking about the opponents of e-cigarettes.

At some point during the day, two blog posts were released (here and here) which prompted the Spock eyebrow from me….
Jim McManus
I want to see an end to the misery, death, disease and disability caused by tobacco. My dad died (a soldier, miner then bus driver) as a result of it, and my grandfather (a farm labourer then miner all his life) too. And there isn't a day goes by when I don't miss them both, many years later. People I went to school with (a scottish village full of miners, farm and factory workers) are now disabled by smoking….
Prof Linda Bauld – University of Stirling
Prof Bauld talks to ecancertv at NCRI 2015 about the impact of E-cigarettes on cancer.

She argues that whilst there is a lot of fear mongering, evidence shows they are significantly less harmful than regular cigarettes. Furthermore, there is no risk posed by second-hand vapour as there is with second-hand smoke.
Grandad – Head Rambles
Very occasionally I mention smoking. While I touched on the subject a couple of days ago, I feel compelled to return to it again as this is a special occasion.

Yesterday I was mooching around and came across an article which was highlighted by Dick Puddlecoteamongst [many] others.  The reason it's special is that I laughed out loud when I read it.

People in Wales who work from home are to be banned from using electrofags while they are working…..
Are Admitting that They Can't Handle the Truth and Have No Interest in Sharing It – The Rest of the Story
A revealing email from a state health department worker to Dr. Stan Glantz demonstrates the way in which anti-smoking groups are unable to handle scientific truth and the difficulty they have in telling the truth when it interferes with their underlying ideology.

Apparently, a state health department tobacco control practitioner attended a webinar in which Dr. Terry Pechacek from CDC explained that electronic cigarettes are much safer than tobacco cigarettes…
Oliver Kershaw – Wiley Online
I would like to add some context to the Jensen et al. 'hidden formldehyde' letter to the New England Journal of Medicine, and Farselinos et al.'s paper in Addiction. A key factor appears to be whether or not the 'dry puff phenomenon' is sufficiently common for it to form the basis for modelling the overall cancer risk from cigarettes, as implied by the New England Journal of Medicine press release. It appears that it is under these conditions that high concentrations of formaldehyde are generated….
---
A Vaping Links Quartet!
Every dog, or in this case, chimp, has his day. We've all had personal and professional triumphs. We've suffered losses, failures. We at first ~ especially when we're younger, hungry trying to "change the world", hopefully for the better.

To make a mark in life – there's absolutely nothing wrong with that. Specifically, if you're in the public health field, you'd want that to be a lasting mark. You'd want that to be memorable. You'd want to help people. Change lives for the better….
The all powerful, all knowing Offices of Management And Budget have the distinct decision of deeming regulations over e-cigarettes. "Budget". Well. What does THAT have to do with e-cigarettes and the country? What does that have to do with the FDA (I thought they were the "authority") and deeming regulations?

It's about health, right? It's about children, right?
It seems there's a pendulum swaying in the media for "experts" to ride. No truth, mind you, they love speculation. What do they care, they're gambling with YOUR lives, not theirs.

The love/hate affair with tobacco and the tax revenue it brings for public health, government and organizations is pretty well over. They are studiously defending their own infidelity by trying to find things to convince you you're doing something wrong. Why…?
More dangers about e-cigarettes are sure to come out. Experts are constantly finding a new study every day. The media likes to keep the public misinformed. Some experts put their two cents in and the whole world is still confused.

Long term effects are still unknown is claimed by worldwide "experts".
---
---
From Australia:
Victorian Child and Adolescent Monitoring System – Proportion of young people who have ever smoked cigarettes. This data is collected as part of the Victorian Student Health and Wellbeing Survey (VSHWS), also known as 'About you' by DET.

About You was collected for the first time in 2014, in Victorian schools from all sectors, and across 17 DHS local areas…
[soundcloud url="https://api.soundcloud.com/tracks/233001176″ params="auto_play=false&hide_related=false&show_comments=true&show_user=true&show_reposts=false&visual=true" width="100%" height="450″ iframe="true" /]
Parrot Hut
As many of you know, Russ Wishtart, host of Cling, Bang Radio, has been on a crusade against companies selling eliquid with DA and AP in high levels. For a time I supported his crusade. But I have to say that I have changed my stance a bit, and this is why I changed my mind….
From Malaysia
We should do what's right for the country – not because we fear losing votes or agitating a section of businessmen.

LET'S face it – it is almost impossible to ban vaping. Don't even think of it, so there's really no point in passing yet another law that cannot be enforced…