In the News November 18th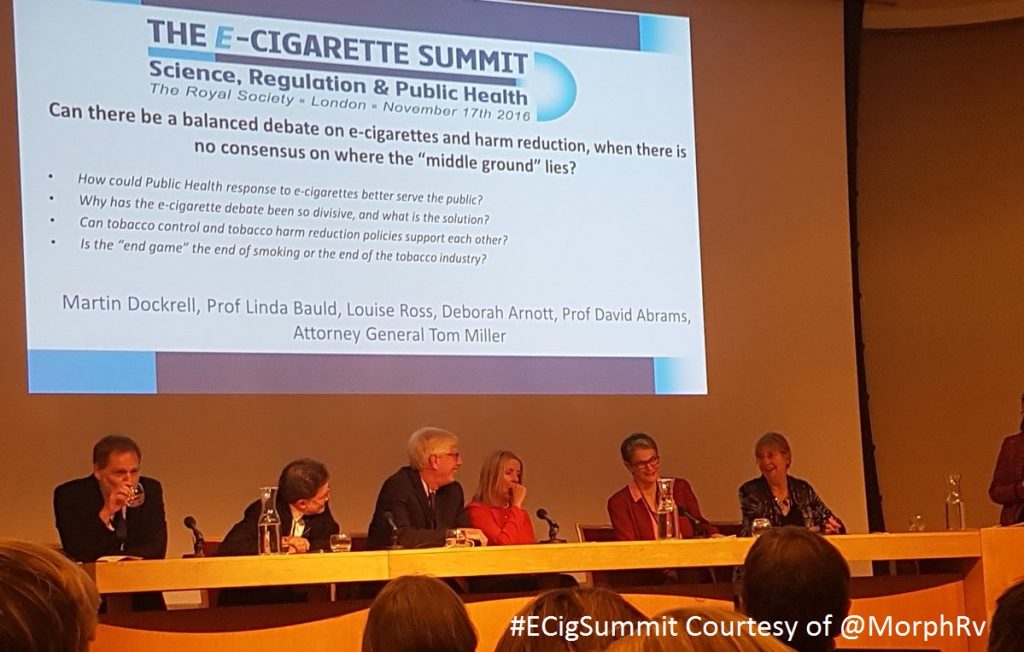 Fridays News at a glance:
A Day at the Summit – Thoughts from 'The E-Cigarette Summit' – E-Cig Summit 4 Round Up: Vape Heavy Weights Debate – COP 7 urges tighter regulations and MasterCard cracks down on vape vendors – A new Royal Decree to regulate Ecigs – CoP7: Again an unfair assessment – Square peg, round hole – Nicotine Science and Policy Daily Digest – Friday, 18 November 2016
Paul Barnes, Facts Do Matter
What a year it has been, the opening words of the E-Cigarette Summit 2016 Chair, Professor Ann McNeill. Could almost call that a throwback to the Summit of last year, but then the debate surrounding e-cigarettes hasn't waned but intensified. This year, the Summit came hot on the heels of the FCTC Conference Of Parties (Seventh Session), which did get coverage (as did Brexit and Trump albeit briefly).
Andrew Allison, Freedom to Vape
I am not about to give you a blow-by-blow account. That would take too long. Instead, I want to highlight some of things that were said, and give you my response to them. Let's begin with Ram Moorthy, deputy chair of the BMA board of science.

Ram described the BMA, much to my amusement, as a professional body. It is not a professional body – it is a trade union. Ram talked us through how the BMA reaches its decisions that then turn into BMA policy….
Ashtray Blog
Back in 2013, e-cigs faced a huge threat: Medical regulation. If medical regulation had gone ahead in Europe, vaping as we know it would have been changed for ever.

Tanks would have disappeared off the shelves, e-liquid would only be available on the black market and the only devices you could buy in shops would be out-of-date cigalikes.

Part of the reason the drive to medicalise e-cigs failed was because of the debate that took place in the first E-Cig Summit.
---

---
And MasterCard cracks down on vape vendors – Fergus Mason
The WHO's much-criticised COP 7 conference ended last Friday with a renewed call for governments to consider banning vapour products. Meanwhile a new anti-vaping campaign in California has caused annoyance by referring to vapers as "stupid sheep", and MasterCard is placing tough new conditions on vendors who accept its cards. There is some good news though – an English local council is planning to adopt more vape-friendly policies in the near future.
Jérôme Harlay – Vaping Post
The regulation of vaping products was paused in Belgium after the early 2016 Royal Decree was suspended last March. The Royal Decree published today in Le Moniteur definitely repeals the former and finally gives the e-cigarette its legal frame, not as disappointing as before but still more stringent than initially required by the EU.
---
Coming to a Cinema near You –  Reserve your tickets Now!
Wed, Nov 23, 2016
Tues, Dec 6th
Weds, Dec 7th
Mon, Dec 12th
Tues, Dec 13th
---
Simon Clark, Taking Liberties
If ever there was a square peg in a round hole it was me at the Next Generation Nicotine Delivery conference in London yesterday.

In my previous post I explained that I was a little surprised to be invited to speak, even on a panel entitled 'Gaining valuable insight into consumer needs and consumption of alternative nicotine delivery products'.
Jérôme Harlay – Vaping Post
A press release issued by the WHO last week reports a "significant decision" on electronic cigarettes containing or not nicotine "invites Parties that have not yet banned the importation, sale and distribution of ENDS/ENNDS to consider either prohibition or regulating such products." Some parties considered regulating e-cigarettes as tobacco products or as drugs with raising concerns about therapeutic claims used for their promotion.
---

---
Analytical Assessment of E-Cigarettes
Hertfordshire's Tobacco Harm Reduction Guidance
It is proposed that Hertfordshire County Council promotes responsibly the use of e-cigarettes to help smokers to quit or reduce smoking, whilst acknowledging that e-cigarettes are not entirely without risk, and monitors ongoing impact and evidence. This line is entirely consistent with national guidance and was included within Hertfordshire's Tobacco Harm Reduction Guidance which was approved by Panel in February 2015.
Vapers in Power
There is only one council in the entire country with a decent attitude towards vaping.

Thanks to the work of Freedom to Vape we now know that the vast majority of councils lump vaping in with smoking, against the advice of both Public Health England and the Health and Safety Executive.
---
A look back at how things have moved on or otherwise…
Ben Eccleston – Coventry Telegraph
Passengers will be barred from using electronic cigarettes at a number of stations in Warwickshire from December 1.

London Midland has taken the decision to ban passengers and staff from using e-cigarettes on their trains and also at their 147 stations across the country…
Sam Bowman – Adam Smith Institute
A quick note on what happens when governments ban e-cigs: cigarette smoking rates rise among teenagers.

Regression analyses consider how state bans on e-cigarette sales to minors influence smoking rates among 12 to 17 year olds. Such bans yield a statistically significant 0.9 percentage point increase in recent smoking in this age group, relative to states without such bans. Results are robust to multiple specifications as well as several falsification and placebo checks…
Here's What's at Stake – CSPNet
Last week, for the first time ever, the U.S. Food and Drug Administration (FDA) authorized the marketing of new tobacco products through the premarket tobacco application (PMTA) pathway. The decision, which applied to eight new Swedish Match snus products, was lauded as a landmark in tobacco regulation…
VAPE Magazine
It has come to the attention of VAPEMagazine.com that a much talked about article "What you need to know about electronic cigarettes"published by Royal College of Physicians on 20 March 2014, has now been removed. It is not known why the Royal College of Physicians decided to remove the article. VAPEMagazine.com is posting this reprint of the article with full credit of authorship to the Royal College of Physicians. This article reprint is for archival academic reference purposes only and doesn't necessarily represent the current views of the Royal College of Physicians….
---
Visit Nicotine Science & Policy for more News from around the World

---