In the News May 3rd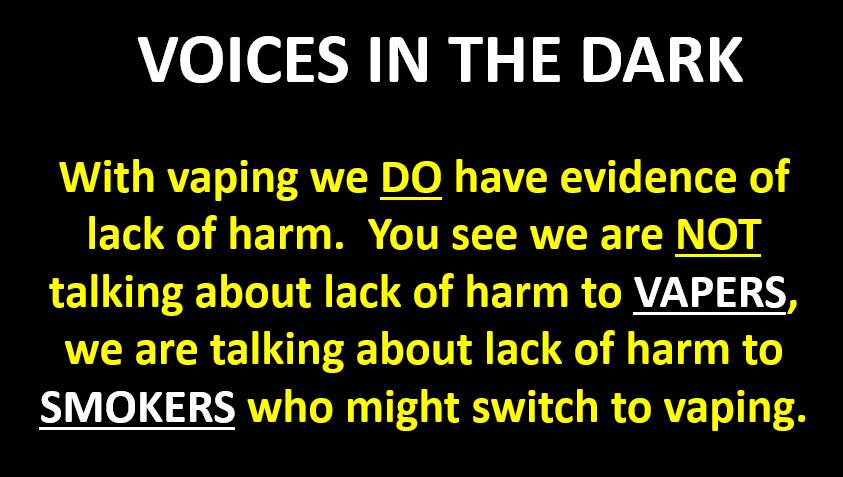 Tuesdays News at a glance:
The Big Scream – The Deliberately Blinkered Approach – Signage – Anti-vaping zealots write flat-earth letter to The Times – Despicable and dishonest – Why I don't trust tobacco control – NNA submits comments to DoH – Fighting the Vape Militia Online and Off  – ASH And Tobacco Control Caused All Vaping Bans – Words from the Echo Chamber – The Pleasure of E-cigarettes – The U.S. Government and health organizations are failing smokers on e-cigarettes – We can be heroes – How the EU's TPD has pushed e-cigarettes into the dark – Tobacco excise – both sides should be ashamed – Australia's prohibition of e-cigarettes is out of step – As FDA preps e-cigs rules – Nicotine Science and Policy Daily Digest – Tuesday, 3 May 2016
Dick Puddlecote
"In tobacco control we call these reactions 'the scream test' of policy potency. We're amused when the industry supports anodyne, useless campaigns like these. And we know we're on the right track when they behave as they did over plain packaging." – Simon Chapman, 2013
Head Rambles
So the Royal College of Physicians announces that in their opinion e-cigarettes are a remarkably effective smoking cessation device.

You would imagine there would be a sigh of relief amongst the various governing bodies? An unbiased organisation, highly regarded in the medical world has made a pronouncement that should please everybody?
Dave Dorn – The Sun Also Rises
So, a trio of pubs up in Scotland has decided to stop allowing Vapers to Vape indoors in them. They've cited stinky vape as the reason – some of their regulars aren't keen on the pong off some of the Vapers folks have been using….
Write flat-earth letter to The Times – Clive Bates – The Counterfactual
A remarkably self-regarding letter is published in The Times (London) today.  The writers are reacting with hostility to the outstanding Royal College of Physicians report, Nicotine without smoke: tobacco harm reduction, and the very positive editorial in The Times (Vaping Vindicated) that followed its launch.
Why I don't trust tobacco control – Simon Clark – Taking Liberties
Thursday was a good day if you're an advocate of e-cigarettes.

The Royal College of Physicians published a new report, Nicotine without smoke: tobacco harm reduction that concluded "e-cigarettes are likely to be beneficial to UK public health. Smokers can therefore be reassured and encouraged to use them, and the public can be reassured that e-cigarettes are much safer than smoking."
On 'unintended consequences' of vaping policy
Following the roundtable meeting on e-cigarettes with the Dept of Health in March NNA are keen to continue the dialogue, and in particular raise our concerns with regards to the 'unintended consequences' of policy and regulation. To that end we collaborated with our associate Clive Bates of the Counterfactual Consultancy and sent the following submission to DoH on Friday 29th of April…
---

---
A reply to the speakers – Clive Bates – The Counterfactual
This session from a California tobacco control conference was circulated on Twitter and caught my eye. To me, it summarises a lot that is wrong with the anti-nicotine crusade and also with the behaviour of public servants and public health professionals in this field. Here was my reaction on twitter, but I decided to go further…
Dick Puddlecote
An article published today in the Leicester Mercury highlights just how nasty and intolerant a world self-serving tobacco controllers have created for us.

Leicester City fan banned from last home game of season after smoking e-cigarette

A Leicester City fan has been banned for two home games due to smoking an e-cigarette in the stands.

Erm, why…?
Paul Barnes – Facts Do Matter
It's always nice to put finger to key and put some thoughts out into the virtual world isn't it? I could, and often have, gone on for quite some length about a particular topic, but what good does it actually do? After all, I'm only "speaking" to like-minded folk right…?
---
Have you quit smoking by using an e-cigarette? Submit a video to our YouTube channel, Vapers Helping Smokers to Quit https://t.co/L01kLtXQT4

— Nicotine Surveys (@NicotineSurveys) May 2, 2016
---
Neil McKeganey – Christopher Russell – NSP
The publication by the Royal College of Physicians of a report "Nicotine without Smoke: Tobacco Harm Reduction" approbating the use of e-cigarettes as a route out of smoking conventional cigarettes affirms a finding that has been highlighted by researchers for a number of years now.
Are failing smokers on e-cigarettes – Kevin Crowley – Blasting News
The well respected Royal College of Physicians has done their homework. They have released a 206 page reportencouraging the use of e-cigarettes as another choice for smokers. Last year, Public Health England released their evidence as well. They have made tremendous progress in the tobacco harm reduction and public health field….
David Sweanor – Vapor Voice
Imagine a time and place where the leading cause of cancer death was consumer consumption patterns, and where innovative technology was developed that allowed these consumers to change their behaviors to something greatly less hazardous. This new technology actually gave them something they preferred and that even cost them less than sticking with the old, deadly alternative….
---

---
Has pushed e-cigarettes into the dark – Christopher Snowdon – City AM
In just over two weeks, 20 May will be a big day for smokers and vapers – but I wonder how many know it.

From that day, EU regulations in the form of the European Tobacco Products Directive will limit the strength of e-cigarette fluid and restrict bottle sizes to a measly 10ml. Tank capacity – i.e. the amount of fluid an e-cigarette can hold – will be limited to 2ml.
Terry Barnes – Catallaxy Files
There's much excitement about Chris Bowen's tobacco excise black hole. As breathlessly reported by Laurie Oakes last night, the Coalition is pinching Labor's plan to slug smokers an extra 12.5 per cent excise per year until 2020, but Treasury estimates over the next decade it will rake in just $28.2 billion to Labor's and the Parliamentary Budget Office's estimate of $47.8 billion.
Is out of step with the evidence – The Conversation
In Australia, e-cigarettes containing nicotine are prohibited. Most Australian health organisations such as the National Heart Foundation, Cancer Council Australia and the Australian Medical Association take a very risk-averse approach based on potential harms. They say e-cigarettes could be a gateway to smoking for non-smokers…..
The Heartland Institute
Public Health England last in August of 2015 became the first national government agency to endorse e-cigarettes as safer options for current smokers. Its report also dispelled several bogus anti-tobacco claims.  Why is it that e-Cigarettes are seen as life-savers by the UK Government, but condemned by the US?  Find out why by checking this recent article of Wednesday, April 13, 2016…

Scientists and Congress rally to support vaping – Beth Mole
The 2017 Agriculture Appropriations Bill may not seem like a stirring piece of legislation to most, but it raised quite a few eyebrows last week as it passed through a House subcommittee with a key amendment—one that aims to spare the vast majority of electronic cigarettes from impending federal regulations.
Nathalie Dunand – Vaping Post
According to an information published by ECigIntelligence, British American Tobacco could have afforded Ten Motives, one of the most important independent e-cigarette manufacturer in the UK.
ECig Intelligence
The Spanish market crashed in 2014, bottomed out in 2015 and then resumed slow growth, which is expected to continue through this year, aided partially by an improvement in public opinion on the health effects of e-cigarettes…