In the News May 25th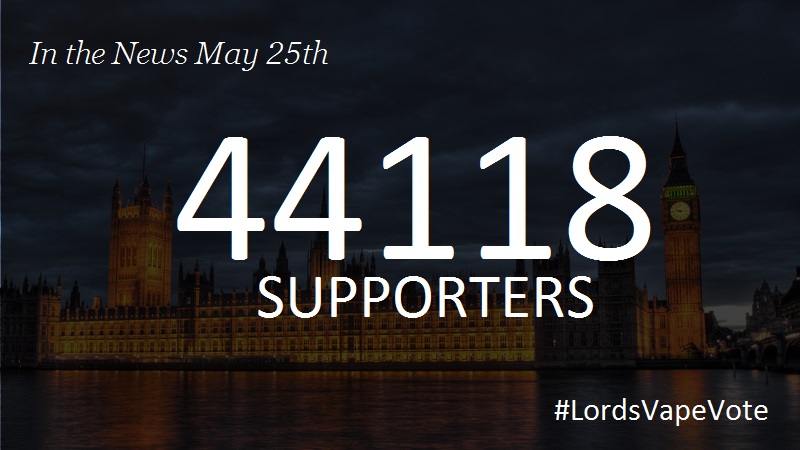 Wednesdays News at a glance:
Great Progress In Parliament – It's the kidz, innit – Are EU Kidding Me? – Vaping Supported on the BBC – Introducing the Tobacco Control Comedy Show – Diacetyl now officially banned in eliquids in the UK – E-cigarette use rose rapidly in UK – More people try e-cigarettes – Dr Michael Mosley – Still not hooked! – What matters is how many people vape on a regular basis – Saying e-cigarettes are "95% less harmful" – More than half of EU citizens questioned now think e-cigarettes are harmful – Regulation of Pleasure – E-cigarettes no longer considered medicinal products in Sweden – Possible changes to e-cigarette regulations in Victoria – Nicotine Science and Policy Daily Digest – Wednesday, 25 May 2016
Petition Update – Please Read
There were a series of important meetings in Parliament yesterday in which senior Labour and Conservative politicians were discussing how to remove the vaping regulations from the TPD. Both sides have been highly impressed with your campaign – especially your fabulous personalised letters to peers. The critical Lords vote is expected in the week commencing 6 June. We will be asking you to write to peers again in the run up to that.
---
23:00hrs 25th May
---
Dave Dorn – The Sun Also Rises
Apparently, kidz using Ecigs is a "bad thing™" . I know this, because people who oppose Ecigs (and generally claim to oppose smoking) keep telling us this. They have various reasons, nearly all of which distil down to "theeenk of da cheeeeeldrens". I don't quite know what means, if I'm truthful….
Paul Barnes – Facts Do Matter
Whenever there's some "new research" being touted in the media-news-space, I often find myself switching automatically into newspeak as 99 times out of 100, what is written on these online media places has little or no bearing on what is being said….
Vapers, smokers & non-smokers wanted for research study. £10 voucher for return of saliva/urine & questionnaire. E-mail: sasecig@lsbu.ac.uk

— Lynne Dawkins (@LynneDawkins) May 25, 2016
Mawsley – Planet of the Vapes
"I think they have a great potential to save millions of lives over the next 20-30yrs." The sound bite introduces BBC's Horizon program, confirming vaping's place in mainstream culture. The documentary covered key areas of the electronic cigarette debate and leaves a general feeling that, if not won, the harm reduction argument is certainly winning converts in the UK….
Head Rambles
For those of you who don't know my bosom pal Luke, he's a dried up arsehole of the Irish Tobacco Control scene.  He runs his own little empire grandly called the "Tobacco Free Research Institute Ireland" which essentially is the Provisional Wing of the Anti Smoker movement here….
---

---
On Monday this week the MHRA (the UK medicines body that has responsibility for regulating e-cigarettes) issued its draft guidance on eliquids. Amongst other stipulations, it listed the ingredients that manufacturers may not use in eliquid:
Kate Kelland – Reuters
The number of people in France and Britain who have tried an electronic or e-cigarette has risen sharply in just two years, according to a Europe-wide study published on Tuesday.

The research, led by scientists at Britain's Imperial College London, looked at attitudes to and use of e-cigarettes across Europe between 2012 and 2014.

It found that France had the highest use of e-cigarettes, with the proportion of those who had tried one nearly tripling to 21.3 percent from 7.3 percent.
Inside the Case Against Ontario's Anti-Vaping Law – RegWatch
Daily Mail
The number of people who have tried e-cigarettes almost doubled in two years, a new study shows.
Researchers examined the use of the devices across the European Union between 2012 and 2014.
The team, from Imperial College London, found that in the UK the proportion of people who had tried an electronic cigarette increased from 8.9% to 15.5%.
What I was far more concerned about was getting hooked on nicotine. Yet as the weeks went by and I puffed away, nothing happened. When I leapt out of bed I didn't feel a longing to reach for my machine. If anything I struggled to keep up with my schedule. Once the novelty had worn off it became a bit of a chore….
---

---
On a regular basis, not how many try it – IBVTA
Research from Imperial College London, found that the proportion of UK population who had tried vaping increased from 8.9% to 15.5% between 2012 and 2014.

The key issue is not how many people try vaping, but how many people having tried vaping go on to vape on a regular basis. Of those that do, we know that 99.9% of them are former or current smokers…
Is a very bad idea (part 143 of 10,000) – Carl V. Phillips – Anti-THR Lies
Because trying to have a discussion on Twitter is not a clever thing to do, and I like to stop doing unclever things when I catch myself at it, here is a Q-and-A format (most of the Qs are not really questions, but I will just call them that). If you have a Q or an A that is missing, leave it in the comments and I will update the post….
[soundcloud url="https://api.soundcloud.com/tracks/265746355″ params="color=ff5500″ width="100%" height="166″ iframe="true" /]
E-Cigarettes: Miracle or Menace? – Simon Rosselat – Vaping Post
The journalist Dr Michael Mosley enters the world of e-cigarettes with this BBC documentary. In order to form his opinion on the topic, he started investigating in this domain and provided interesting answers in addition to a singular and original view, from the inside….
Now think e-cigarettes are harmful – EurekAlert
More than half of Europeans now think that e-cigarettes are harmful–a proportion that has nearly doubled in two years–show the latest results of a European Union (EU)-wide survey, published online in the journal Tobacco Control.

Yet use of these devices across member states has continued to surge within the same timeframe, the findings show….

Royal Society of Medicine
At this half day symposium, experts in the fields of addiction, regulation, sociology, policymaking and consumption, shall come together to discuss, debate and seek common ground for sensible regulation of pleasure.
The Supreme Administrative Court has ruled that e-cigarettes not marketed for smoking cessation purposes should not be classified as medicinal products. This is contrary to the Medical Product Agency's long-standing position and rulings of the first and second-instance courts. As a result, the EU Tobacco Product Directive (2014/40/EU) rules for e-cigarettes will apply to e-cigarettes in Sweden from May 20 2016, when the directive must be implemented in national legislation….
Victorian Health Minister Jill Hennessy has said the Andrews government plans to regulate the use of e-cigarettes across the state.

"We're going to regulate them like they are a tobacco product and also make sure that we're not really using e-cigarettes as a starting point for people to get a habit to then start cigarettes and then get addicted to nicotine,"
Public Health Surveillance, THR Education, Research, Research, US DOT, Litigation, Taxation, Flavoring Ban, Vaping Bans, Smokeless Tobacco Ban, Minimum Age, Anti THR Funding, EU TPD, EU TPD / UK, More Plain Packaging, Canada, Australia, NZ, WHO, Junk Science – Propaganda – Lies.