In the News May 24th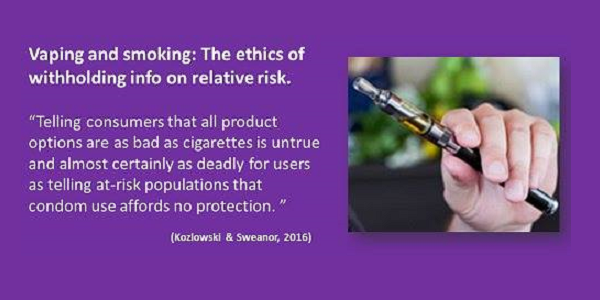 Tuesdays News at a glance:
Are they nuts? The dysfunction and decadence of tobacco control in one chart – The Extraordinary Extent Of ASH Lobbying – #LordsVapeVote – Last Call For The #IEAVapeDebate – Tilting Horizon – The Netherlands: Notification fees and derogation – Why Anecdotal Evidence Proves that Electronic Cigarettes ARE Helpful for Smoking Cessation – Adult Smoking Rate in US Is Falling Fast – Obsolete tobacco control themes -Nicotine Science and Policy Daily Digest – Tuesday, 24 May 2016
The dysfunction and decadence of tobacco control in one chart – Clive Bates – The Counterfactual
The chart of an audience poll from the Global Tobacco Dependency Treatment Summit 2016 (23-24 May 2016, twitter: #TDTSummit16) is deeply disturbing…

Continued cigarette smoking is favoured by two-thirds (66%) of the audience, rather than using an e-cigarette. Are they nuts? The question generously even allows e-cigarettes to be a 'not ideal' compromise, but still the majority would rather have people smoking. Who is in the audience? The summit  is…
Dick Puddlecote
Last week Guido highlighted what we in this corner of the internet already knew; that ASH lobbies the government with money government, erm, gives to ASH.

Between 2011 and 2015, ASH received a whopping £745,650 in taxpayer funded grants from the Department of Health, their £200,000 grant last year was specifically for assisting the department to implement the "Tobacco Control Plan" (page 22)….
---
23:30hrs 24th May
---
Dick Puddlecote
As I mentioned a couple of weeks ago, tomorrow night the Institute of Economic Affairs are hosting a debate to discuss the recently-installed provisions in the EU's Tobacco Products Directive and their effect on the vaping free market. Here's the blurb.
Head Rambles
I had recorded Sunday's Horizon programme on e-cigarettes, and watched it last night. I'm not quite sure what I was expecting and I wasn't disappointed, in that I'm still not too sure what the outcome was.

I use to watch Horizon on a regular basis, but the one type of programme they do that pisses me off a bit is when they try to prove something with their own little trials….
---

---
Jérôme Harlay – Vaping Post
As of May 20 2016, the notification fees are published and amount to € 44.85 per new or substantially modified product, with no upper limit. The fee is asked to manufacturers and importers who aim at marketing vaping products on the NL market. Nevertheless, for products notified before November 20, 2016, a derogation exempt manufacturers and importers from this cost (Article 7.3-7).
That Electronic Cigarettes ARE Helpful for Smoking Cessation – The Rest of the Story
One of the widest scientific misconceptions about evaluating the effectiveness of electronic cigarettes for smoking cessation – and one promulgated by anti-vaping groups and health agencies like the CDC and FDA – is that anecdotal evidence is insufficient to demonstrate that electronic cigarettes can be effective in helping smokers to quit smoking. In fact, this is a widespread fallacy…
---

---
The nation seems to be kicking its smoking habit faster than ever before. The rate of smoking among adults in the U.S. fell to 15 percent last year thanks to the biggest one-year decline in more than 20 years, according to a new government report.

The rate fell 2 percentage points from 2014, when about 17 percent of adults in a large national survey said they had recently smoked.
Can be hazardous to public health: – Bio Med Central
Leading themes have guided tobacco control efforts, and these themes have changed over the decades. When questions arose about health risks of tobacco, they focused on two key themes: 1) how bad is the problem (i.e., absolute risk) and 2) what can be done to reduce the risk without cessation (i.e., prospects for harm reduction)