In the News May 23rd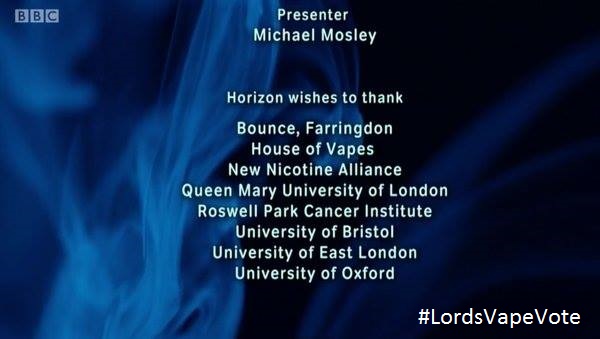 Mondays News at a glance:
The most important week for vaping yet – Who or what is the World Health Organisation at war with? – FDA Ecig Ruling Legal Challenge – Test your knowledge – Update – #LordsVapeVote – The new Vaping etiquette – France: Vaping products are now regulated – The NNA Responds to the Victorian Tobacco Amendment Bill – Feynman vs. Public Health (Rodu vs. Glantz) – Child Vapers – Surgeon general's warning: E-cigarettes make leftists crazy – FDA Tobacco Compliance Webinars – Nicotine Science and Policy Daily Digest – Monday, 23 May 2016
Junglist – Planet of the Vapes
The amazing efforts last week have seen the petition to support the Parliamentary moves to block crazy e-cigarette regulations reach over 38,000 signatures – but there is still more work to do….
Clive Bates – The Counterfactual
The World Health Organisation does a good line in war-like rhetoric when it comes to tobacco policy. But what is it actually at war with? In this post, I examine the confusion in 'tobacco control' about what it is actually trying to achieve.
---
22:00hrs 23rd May
---
Mawsley – Planet of the Vapes
The regulations announced by the U.S. Food and Drug Administration (FDA), two weeks ago, have drawn a mass of criticism. In particular, the "deeming rule" states that all products on the market from 17th February 2007 have to go through an application process in order to be sold. The implications are huge given that this means almost all vape products currently being sold. Nicopure Labs has announced its intention to challenge the FDA in court….
E-cigarettes a miracle or a menace?
E-cigarettes – what do you know? 10 questions to test how much you understand about vaping.
---

---
Our Updates over the Weekend:
ocdz.co.uk – Saturday 21st May
A quick round up on what's been happening in a rather hectic couple of days for Vaping! – No surrender! – #LordsVapeVote Writing Campaign – Vapers in Power – Tell them your story – Dave Dorn Vapour Trails TV – Petition Update – D-day for Vaping – Vaping and the TPD on BBC News – British vapers unite behind Lord's
ocdz.co.uk – Sunday 22nd May
Another quick round up covering todays latest news:  To vape or not to vape: are E-cigarettes a miracle or a menace? – #LordsVapeVote Writing Campaign – Vapers in Power – Tell them. Tell the Lords. – Knowledge and Perceptions about Nicotine – Is Vaping Evil or a Health Miracle? – On speaking a foreign language – E-cigarettes curb removed from Welsh health bill – First minister dismisses e-cigs ban – E-Cigarettes Could Be Taxed
Horizon BBC2 22nd May 2016 – Thanks as always to @dnglos for the YouTubage
Shane Watson – The Telegraph
I assumed when I gave up smoking that people would in general be pleased. I thought anyone who liked me a lot (my parents) would be relieved, for health reasons, and anyone who liked me but wished I would stop blowing smoke all over their nice clean homes (nearly everybody else) would be much more pleased to see me…
Nathalie Dunand – Vaping Post
Vaping products, in France, are now regulated by a decree, according to the TPD. A regulation that the Fivape qualifies as "grotesque".

A decree for May 19, 2016 regulating vaping products containing nicotine has been published on May 20 in the national Official Journal.
---

---
To the Victorian Tobacco Amendment Bill
Without any community consultation the Victorian Government is set to enact the Tobacco Amendment Bill which will regulate e-cigarettes the same way as tobacco products. The proposed amendments are detailed here: Tough New Regulations To Protect Kids From E-Cigarettes

The following statement from the NNA (AU) has been sent to all Victorian Parliamentarians in response to the excessive new regulations:
Tonight, we'll be focusing on the Horizon program broadcast last night. However, if we get time, we'll also be discussing Vape Collective & possibly looking at the Disguiser mod.
Carl V. Phillips – Anti-THR Lies
I started rereading Richard Feynman's corpus on how to think about and do science. Actually I started by listening to an audiobook of one of his collected works because I had to clear my palate, as it were, after listening to a lecture series from one of those famous self-styled "skeptic" "debunkers". I tried to force myself to finish it, but could not…
A study of parental and carer views on the use of electronic vaporising devices by their 11-18 year old children
Thank you for taking part in this survey which is being conducted by researchers in the School of Psychology at the University of East London in collaboration with London South Bank University, the University of East Anglia; and sponsored by Cancer Research UK.
E-cigarettes make leftists crazy – Meg Hansen – American Thinker
In April 2016, the British Royal College of Physicians published a study vindicating the public health value of e-cigarettes as a safer alternative to smoked tobacco.  Demonstrating that e-cigarettes function as an effective aid to quitting smoking and are used "almost exclusively by confirmed smokers," the report recommends that they be promoted as a healthier substitute to tobacco-containing cigarettes.

FDA Center for Tobacco Products (CTP) hosts a series of webinars on federal tobacco regulations. These webinars are designed to provide FDA tobacco compliance education and information to retailers and to small business manufacturers.
The thick vapor clouds that wafted over the steps of the State House one day last week were just a signal of the latest battle over anti-smoking legislation that smoldered inside.