In the News April 28th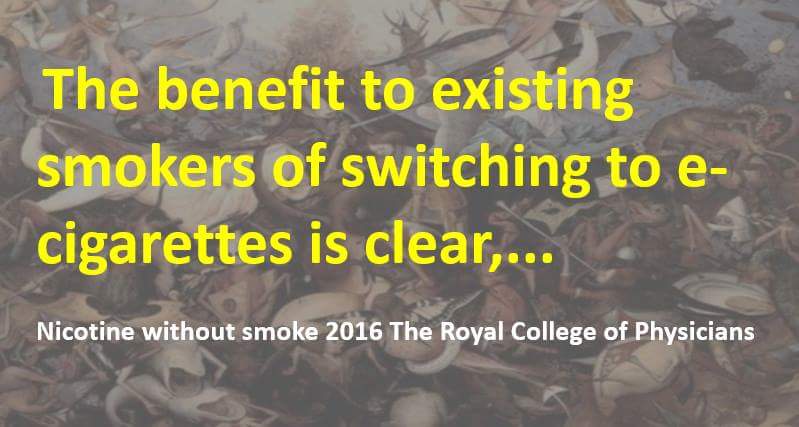 ---
"Can we just take a moment? The RCP report is in 140 articles. One hundred and forty. How far did this go?"
---
Thursdays News at a glance:
Nicotine without smoke: Tobacco harm reduction – 'Promote e-cigarettes widely as substitute for smoking'  – One in the eye for Simon Chapman – V.I.P Statement – Nicotine without smoke—putting electronic cigarettes in context – Game Changer: World Leading Medical Group Backs E-Cigarettes -Royal College of Physicians strongly endorses e-cigarettes as smoking substitutes – A trial comparing electronic cigarettes with NRT – Throwback Thursday – NHS Lanarkshire to consider allowing e-cigarettes on hospital grounds – E-cigarettes and smoking cessation – Nicotine Science and Policy Daily Digest – Thursday, 28 April 2016
Tobacco harm reduction – Royal College of Physicians
This report aims to provide a fresh update on the use of harm reduction in tobacco smoking, in relation to all non-tobacco nicotine products but particularly e-cigarettes. It concludes that, for all the potential risks involved, harm reduction has huge potential to prevent death and disability from tobacco use, and to hasten our progress to a tobacco-free society…
As substitute for smoking – New Nicotine Alliance
It is with great satisfaction that we read this new report from a source so widely respected as the Royal College of Physicians*. The past two years have seen a slew of ill-considered and poorly conducted research hit the headlines regarding vaping and there can be no doubt that the perception of both smokers and non-smokers will have been impacted regards the relative harms of vaping vs smoking.
---
---
Terry Barnes – Catallaxy Files
My recent Catallaxy post on the federal government's hush-hush e-cigarette policy and regulatory review set a cat amongst a few pigeons in the public health and pro-vaping worlds.

So let's hope Simon Chapman and his team of "unbiased' public health proseltysers take good note of this latest scientific validation of the worth of e-cigarettes as a harm reduction agent and alternative to the deadly weed for smokers….
Royal College of Physicians Report – Vapers in Power
Vapers in Power welcomes today's positive report from the Royal College of Physicians (Nicotine without smoke: tobacco harm reduction) but we are concerned that it may have come too late. It's fantastic that the Royal College supports and goes beyond the landmark Public Health England Evidence Review …
Putting electronic cigarettes in context – John Britton – BMJ
Electronic cigarettes have exploded on to global markets over the past decade and in the process have generated some strongly polarised views. Some believe that e-cigarettes are a disruptive technology that could consign tobacco smoking to history; others think that they are a distraction from core public health aims of eradicating all nicotine use and a tobacco industry ploy to perpetuate smoking and undermine international tobacco control treaties.
---

---
World Leading Medical Group Backs E-Cigarettes – Guy Bentley – Daily Caller
One of the world's most prestigious medical organizations has delivered a groundbreaking 200-page report that supports e-cigarettes as a tool to quit smoking and demolishes several vaping myths in the process.

The Royal College of Physicians (RCP), the most respected medical institution in the United Kingdom, concluded e-cigarettes are 95 percent safer than regular cigarettes and are likely to be hugely beneficial to public health….
Strongly endorses e-cigarettes as smoking substitutes – Dr Farsalinos
The report is extremely important and is expected to be highly influential. It provides a valid and unbiased approach to currently-available evidence, presents any uncertainties about long-term risk without hysteria and intimidation, and accepts the huge potential of e-cigarettes in reducing smoking-related disease risk among smokers and the lack of evidence that e-cigarettes are acting as gateway to smoking…
---
Join David Dorn, for tonight he celebrates the vape!
---
More Reports:
---

---
With nicotine replacement therapy to stop smoking – CRUK
Electronic cigarettes give a similar level of nicotine as nicotine replacement therapy. People who want to reduce the risks of smoking may choose to use electronic cigarettes because they copy the action of smoking, but are much safer than conventional cigarettes. The trial will determine whether this is as helpful as or more helpful than using nicotine replacement therapy.
Anti-Tobacco Groups Blast Cigarette Companies for Not Supporting Development of a Safer Cigarette – The Rest of the Story
April 28, 1986 (AP, New York): Today, a coalition of anti-smoking organizations, heath agencies, and researchers are attacking the nation's cigarette companies for failing to support the development of much safer cigarettes….
---
---
Allowing e-cigarettes on hospital grounds – Daily Record
NHS Lanarkshire chiefs are set to review their smoking policy at hospitals after new evidence on the benefits of 'vaping'.

The smoking ban at Hairmyres Hospital, and other hospitals across the area, could be relaxed following a Health Scotland review, which showed that using e-cigarettes can help give up smoking tobacco..

Peter Hajek – Hayden McRobbie – Chris Bullen – The Lancet
The review and meta-analysis by Sara Kalkhoran and Stanton Glantz on the effects of vaping on stopping smoking is not an objective assessment of the evidence.

There are several serious problems with the analysis, but the most glaring is its reliance on studies that enrolled people who smoke, then asked if they had used e-cigarettes. Some 20% of smokers who use e-cigarettes stop smoking altogether, with similar or higher rates in cohorts of smokers who initially had no interest in quitting..