In the News 7th December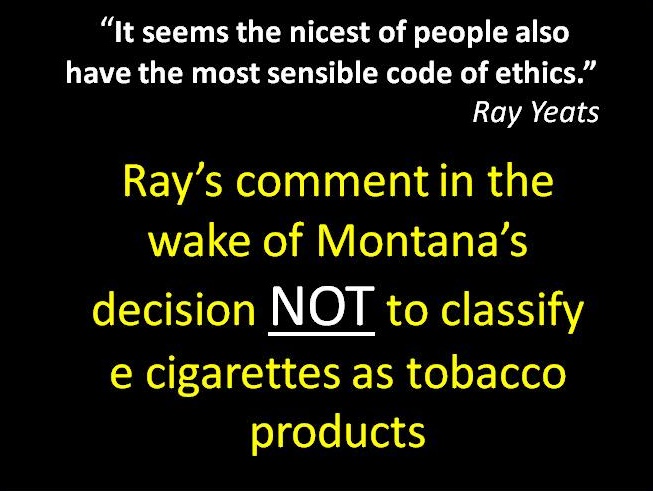 Mondays News at a glance:
BECOME PASSIONATE! NOW is the time (again) to take action – UK – Be Proud, Be Loud, Be Heard – Bending the rules (it's for the children) – Three vapers walk into a bar… -Public Health (Wales) Bill – Assembly to debate e-cigarette proposals and other public health measures – Which Countries Ban E-Cigarettes? – E-cigarette regs give industry the vapors – Queens Park – Yet Another Tobacco Researcher – New Montana law regulates e-cigarettes – Bill Godshall Update – Is vaping smoking? – World Lung Foundation under pressure for criticising ecigs – Nicotine Science and Policy – Daily Digest – Mon, 7 December 2015
NOW is the time (again) to take action – UK – Vaping Point
" In my old age, I see a kind of legislation insanity, and I'm too tired to figure out EU motivations. I sometimes think we ARE ruled by an "elite" malevolence. Big Corporations steering things.Ulterior and secret things going on. It's not just vaping. It's other things too that have simply rolled over us because we are completely dis-empowered. Things like the seed regulations, that makes the seeds in MY garden, the "property" of the EU. Or the herbal regulations that have "diluted" any efficacy of old home remedies….."
Dick Puddlecote
If you're at a loose end at any time this week, here's something constructive you could fill a few minutes with.

Via Vapers in Power, a new website has been set up to encourage a letter-writing campaign towards MPs primarily about the appalling Tobacco Products Directive. As I've mentioned recently (see here and here), the consequences for e-cigs of this absurd and irresponsible piece of EU vandalism-posing-as-regulation are only now starting to emerge.  The VIP site, www.writetovape.co.uk, has summarised these in a handy graphic for those who aren't yet aware..
The first of a  double bill from Just Another Ordinary Morning
Spare a thought, today, for vapers in Malaysia – a country in which the war on e-cigarettes has gone beyond the stage of "pitched battle" and is heading rapidly into "apocalyptic".

So vindictive have Malaysian officials become, that they are now ignoring their own rules. And so it is that officials from the Petaling Jaya Education Department are to check into a complaint that they never received….
Just Another Ordinary Morning
I would like to briefly share with you something that happened to me last night. Along with a couple of other people, I decided a late drink would be a good idea. So we set off to a bar. Not a pub. I don't choose these places.

So, we walked into the bar which as it turned out was heavily undersubscribed. There were maybe five people in there at 10.30 on a Saturday night. As this particular place has an upstairs room, we assumed everybody must be there and so, drinks in hand, up the stairs we went….
Assembly to debate e-cigarette proposals and other public health measures
The Assembly's Health and Social Care Committee published its report on the general principles of the Public Health (Wales) Bill on 30 November 2015.

The Stage 1 whole Assembly debate on the Bill will take place in Plenary on 8 December 2015.
Lindsay Fox – E-Cigarette Reviewed
Countries around the world are still grappling with what to do about e-cigarettes. Most are content with regulation – usually disproportionate to the likely risks of vaping – but some take things a lot further, even going so far as to completely ban the sale or even the use of e-cigs. This has been going on for some time, but our old post on e-cigarette bans around the world is now woefully out of date. Since then, some countries have clarified their positions, and others have joined in the excessive, ban-toting anti-vaping crusade, spurred on by the World Health Organization….
Robert King – Washington Examiner
The electronic cigarette industry, with millions of dollars at stake and little time to change Washington's mind, is lobbying hard to shield most of its products from federal oversight.

Tobacco giants and tiny vape shops alike want members of Congress to agree that e-cigarettes already on the market won't need federal approval in the future….
There were at least 5 major media outlets there covering the rally/protest. Here are the news pieces they did — at least one of them actually led with the story.

Hundreds of protesters stood in a cloud in front of Queen's Park today, but it was a sweet-smelling cloud of vapor, not smoke. They say upcoming changes to the rules for e-cigarettes will force vapor sellers out of business, kill jobs and drive people back to smoking traditional cigarettes…

These changes go into effect at the beginning of January, but until last week the vape shops thought they would be exempt from some of the rules.
Tells the Public that Smoking May Not Be Any More Hazardous than Vaping – The Rest of the Story
A tobacco researcher from the University of Southern California last week told the public that smoking may not be any more hazardous than using an electronic cigarette, which involves no tobacco and no combustion, and which has been found to have carcinogen levelsand free radical levels that are orders of magnitude lower than in real cigarette smoke.
New e-cigarette laws, including a required license for retailers and prohibition of sales to minors, are taking effect in Montana on Jan. 1.

The Montana Department of Revenue recommends that any retailers currently selling vapor products apply for the sales license on the department's website. The fee for the license application is $5…
Tobacco Harm Reduction Update – December 3rd, 2015
FDA Deeming Ban, Related FDA, Vaping Documentary, THR Surveillance, THR Business, Taxation, Vaping Bans, Flavoring Ban / Minimum Age, Minimum Age Laws, Minimum Age Laws, Prohibition, Advertising Bans, Plain Packaging, TPP, THR Research, Varenicline (Chantix / Champix), Junk Science, Propaganda and Lies….
In what some are putting forward as an example of anti-vaping scaremongering the World Lung Foundation has this week come under significant pressure to explain its recent criticism of electronic cigarettes. Using what it describes as a "key study" the foundation came to the conclusion that electronic cigarettes are a gateway to tobacco products….