In the News 30th December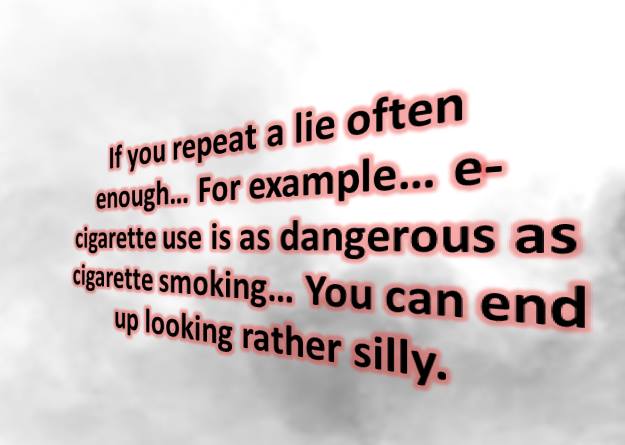 Wednesdays News at a glance:
Scientist Debunks Latest Claim That E-Cigarettes Are As Dangerous As Tobacco – Credulous or cynical? Science journalists played yet again by e-cigarette pseudoscience and spin – Dangerous nonsense about vaping – Quack claims about vaping, smoking and pets – Peddler Of Absurd Health Claims Ridicules Absurd Health Claims – Government prepared to take action on e-cigarettes – Anti-smoking advocate calls for further price hikes – Getting the Vapors – CASAA comments on FDA proposed "intended use" regulation of ecigs – Amendment to Government Decree
That E-Cigarettes Are As Dangerous As Tobacco – Guy Bentley
A study making headlines across the world claiming two e-cigarette products "damaged cells in ways that could lead to cancer," is under fire from a leading public health expert.

Conducted by a research team at the University of California, San Diego, the study investigated how e-cigarettes may contribute to the development and progression of a cancer known as head and neck squamous cell carcinoma….
Science journalists played yet again by e-cigarette pseudoscience and spin – Clive Bates
I've just written to Sarah Knapton, Science Editor at the once-proud Telegraph titles. She has picked up one of the most idiotic American press releases ever written and turned it one of the most idiotic UK news stories ever written*: E-cigarettes are no safer than smoking tobacco, scientists warn – an outrageous headline buffed up with a subtitle that invokes the spectre of cancer.
The Stats Guy
If you thought you already had a good contender for "most dangerous, irresponsible, and ill-informed piece of health journalism of 2015″, then I'm sorry to tell you that it has been beaten into second place at the last minute.

With less than 36 hours left of 2015, I am confident that this articleby Sarah Knapton in the Telegraph will win the title.

The article is titled "E-cigarettes are no safer than smoking tobacco, scientists warn". The first paragraph is…..
Christopher Snowdon – Velvet Glove. Iron Fist
Two articles today help bring a mad year to an end with some suitably dire science. The first will ensure that thousands of people keep smoking rather than switch to e-cigarettes, thanks to a widely reported quote from the lead researcher…

"I believe they [e-cigarettes] are no better than smoking regular cigarettes."

No such conclusion can be drawn from the study itself which looked at what happens to human cells exposed to vapour extract in a petri dish.
Ridicules Absurd Health Claims – Dick Puddlecote
Following swiftly on from the most pathetic nanny state whine of 2015, we have also recently witnessed the most ironic article of the year courtesy of Julia Belluz at Vox.

The most ridiculous health claims of 2015

'Tis the season to reflect on the year that was. So to celebrate, I took a look at the most wildly off-base health claims of 2015.

All well and good, except that this is the same Julia Belluz who has been a poodle of lying anti-vaping lunatics and junk scientists for most of the past twelve months.
---
Volunteers Required!
Any vapers up for speaking with me at an event in Bromborough, Wirral, 18.1.16, 12.20-4? DM me with email address if interested, thanks

— grannylouisa (@grannylouisa) December 30, 2015
---
On e-cigarettes – Irish times
The Government says it will "act on" e-cigarettes if it gets evidence they are damaging to health.

Legislation outlawing the use of cigarettes, cigars and pipes in cars and other vehicles where children are present will come into effect on New Year's Day, but does not cover vaping….
Marewa Glover – Radio New Zealand News
"I found with our studies people tend to have a budget. So they might say their budget is $15 for tobacco, a day and then they just make it work. They'll buy loose tobacco, they'll shift from the manufactured tobacco packets to loose tobacco and start rolling their own, to make it go further."

"They try and reduce down the number of cigarettes per day. They try and stay within their budget and what helps them by also shifting to a cheaper brand," she said….
---

---
Indy News
The organization representing Indiana's retail vaping shops is suing the state over its regulation of the manufacturing and sale of e-liquids.

Hoosier Vapers filed suit saying new rules that will go into effect into July 2016 will hurt small vaping shops because it requires "e-liquid manufactures to enter into an expensive 5 year service agreement with a  'qualified' security firm."
Proposed "intended use" regulation of ecigs – Carl V. Phillips
CASAA recently submitted its comment about an FDA proposed rule, something they presumably intend to implement as soon as they "deem" e-cigarettes (and thus before they ban ~99.99% of them outright). The rule basically attempts to claw back much of what FDA was declared to not have the authority to do in Judge Leon's landmark ruling. You can read more and link through to the FDA proposal at our Call To Action (which you can still respond to at the time of this writing, through Wednesday)….
Idiocy from Hungary
Data on smoking habits and frequency in Hungary are worse than in most European Union countries; this warrants the introduction of further prohibitive measures in Hungary on health-protection grounds, in an effort to reduce smoking, as well as nicotine addiction due to the use of smoking imitation devices or the promotion of smoking with smoking imitation devices…