In the News 2nd July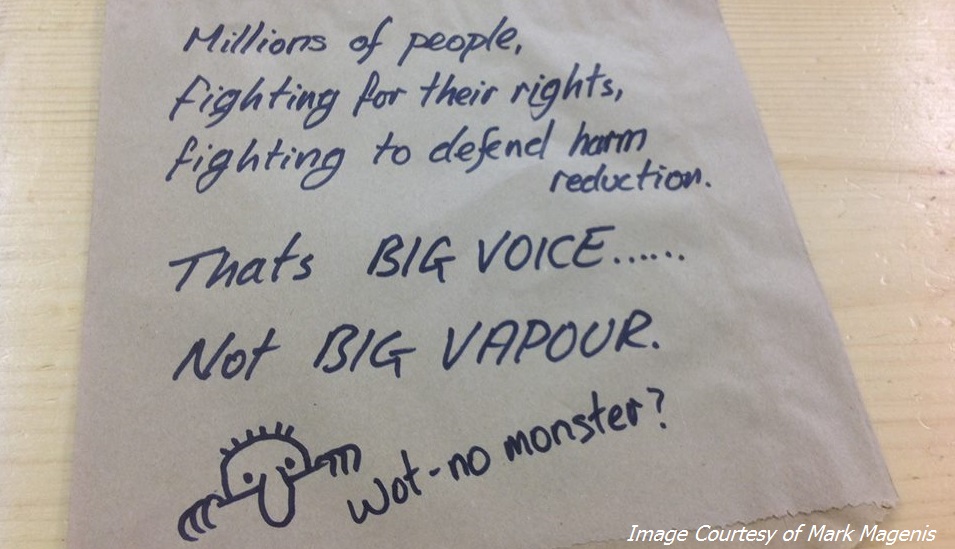 Thursdays News at a glance:
Draft regulations on the sale and manufacture of tobacco products – Minister for Public Health or Chief Medical Officer: who is right about e-cigarettes? – The letter England's Minister for Public Health should now write – Has the fox been appointed guardian of the hen house? – Advocacy and Apathy – I couldn't have said it better myself – An approach to ingredient screening and toxicological risk assessment of flavours in e-liquids – E-cig industry doesn't need government regs – Bill Godshall Update 2015-07-01 – Nicotine Science and Policy – Daily Digest 
On the sale and manufacture of tobacco products -Department of Health
The revised EU Tobacco Products Directive (2014/40/EU) will replace existing legislation on regulating the sale and manufacture of tobacco products and for the first time regulate e-cigarettes and herbal products. It will apply from 20 May 2016….
Who is right about e-cigarettes? – The Counterfactual
It is not often that Ministers and senior officials take such different public positions on important policy matters, but on tobacco harm reduction and e-cigarettes, English health Ministers and Chief Medical Officer for England take a quite different view. The CMO is given a measure of independence and can speak out as she pleases, but this is on the tacit understanding that she provides dispassionate, scientifically reasoned advice in areas she is qualified to advise – to speak truth to power if you like. But what if the CMO isn't providing scientifically grounded advice? Let's examine their respective positions…
Clive Bates – The Counterfactual
If I was England's Minister for Public Health, this is the letter I would write today, just as the proposed UK implementation of the EU Tobacco Product Directive is announced for consultation.  The EU directive may be an anti-scientific, unprincipled and unlawful mess, but there is still plenty that can be done in the UK or England.  One thing would be to have all the agencies involved in delivering tobacco harm reduction / e-cigarette policy aligned and maximising the opportunity.  This is the letter that would do that:
NNA calls for consumer input to MHRA on E-Cigs – New Nicotine Alliance:
Article 20 of the TPD which relates to e-cigarettes has been described by many as a "dogs dinner" and we believe that that is a fair description. It contains numerous arbitrary requirements and restrictions that will do nothing at all for the health or safety of the smoking and vaping public, and will create pointless burdens on the vendors and manufacturers of e-cigarettes to the competitive advantage of the far more dangerous product – tobacco cigarettes….
Simon Thurlow – Midnight  Musings:
It's not often that I have a rant in print, but today is going to be an exception.

Now some of you may know that we have a maniac in a position of power in Wales. This maniac is called Mark Drakeford and he actually has a job by the grand title of Health Minister (which I would have thought should be enough in itself to prosecute him under the Trade Description Act)….

BekiVapes:
"This idea that it renormalises smoking is absolute bullshit" Deborah Arnott, ASH

Whatever your opinion of the blunt language used, it does make the point that I and many others have been making for a long time. The act of not smoking normalises not smoking. It's blindingly obvious to anyone who has half a braincell. Those who are so blind they will not see the truth are still accusing us ordinary (and some extraordinary) vapers of being shills and paid lobbyists, with the inference that we're lying….
And toxicological risk assessment of flavours in e-liquids – Science Direct
Flavour ingredients are an essential part of e-liquids. Their responsible selection and inclusion levels in e-liquids must be guided by toxicological principles. We propose an approach to the screening and toxicological risk assessment of flavour ingredients for e-liquids. The screening involves purity requirements and avoiding ingredients that are carcinogenic, mutagenic or toxic to reproduction….
Drew Johnson – Washington Times
The Oxford Dictionary declared "vape," a verb meaning "to inhale and exhale the vapor produced by an electronic cigarette," the 2014 Word of the Year, and for good reason. Few new products have ever been discussed more than electronic cigarettes – or "e-cigs…."
FDA, Harm Reduction Research, THR Education, Taxation, Sales Ban For Minors, Vaping Bans, Smoking Ban, Smokeless Tobacco Use Ban, Packaging Restriction, International Trade, Public Health Ethics (and lack thereof), Prohibition, Junk Science, Propaganda and Lies….