In the News 3rd July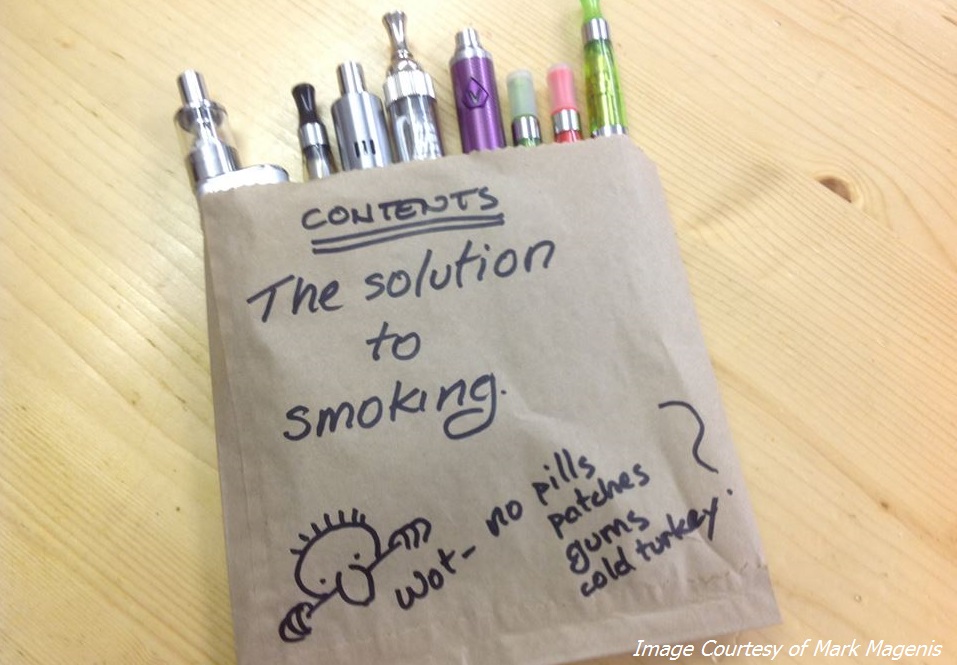 Fridays News at a glance:
Socialised promotions – Vape stores are the new Stop Smoking Services – The Self-Denormalisation Of A Reactionary Antique – Hong Kong health department moves decisively to protect the cigarette trade – NICE – Smoking: harm reduction – Vapers in Power – Call to Action 3 July 2015 – Proposed ban on flavored tobacco in Minneapolis – Hartlepool smokers encouraged to quit for the summer – Confused about diacetyl? you should be – Is vaping safer than smoking? – Nicotine Science and Policy – Daily Digest
Because "Facts Do Matter"
Fairly recently a whole 'new study' saw the light of day in the Tobacco Control Journal but it didn't seem to get the fanfare of scary headlines that most get, mostly because the "research" is way too picky. Not to mention it is "the first of its kind". Natch.

So what was this "study" all about then….?
Well, according to 'science' vape store owners and their staff members are likely to be far more effective and have more health information for current and potential new vapor product users.

Even more amusingly, our sociologist Simone Clapman who we all know can't truly understand the science behind vapor products had this to say……
Dick Puddlecote:
You'll have noticed that content has been sparse recently, real life has had me hectic morning noon and night for the past week. This may continue for the coming week too; just thought I'd post that parish notice here. I do have time to briefly highlight this rather amusing piece of Chapman fail though, I think you might enjoy it….
Health department moves decisively to protect the cigarette trade – Clive Bates
Another day another prohibitionist move against e-cigarettes – this time in Hong Kong. I would like someone, just one person somewhere in the world (but if possible someone at WHO), to explain why it is good policy to ban a product that nobody disputes is many times lower risk than cigarettes while cigarettes remain freely available…..
E-Cigarette Politics
This document is the official UK government quality standard for provision of THR in the medical environment; it is also in effect a position statement and guide, following on from PH45 (2013), and is designed to complement that guidance and to accord with the new TPD where required. The provision of access to 'unlicensed' nicotine products for harm reduction now appears to be an official requirement…..
---
Lest We Forget – Don't Stock Up…. Man Up
Image shamelessly "borrowed" from Steve Christie @schristieauthor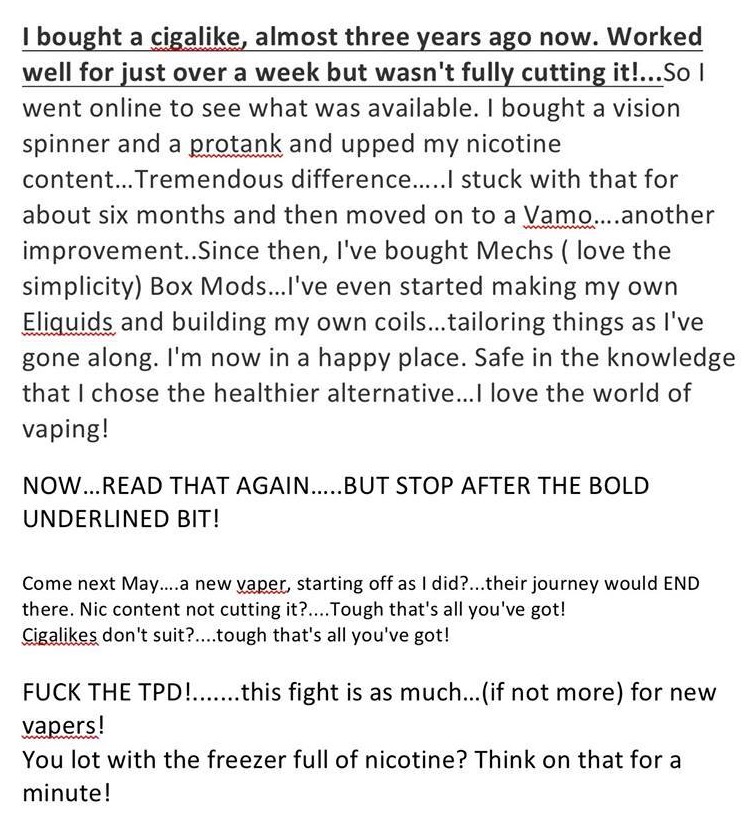 ---
Three actions you can take this week to help keep vaping free.
1. It has been revealed that Welsh Labour are plotting to extend their proposed ban on vaping in enclosed public places to outside play areas – and even hospital grounds!

There are an estimated 100,000 vapers in Wales – yet this petition only has 2,300 signatures.

You don't need to live in Wales to sign – Sign it (if you haven't already) and spread it as far and wide as you can, ask your local vape shop to start collecting signatures. All it takes is a laptop or tablet and the link: http://www.welshlibdems.wales/ecigs

2. The Article 20 Legal Challenge is still woefully short of signatures too – especially from countries outside the UK. This could bring down the TPD – why oh why have so few people signed it?

Help to turn this round. Pass this sign up page onto as many people as possible – vaping is a worldwide phenomenon and vapers are a worldwide community. Let's get everyone in on this action. http://article20legalchallenge.com/

3. Visit Rome on 7th July (this Tuesday) to protest against the Italian government's outrageously high tax on ecigs and the pernicious influence of Philip Morris International. http://agivapenews.com/2015/06/30/vaping-wwars-italy-ecig-pmi-lobby-protest/

If you can't get to Rome then tweet to support the action– use #nonsiamofumo #WeAreNotSmoke
Hartlepool's smokers were today encouraged to quit for the summer and give themselves more money in their pockets.

And campaigners at the town's stop smoking services say they are also there to support people using electronic cigarettes as part of their quit attempt….
A current Minneapolis proposal to ban sales of flavored electronic cigarettes in convenience stores is contrary to the principles of good public health policy, ignores scientific evidence and could have the unintended consequence of keeping current smokers smoking — and dying….
Oliver Kershaw
Two prominent Vapestore businesses have recently removed from sale e-liquids they have found to contain "unacceptable levels" of diacetyl and or acetyl propionyl (DA/AP)….
Legacy for Health – Common sense from an unlikely source:
Current evidence supports the conclusion that vaping poses significantly less risk of adverse health effects to an individual than smoking. Therefore, smokers who completely switch to ENDS as soon as possible are likely to experience a significant health benefit versus continued use of combustible tobacco products such as cigarettes, cigars, pipe, hookah and roll your own tobacco….