In the News 6th July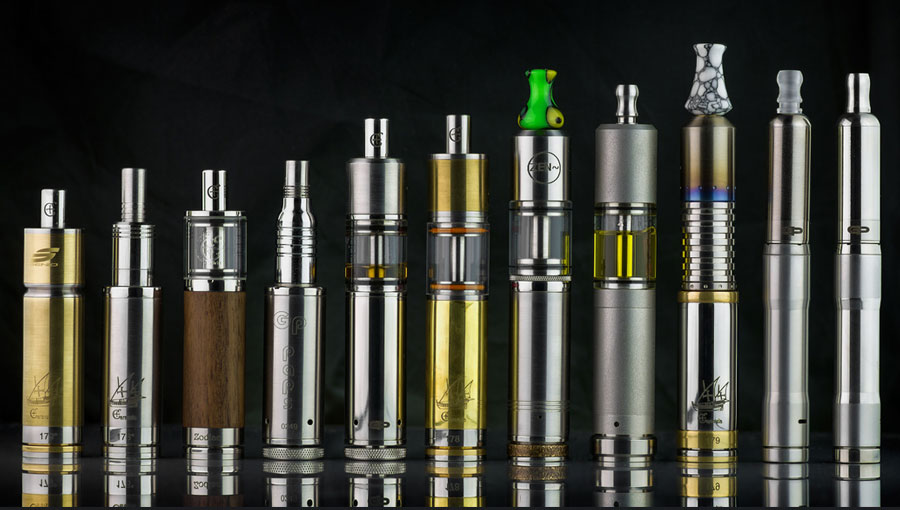 Mondays News at a glance:
Apathetic, Broke or Ignorance – Breaking Out #1 – What are we fighting for? – Think on that for a moment vapers – Regular Vapers Wanted – All is Water – U.S. Senator Lies About Tobacco Companies' Role in "Peddling" E-Cigarettes to Children – Help stop the e-cigs ban in Wales – some info and a rant – A safer way to smoke? – UK Consults on TPD Transposition – MSPs seek public opinion on e-cigarettes and patient harm – Study PROVES Vaping Kills Tobacco Addiction – Heart surgeon convinced of e-cigarette benefits – Kaiser Permanente's Not-So-Negative Take on Smokeless Tobacco – Nicotine Science and Policy – Daily Digest
A great double from the new blogger on the block!
There has been a number of calls for collections of money in recent times to assist various campaigns, an ill-fated e-cigssavelives campaign in 2013 , 2 crowdfunders for Dr Farsalinos in 2013 and 2014, Dodo-Boxes for the Efvi campaign 2014 and NOW donations to a political party that has pledged to use the money to help to gain signatures in Wales…
Vaping advocacy involves getting across truthful messages,education and information about campaigns, but we have had very limited success so far in this. This is not a criticism,simply a statement of fact,that the 'message' is only heard by relatively tiny numbers of devotees inotherwords 'preaching to the converted….
Facts Do Matter:
There's an awful lot going on in the world of vaping right now. Plenty of shiny new mods to look at, like the Sigelei temperature control mod, there's a new one coming from VaporShark and so on. I'll admit to keeping an eye on what is coming after all I did suffer extensively from shinyitus in the early stages of my journey into vaping so I know all too well the attraction of a new shiny…..
Stevie Christie – New Nicotine Alliance:
About three years ago my wife mentioned that one of our neighbours had managed to quit smoking thanks to an E Cigarette
"You should try one!" She says. I wasn't very impressed with the idea…..However! Later on in the week I was shopping in Tesco. They had an offer on the Ten Motives Ecig…so I bought one…and that was it! After trying numerous attempts to quit with NRT this thing really seemed to be working! Surely it couldn't be that easy? It wasn't! After a week or so the novelty wore off and I was all set for buying another ounce of tobacco…
---
Regular Vapers Wanted
Please contact @cat_kimber on Twitter. Email c.kimber@uel.ac.uk  Phone: 02082234592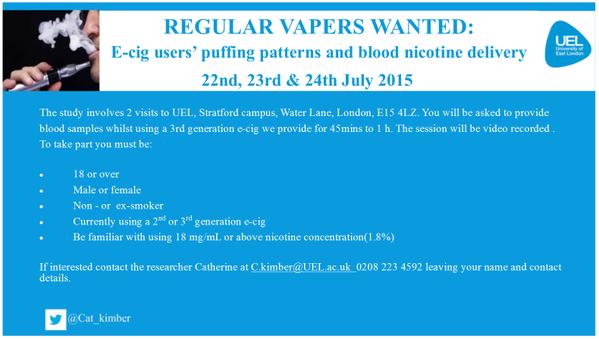 ---
The Brainy Furball:
So, fine, e cigarette vapour is not water – and it is not vapour either, it is an aerosol (or so I have been led to believe). But, getting straight to the point, Thales of Miletus would have had a great deal to say on the issue of vaping – but he's dead now….
Some info and a rant – Happy Vaper Blog
I've been tweeting and harassing people all day about this, and whilst I make no apology for that – I don't think its been made clear what this latest in a long succession of petitions and requests for your hard earned cash is all about – so thought I'd summarise it here….
About Tobacco Companies' Role in "Peddling" E-Cigarettes to Children – The Rest of the Story
In a recent op-ed column printed in the Daily Record (Wooster, OH), U.S. Senator Sherrod Brown (D-OH) claims that the tobacco companies are peddling e-cigarettes to children, offering them flavors that include gummi bears, fruit loops, and sweet tarts. Further, he claims that the tobacco companies' goal in marketing e-cigarettes to kids is to get them hooked on tobacco. Finally, he claims that e-cigarettes are a gateway to smoking…..
Barbados Today:
However, nowadays smoking doesn't actually have to be dangerous or unhealthy. The electronic cigarette, commonly known as the "e-cig" was developed by Hon Lik in 2003 to satisfy the need of smokers to inhale something into the lungs and get a similar relaxing feeling without the dangers of the 4,000 chemicals in traditional tobacco cigarette smoke….
Peter Beckett:
The Department of Health in the United Kingdom has today released its consultation on the implementation of Directive 2014/40/EU (the TPD) in the United Kingdom. With Britain seen as a global leader in tobacco harm reduction thought and policy, this document sets a trend not only for the European Union, but will be read and digested in government departments across the world….
A group of MSPs want to know people's opinions on legislation that would restrict the sale of e-cigarettes and create no smoking areas in hospital grounds. Holyrood's health and sport committee are currently scrutinising the Health (Tobacco, Nicotine etc, and Care) Scotland Bill….
Vapebeat:
Tobacco addiction kills people, and vaping kills tobacco addition. So why, OH WHY, are ecigs vilified by so called "health experts" the globe over?
Toronto Sun:
Gopal Bhatnagar founded a Toronto company that sells e-cigarettes and other vaping tools to customers across Canada and as far away as Pakistan. He also happens to be a renowned heart surgeon who is convinced 180 Smoke helps save people from the ravages of tobacco smoking….
Brad Rodu – Tobacco Truth:
A week ago I noted that the company's website provides smokers with three grossly incorrect reasons to avoid e-cigarettes (here).  As it turns out, elsewhere on the same site, Kaiser makes a reasonably good case for the harm reduction potential of smokeless tobacco….