In the News 10th August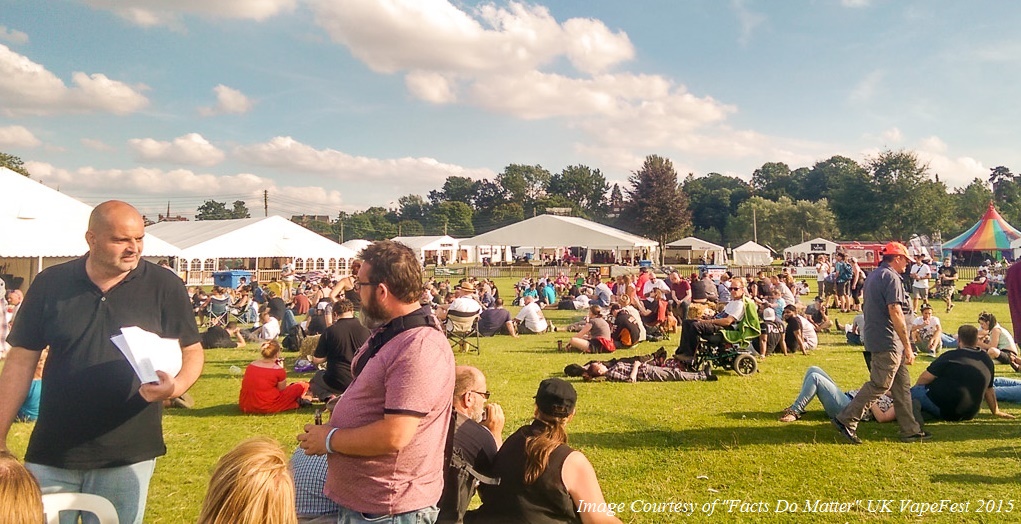 Mondays News at a glance:
UK VapeFest: doubts, concerns & indecision – UK Vapefest, and why it needs vaping advocates – Vapefest – a breath of fresh air – Sunday Science Lesson: Identifying bullshit is usually easy – Whatever you do, don't read this – Total Nicotine Conference Offers New Vaping Industry Insights – The New Nicotine Alliance (AU) -FDA Regulation Of E-Cigarettes Would Only Help Big Tobacco – Nicotine Science and Policy – Daily Digest
UK VapeFest
The weekends events have spurned three great posts so far and it's only Monday!….
Facts Do Matter:
When UK Vapefest 2015 was announced around October last year, and having missed out on Vapefest 2014 part of me really wanted to go. I'd never been, so I was the epitome of a Vapefest virgin, so I scrambled to book some time off work on the Friday and Monday so I could leisurely stroll on over to Shrewsbury, settle into a hotel or a tent and be able to be up and about at a reasonable hour for both days, then take a leisurely stroll home on the Monday….
Fergus Mason:
Thousands of British vapers have just had a great weekend at UK Vapefest. No doubt some of them are now in the doghouse because they spend too much on shiny gear. But do events like Vapefest have a future?

This weekend was eagerly looked forward to by thousands of vapers from all over the UK, and even some from further away. Starting on Friday they gathered at a showground near Shrewsbury for the sixth annual UK Vapefest, the biggest electronic cigarette event on the British calendar and by far the longest-running. The big question is, will there be a seventh one….?
Simon Clark – Taking Liberties
What did you do during the war on tobacco, Grandad?"

Momentary pause…..

"I went to Vapefest. I was only there for an afternoon but I really enjoyed it."

The weather helped. I was advised to bring wellies (I don't have any) and an umbrella but they weren't needed because it was a warm sunny day in Shropshire…..
Identifying bullshit is usually easy (it just seldom happens in tobacco-land) – Carl V. Phillips
In the previous post, I quoted from Jon Stewart's farewell monologue in which he alluded to how it is usually relatively easy to identify utterly bullshit claims and call them out. This includes utterly junk science. There are stories of master fraudsters in science, who carefully cook data and convince the world for years they have made game-changing discoveries, only getting caught after too much contrary evidence piles up….
Velvet Glove. Iron Fist:
Like Simon Chapman, I don't know what effects, if any, wind turbines have on people's mental and physical health. Unlike Simon Chapman, I don't go around making sweeping statements and bald assertions on the subject in the hope that people will mistake me for a medic or scientist….
New website for NNA(AU)
The New Nicotine Alliance Australia is a not for profit organisation working towards improving public health through a greater understanding of risk-reduced nicotine products and their uses.  It receives no funding from tobacco, e-cigarette or pharmaceutical companies or their affiliates.
Mount Baker Vapor:
Yesterday saw the conclusion of the Total Nicotine Conference in Sofitel, PA. The conference was organized by CSPnet and covered the vaping industry by providing "current analysis, as well as access to industry expertise with ideas on what to expect in the future."
Chris Morran – Consumerist
If you go into a convenience store to buy cigarettes, you might have a wide variety of smokes to choose from, but most of those brands are made by three or four huge tobacco companies. But if you're one of the growing number of consumers who choose vaping over traditional cigarettes, there are seemingly countless small companies willing to sell you liquid nicotine. Some of those startups say that pending FDA regulation of e-cigarettes could put them out of business, leaving only big tobacco….