European Protest 29th May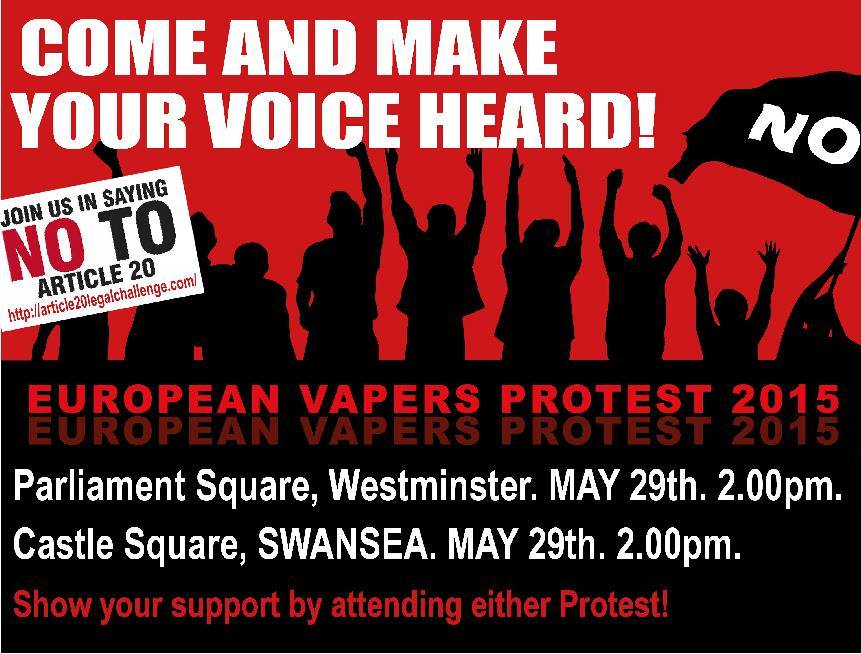 European Vapers Protest 29th May 2015
Come and make your voice heard!
A European wide event to demonstrate against the TPD. More information about the aims are on the main website:
http://oedc.at/web/index.php/en/call-to-action-evp-2015
There are currently two events planned in the UK – London and Swansea.  If you can't get to either of those you could plan your own event. Please share the PDF links with as many people and vendors as possible – it's vital that these events have good attendance.  We need to tell our government it MUST SAY NO to TPD Article 20.
Swansea Castle Square at 2pm
More details on the Faceboook event page:  https://www.facebook.com/events/1573643789585965/
There's also a post protest pub session with a raffle.  Here's a link for an image of the flyer:  http://s1066.photobucket.com/user/robert24971/media/welsh%20protest_zpsl4eo2uao.jpg.html
Or click the image below: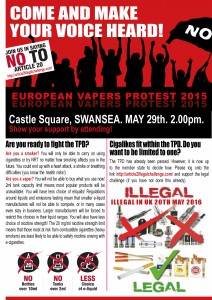 Google drive link for the PDF:  https://drive.google.com/file/d/0B4v1J7AimvL-TTJ5N2Z4YzNMY0hqRXBrWU5aLWdqdGFhbHhn/view?pli=1
London Parliament Square at 2pm
Link for the image of the flyer:  http://s1379.photobucket.com/user/VapersinPower/media/European%20Vapers%20Protests%20image_zpsy1jipmry.jpg.html?o=2
Or Click the image below: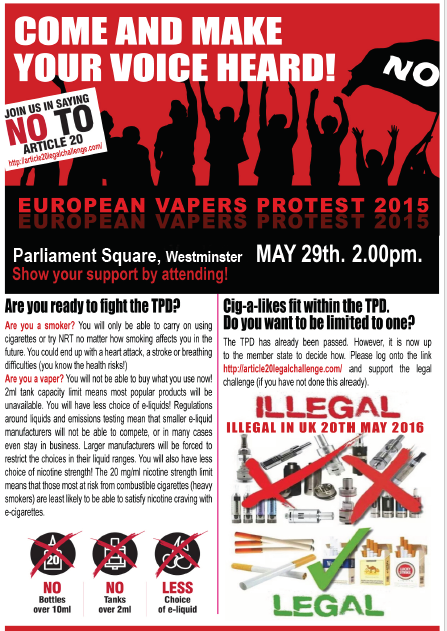 Google drive link for the PDF:  https://drive.google.com/file/d/0B2cIjFnItm4ySExCN0RUWW9UaDA/view?pli=1

---
There will hopefully be a Thunderclap in a few days – just waiting for approval now  – please follow @vapers for details
UPDATE…UPDATE…UPDATE
The Thunderclap is now live https://www.thunderclap.it/projects/26535-down-with-this-sort-of-thing
---
Here's a link for an image with both of the UK events:  http://i1379.photobucket.com/albums/ah147/VapersinPower/May%2029th%20combined%20poster_zpsrl0ixsiu.jpg
And another one (just in case that one doesn't work):  http://s1379.photobucket.com/user/VapersinPower/media/Tims%20joint%20protest%20poster_zpscxdkuoxr.jpg.html