Vapers Digest January 12th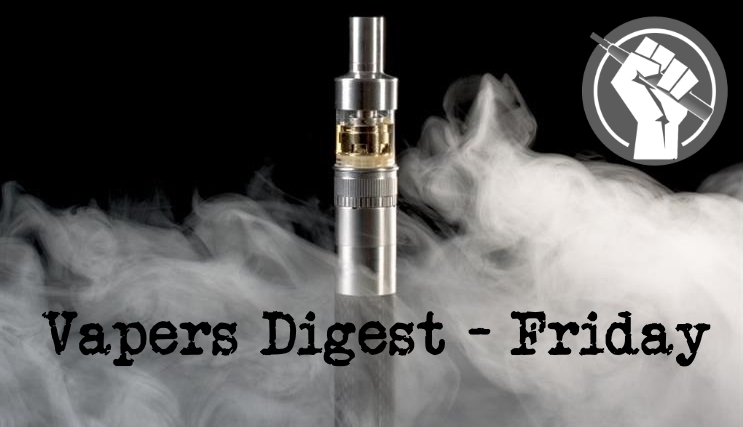 Friday's News at a glance:
Clowns At A Vaping Convention – Ecig2Smoking Study Slammed – Let's stop widespread plastic waste in March 2019 – The Geneva Convention: COP8 – E-cigarette rules should be relaxed – Vapers On Twitter Find Countless Errors In Peer-Reviewed Paper – Trials and Tribulations of Reduced Risk Tobacco Products – Competing with California – India: Vapes Now Banned in 6 States – Experts write to the FDA – Public Health Leaders Call For 'Correction Of Mistaken Beliefs' On Vaping – Indonesia Subject to 57% Excise Tax – Puritanism Makes Faulty Health Policy – Cancer Rates in U.S. Drop to Record Lows – Nicotine Science and Policy Daily Digest
Dick Puddlecote
If you think you'd seen it all when it comes to tobacco control junk science, wait till you get a load of this story of everyday charlatans visiting a vaping convention, published last month. Yes, this was actually published.

Assessment of indoor air quality at an electronic cigarette (Vaping) convention
Mawsley, Planet of the Vapes
Academics at The University of Pittsburgh Schools of the Health Sciences make a bold claim in their latest research looking for a progression link from vaping to smoking tobacco. The paper has been slammed for its misleading and erroneous conclusion.
Martin Cullip, The Freedom Association
Yesterday, Theresa May pledged to eradicate all avoidable plastic waste in the UK by 2042. It is a worthy goal, and will be popular since nobody really likes waste, especially if it is entirely unnecessary. And at Freedom to Vape, we have a great suggestion for Mrs May as to how she can save a massive amount of plastic waste in one fell swoop.
Christopher Snowdon, Velvet Glove Iron Fist
The World Health Organisation's highly secretive Conference of the Parties (COP) for the Framework Convention on Tobacco Control is coming to Geneva this year.

Not so much coming to Geneva as staying in Geneva, as that is where the WHO is based. Two years ago, it was in highly polluted Delhi. Two years earlier, it had been in Putin's Moscow. The conference is renowned for locking its door to the public and kicking journalists out of the room. Despite being taxpayer-funded, taxpayers cannot even watch the sessions, let alone participate in them.
---

---
To encourage smokers to switch – The Pharmaceutical Journal
E-cigarette regulations should be relaxed to make vaping more attractive to smokers of traditional cigarettes, expert witnesses have told a House of Commons Science and Technology Select Committee hearing.

Riccardo Polosa, professor of internal medicine at the University of Catania, in Italy, told MPs that selling larger refill containers for e-cigarettes might persuade tobacco smokers to make the switch to vaping.
In Peer-Reviewed Paper – Carl V. Phillips
Popular clichés suggest that academics regularly opine on subjects they know less about than average people who work or live those subjects. This is often unfair; many academics are steeped in the common knowledge of their subject matter, and their departures from common views are genuine expert insights rather than errors. Unfortunately, that is not the case in the field of public health, where the cliché is spot-on.
House of Commons 9th January 2018
Thanks as always to @dnglos for the YouTubage
Of Reduced Risk Tobacco Products – Brad Rodu
When Congress gave the FDA regulatory authority over tobacco in 2009, it provided a pathway for companies to obtain approval for "modified risk tobacco products (MRTPs)…, sold or distributed for use to reduce harm or the risk of tobacco-related disease…" (here). While decades of epidemiologic studies prove that non-combustible tobacco products are vastly safer than those involving inhaled smoke laced with thousands of toxins…
Steve Birr
Cancer rates in the U.S. have dropped to record lows as progress is made on reducing adult smoking rates, and vaping is likely playing a significant role.

The American Cancer Society released research this month showing the cancer death rate plummeted by 26 percent between 1991 and 2015, accounting for roughly 2.4 million fewer deaths. The cancer death rate now sits at 158.6 per 100,000 people, a decline scientists with the American Cancer Society largely attribute to smoking cessation and prevention efforts, reports Vaping Post.
---
---
Underdogs Bite Upwards
Indiana has moved into the Game of Stupid with a proposed new law that would render smokers into official non-human chattel,

Yes indeed. The Cult of Antismoking has now reached the point where they intend to deny smokers employment. Then deny them housing and all other services everyone takes for granted. There will be some very old Jewish people nodding their heads out there. They've seen this game in action before.
Jim McDonald, Vaping 360
There are 29 states in India, and six of them have now banned sales and manufacture of vape products. In a country with 1.3 billion residents, these bans are preventing a lot of people from finding safer nicotine choices.

The most recent addition to the list is Bihar, the massive country's third-largest state by population. Bihar is home to more than 104 million people — more than the United Kingdom or Germany. It lies in the northeast on India, just south of Nepal.
About regulating e-liquid flavours – Diane Caruana
Last month, the US Food and Drug Administration (FDA), issued an Advance Notice of Proposed Rulemaking (ANPRM) to seek comments pertaining to e-liquid flavours' regulations. In response to this, five public health experts sent a letter to FDA Commissioner Dr. Scott Gottlieb urging him to look at the bigger picture.
---

---
Call For 'Correction Of Mistaken Beliefs' On Vaping
Steve Birr, The Daily Vaper
An article from a group of scientists appearing in the Annual Review of Public Health, which is set to be released in April, argues that the mounting scientific evidence on e-cigarettes favors the argument that vaping drastically reduces the health risks from combustible tobacco. They say the public health community must work to correct misinformation that the devices carry similar harms to cigarettes, which is currently dominating mainstream media coverage of vaping.
Indonesia Investments
Across the world the use of the electronic cigarette (e-cigarette), a habit that is often called vaping, has risen significantly since the introduction of the modern e-cigarette in 2003 (in China). Also in Indonesia more and more people are seen using the e-cigarette, a device that tries to create the sensation of tobacco smoking.
NYU College of Global Public Health
Quitting smoking is among the top New Year's resolutions, but is notoriously difficult to do and often requires multiple attempts and strategies.

A growing body of research points to using a harm minimization approach for smoking cessation. Harm minimization recognizes that while quitting smoking altogether is ideal, reducing exposure to harmful cigarette smoke by switching to safer nicotine products like e-cigarettes is beneficial.

ConscienHealth
The puritanism within us is alive and well, says Matthew Hutson. That much is clear from a new, white-hot debate published in the Annual Review of Public Health. That debate is all about nicotine. But our ongoing obsession with the perils of sugar echoes many of the same themes – along with some important differences.
Matthew Theunissen, New Zealand
One of the country's major supermarket chains has started selling electronic cigarettes as the tax on tobacco increased a further 10 per cent this month.

Progressive Enterprises, which owns Countdown, FreshChoice and SuperValue supermarkets, confirmed it had been trialling the sale of non-nicotine e-cigarette products in 20 stores around the country since December 20.
---
A look back at how things have moved on or otherwise….
From cigarettes and from different types of e-cigarettes
Peter Hajek, Dunja Przulj, Anna Phillips, Rebecca Anderson, Hayden McRobbie
Electronic cigarettes (EC) are a developing technology aiming to provide nicotine without the harmful chemicals produced by tobacco combustion (Etter 2012). EC have the potential to generate a substantial public health benefit if there is a switch from smoking to EC use on a population scale (Public Health England 2015; RCoP 2016). So far, however, only a minority of smokers who try EC progress to the full switch from smoking to vaping (Douptcheva et al. 2013; Kralikova et al. 2013; Farsalinos et al. 2016).
Business Companion
Selling age-restricted products via the internet presents particular issues and retailers must have effective systems in place for preventing sales to prospective customers who are underage.

This guide is applies to all products that have age restrictions on sales – for example, alcohol, tobacco, spray paints, fireworks, and video recordings and games.
In Report on 2015 National Youth Tobacco Survey – Brad Rodu
The U.S. Centers for Disease Control and Prevention released selected information from the 2015 National Youth Tobacco Survey in April 2016 (here).  The agency cherry-picked numbers from previous surveys to portray e-cigarettes as a threat to teens, while ignoring sharp declines in teen smoking (here, hereand here).

Last month, the CDC released the underlying 2015 NYTS data, ending an eight-month embargo that prevented analysis by independent investigators.
---
Visit Nicotine Science & Policy for more News from around the World

---