Vapers Digest 7th August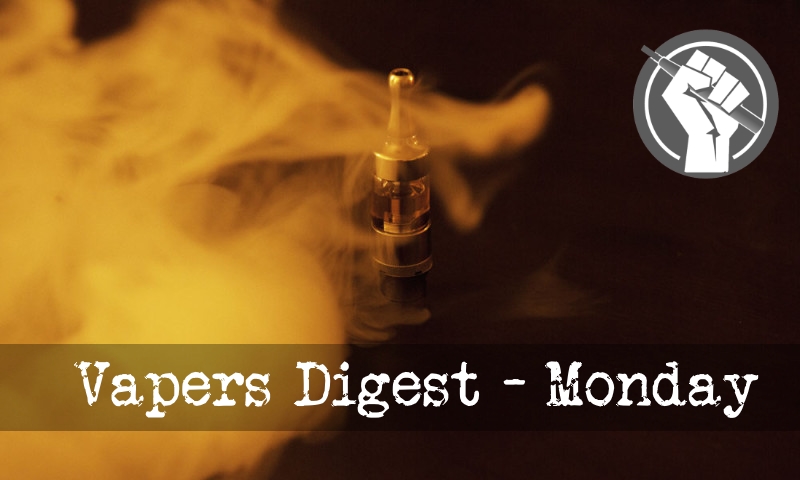 Monday's News at a glance:
Flight Ban Upheld – The irony of "not caring" – Vaping has less than 1% the cancer risk of tobacco – New Study Provides Strong Empirical Support  – FDA proposal to reduce nicotine content – Canadian convenience stores – Vapers have much lower cancer risk  – Government's Ban on 'Stop Smoking Aid' Makes No Sense – An 18th century secret product – Most common myths about use of e-cigarettes – Smokers Feel Heat but Not the Burn – Time to embrace the potential of e-cigarettes – Jail considers selling e-cigarettes to inmates – Ban on e-cigarettes will increase smuggling – Nicotine in the News – 7 August – Nicotine Science and Policy Daily Digest
Mawsley, Planet of the Vapes
The Competitive Enterprise Institute (a free markets group) and the Consumer Advocates for Smoke-Free Alternatives Association (CASAA) launched an appeal against the Obama administration's regulation, banning people from using electronic cigarettes during flights. This appeal was rejected by the Court of Appeals for the District of Columbia Circuit.
About the effects of e-cigarettes on smoking-related cancer deaths
Dr Farsalinos
A paper was published yesterday in Tobacco control estimating the cancer risk potency of electronic cigarettes. In my opinion, this was a good exercise but a premature one, mainly because for some strong carcinogens (such as 1,3-butadiene, which is considered the compound with the highest contribution to cancer risk from smoking) we have no data concerning e-cigarette emissions. However, I am convinced that, even when we have data, the estimated cancer risk from e-cigarette use will be less than 1% of the respective risk from smoking.
Jim McDonald, Vaping 360
A new study has found that vaping at normal power levels poses almost none of the cancer risk of inhaling tobacco smoke. It was published last week in the journal Tobacco Control.

Dr. William Stephens, of the University of St. Andrews in Scotland, measured the cancer potencies of various vapor, heat-not-burn, and tobacco products, using published chemical analyses of emissions. He then devised a method to express the measurements of vapor and smoke in common units. This allowed better comparison of risk.
---

---
For New FDA Approach to Tobacco Product Regulation
Michael Siegel, The Rest of the Story
A new study published in the journal Tobacco Control reports that the modeled cancer risk associated with vaping is less than 1% of that associated with smoking and is only slightly higher than, if not comparable to the cancer risk associated with nicotine replacement therapy (NRT). In select circumstances, electronic cigarettes produced high levels of aldehydes but only when the voltage was cranked up to excessive levels. Thus, under conditions of normal use, this study finds that tobacco-free e-cigarettes present a drastically reduced carcinogenic risk compared to tobacco cigarettes.
Robert West
The Food and Drug Administration in the US recently announced that it intends to reduce nicotine content of tobacco products to a level below which it believes that those products will not be addictive. The threshold for this will be very low so that in effect tobacco products will no longer have a significant psychopharmacological effect. It is believed that this will lead to tobacco products ceasing to be used in any significant quantity, thus ending the tobacco epidemic in the US.
Campaign against vape shop competition
Jim McDonald, Vaping 360
A convenience store association is backing an astroturf campaign to convince Canadian lawmakers to pass harsh restrictions on vape shops.

The Ontario Convenience Store Association (OCSA) claims allowing vape shops to offer samples would be unfair to businesses that allow underage customers inside, and the group wants a "level playing field." In other words, they think vape shops should abide by the rules for retailers that sell combustible cigarettes.
---
---
Dr Colin Mendelsohn
E-cigarette users have a dramatically lower risk of cancer than smokers. This was the finding of a review of the research published today in the journal Tobacco Control. While cancer-causing chemicals (carcinogens) are found in e-cigarette vapour, the vast majority are at much lower levels than cigarette smoke, and the risk from most chemicals is <1% compared to tobacco smoke.

The study reviewed the level of chemicals found in vapour, the cancer risk from each substance and calculated lifetime cancer risk for vaping compared to smoking tobacco
On 'Stop Smoking Aid' Makes No Sense
Paul Gregoire and Ugur Nedim
Over three million Australians continue to partake in one of the most deadly habits around. Although smoking rates have fallen dramatically in recent decades, the last national survey found that 15.6 percent of the adult population are still lighting up.

Two out of every three smokers will die from a smoking-related disease, which means that well over two million Australians are currently facing an early death. Each year, smoking kills around 15,000 people in this country, translating to 41 preventable deaths every day.
Has helped Sweden successfully cut down on smoking
Sweden has one of the lowest smoking rates in the world. Only five percent of Sweden's population are daily smokers. This has been made possible by their secret anti-smoking weapon – Snus.

A European Union survey published in a report by Bloomberg showed that the country has the lowest smoking percentage in the region.

While more than a quarter of the population in 15 out of the 28 surveyed countries are daily smokers, the number is astonishingly low for Sweden.
Despite the obvious health and monetary benefits for stopping smoking, vaping has been suffering a bit of an image problem recently, with attacks claiming it is a gateway to smoking for young people, and causes health problems for the user and those around them.

The NHS reports cigarette smoking "is the biggest cause of preventable deaths in England, accounting for more than 80,000 deaths each year. One in two smokers will die from a smoking-related disease."
---

---
Saabira Chaudhuri
Three of the world's biggest tobacco firms are rolling out new, electronic tobacco-heating devices they say are healthier alternatives to traditional smoking, but feel more like puffing on a real cigarette. That is a sensation many smokers complain is missing from the wide array of electronic cigarettes currently on the market.
Rob Breakenridge
The timing was purely coincidental, but just as the U.S. Food and Drug Administration (FDA) was announcing a major change in direction on e-cigarettes, new research confirmed once again, just how powerful the harm reduction benefits of vaping really are.

And as Canada inches closer to new federal regulations for e-cigarettes, we need to ensure that we recognize and embrace this potential and not lump vaping in with tobacco smoking or do anything to discourage smokers from making the switch.
As Tulsa's jail looks for ways to grow revenue — including recent changes to the visitation system — it's geared to welcome a new device: electronic cigarettes.

Tulsa County Sheriff's Office spokeswoman Casey Roebuck said although the idea is in its early stages, e-cigarette sales are expected to raise a "good amount of revenue."
"In face of global growth trends and the increasing consumer acceptance of such products in India, a ban on legal business in electronic cigarettes in the country will pose a serious threat of illicit trade and large-scale smuggling of these products into the country with no assurance of source and quality standard," said a statement by TII.
Harry Shapiro
There has been much hum on the wires about the FDA seeming to put reduced nicotine cigarettes (or Very Low Nicotine Content – VLNC) front and centre of its revised tobacco control strategy. Invariably there are arguments for and against. So here is my brief take on the debate.

VLNC advocates argue that a VLNC will stimulate quitting because the cigarette will not be delivering its essential ingredient – nicotine. There is a hope too that if young people take up VLNC cigarettes, they are less likely to become lifetime smokers again because the product will not be satisfying.
---
A look back at how things have moved on or otherwise….
Simon Thurlow – Midnight Musings
A few months ago, I noted that Wales was about to get a new Chief Medical Officer as the successor to Dr Ruth Hussey was announced. Her replacement was to be Dr Frank Atherton.

A quick Google search soon revealed the following from this site:

So the guy is an Englishman, but what should draw Vapers eyes is the fact that at that time he was employed as the Deputy Chief Medical Officer for the Dept of Health & Wellness in Nova Scotia, Canada.
New Nicotine Alliance Australia
The New Nicotine Alliance Australia (NNA) today announced that it has made a submission to the Therapeutic Goods Administration (TGA) for low-strength nicotine for use in electronic cigarettes to be made legally available in Australia as a substitute for smoking. Electronic cigarettes have the potential to save the lives of hundreds of thousands of Australian smokers by providing a safer alternative to tobacco smoking, the leading preventable cause of death and illness in Australia.
Diane Caruana – Vaping Post
Therapeutic Goods Australia, (TGA) will be attending a meeting organised by the ACMS in the coming to November, putting forward a number of medicinals and "poisons" that in its opinion are to be reviewed, in the hope that current restrictions on these will be amended. Amongst the items put forward is Nicotine.
---
Visit Nicotine Science & Policy for more News from around the World

---