Vapers Digest 6th October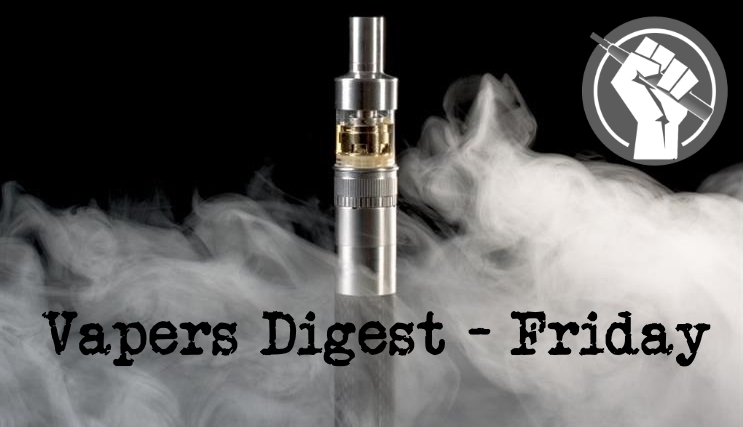 Friday's News at a glance:
E-cigarettes in young people: – Not Conservative – Vaping crackdown could fuel rise in smokers – Rishi Sunak To Ban Cigarettes for Brits – How Will UK "Smokefree Generation" Law Affect Vapers? – Cutting Through the Smoke – Prime Minister Announces Flavour Ban – Parliament – Follow Sweden's example – Smokefree Organization Fights Hard to Remove All Competition – Review of: Retraction Note: – Bulgaria: No More Flavored E-Cigarettes from 2024 – Netflix Docuseries Flips the Narrative – Congressional Democrats Pressuring FDA – Center for Black Equity Calls for FDA Approval – Why should vaping be legalised in Australia
Applying the precautionary principle in primary care
Not fit for publication or as a guide for general practice – Clive Bates
According to its authors, this editorial by the Royal College of General Practitioners (RCGP) Adolescent Health Group…

…highlights the concerns about adolescents, and offers support to primary care practitioners when assessing e-cigarette use in young people.

Unfortunately, the editorial is filled with misunderstandings and misinformation and does not meet an acceptable standard for publication or for informing hard-pressed general practitioners (GPs) with reliable or actionable insights.

I will describe a range of issues.
Facts Do Matter
So. It is happening. As most of us have always thought. You will, of course, remember (at least for the UK) the chatter about disposable vapes started gathering momentum with some commentary from a Green MSP and now the current "Conservative" Prime Minister has decided that his Government is going to implement a variety of measures for "A smoke-free generation".

It would seem that Sunak has been taking lessons from former Labour Prime Minister Tony Blair in targeting what is now a highly stigmatised portion of society (albeit a slowly dwindling portion, thanks – of course – to the various anti-smoker policies introduced over the years; many of which had little to no direct impact).
Could fuel rise in smokers – Jane Merrick
A planned crackdown by Rishi Sunak on vaping among young people could lead to a rise in the number of tobacco smokers, the government has admitted.

In one of the major policy announcements of his Conservative conference speech, the Prime Minister announced plans to ban anyone currently aged 14 and under to ever buy a cigarette, as well as a crackdown on the sale of brightly-coloured, flavoured vapes to children.

But a government document setting out details of the plans reveals there could be "unintended consequences on youth and adult smoking rates" by imposing new restrictions on fruit and sweet flavours of vaping products, and so any legislation on this aspect would need to be "carefully considered". Alternative Link
---

---
Guy Bentley
People in England born on or after January 1, 2009, will be banned from ever buying cigarettes under plans announced Wednesday by British Prime Minister Rishi Sunak.

Speaking at the Conservative Party conference, Sunak declared England's smoking age would be raised annually, so a 14-year-old today will never be allowed to buy cigarettes legally.

The prime minister claimed smokers put "huge pressures" on the country's National Health Service despite the fact smokers in the U.K. pay far more in taxes than they cost in terms of health care.
---
---
Affect Vapers? – Jim McDonald
British Prime Minister Rishi Sunak today proposed a so-called "smokefree generation" law for England that would slowly ban the sales of cigarettes by increasing the legal age to purchase by one year each year. Sunak also announced possible changes to laws regarding vaping products, including e-liquid flavors, nicotine-free e-liquids, and disposable vapes.

The smokefree generation proposal, as it stands today, would apply only to products containing tobacco (and cigarette papers). It does not include vaping products or nicotine pouches, although that could change later. The government says 71 percent of British adults support a smokefree generation law.

Three from Dave Cross, Planet of the Vapes:
The Independent British Vape Trade Association (IBVTA) has responded to growing fears about the spread of misinformation about vaping by launching a major public information campaign. It follows Action on Smoking and Health issuing a briefing to put evidence in context to combat common myths to prevent them being accepted as conventional wisdom.

Launching its briefing, ASH said: "The provision of accurate information about vaping is vital, as currently 43% of smokers who have not tried vaping, think vaping is as or more harmful than smoking, up from 27% in 2019."
Rishi Sunak announced that the Government is to introduce new law to protect future generations of young people from the harms of smoking at the Conservative Party conference. Drilling down, as well as the rolling ban on children being able to buy tobacco, there is a planned ban on disposables, e-liquid flavours and the use of colour in products.

The government is set to introduce what it calls "a historic new law" to stop children who turn 14 this year or younger from ever legally being sold cigarettes in England, in a bid to create the first "smokefree generation".
Further exchanges about vaping and tobacco harm reduction from the House of Commons saw Conservative Alexander Stafford asked the Department for Culture, Media and Sport about vape sponsorships. Labour's Alex Cunningham posed a series of questions to the Department for Environment, Food and Rural Affairs.

Rother Valley's Alexander Stafford asked the Secretary of State for Culture, Media and Sport, whether the Department is taking steps to ban vaping brands from promoting their products through sponsorship or any other means to children.
---

---
Fights Hard to Remove All Competition to Cigarettes – Martin Cullip
The advent of alternative nicotine delivery products (including vapes, heated tobacco and nicotine pouches) has led many tobacco control institutions to lose sight of their public health purpose.

For a significant majority of anti-smoking activists and researchers, their hatred of the tobacco industry – or industry of all kinds, in many cases – has become more of a priority than the goal of helping people to quit smoking.

However, when it comes to the Europe-based Smokefree Partnership (SFP), it seems that their members have even completely forgotten the name of their own organization.
To unleash the life-saving potential of nicotine pouches in Europe
Swedish nicotine pouches have sparked an unwarranted moral panic across Europe. Countries are desperately seeking the right way to approach this novel product. Sweden is a nation with a history of snus usage spanning over 200 years and, recently, the birthplace of safer tobacco-free nicotine pouches. Instead of learning from Sweden and encouraging the adoption of an effective harm-reduction method, European countries are, at best, stigmatising and, at worst, prohibiting nicotine pouches. Our work as an organisation has revealed just how much is at stake. Nicotine pouches save thousands of lives in Sweden; many more lives could be saved throughout Europe, too.
Population-level counterfactual trend modelling to examine the relationship between smoking prevalence and e-cigarette use among US adults
Clive Bates – Qeios
The conduct of the journal BMC Public Health, in this case, is extraordinary and disturbing. Having accepted and published the Foxon et al. (2022) paper[1] following a reasonable peer review process, the editors have now retracted it based on criticisms without any scientific basis.[2]

The Foxon et al. paper draws an important public health conclusion:

Population-level data suggest that smoking prevalence has dropped faster than expected, in ways correlated with increased e-cigarette use. This population movement has potential public health implications.

Though such a study cannot establish causality, the analysis adds to a body of confirmatory evidence that suggests that e-cigarettes may be positive for public health and help to address the burden of disease and death caused by smoking.
Health risk assessment of organic compounds and heavy metals in electronic cigarettes
Roberto Sussman – Qeios
We criticize a recently published article (Zhao et al., "Carcinogenic and non-carcinogenic health risk assessment of organic compounds and heavy metals in electronic cigarettes" [1]). This study presents a toxicological risk analysis of e-cigarettes (e-liquids and aerosols), with exposure data obtained from 28 studies listed in one of their supplementary files on toxic byproducts (metals and organic) in aerosol emissions and e-liquids. However, the usage of this data weakens the results of the risk analysis since a significant number of these studies are methodologically flawed, thus reporting overexposures and/or exposures from devices that are currently obsolete.
The Bulgarian government proposes to ban the sale of e-cigarettes with characteristic taste-aromatic qualities and containing flavorings in any of their constituent parts, such as filters, paper, packaging, capsules or other technical elements.

The bill for amendments to the Law on Tobacco and Tobacco-Related Products was submitted to the Parliament's Registry by the Council of Ministers on 2 October. Until now, tobacco companies were not required to put a health warning on the packaging of heated tobacco products, but this will now change.

When heated cigarettes fall into the smokeless category, the labeling requirements for smokeless tobacco products should apply to them, the bill makes clear.

 Helen Redmond
I was prepared to hate-watch the new Netflix limited docuseries, Big Vape: The Rise and Fall of Juul, directed by R.J. Cutler. The name alone pissed me off because of its implied conflation of Juul, which is not a tobacco company, with "Big Tobacco." The trailer is a feverish montage of talking heads and voiceover accusing the company of being "wildly irresponsible," photos of hospitalized patients with bloody chest tubes, and a clip of James Monsees, one of Juul's founders, being called "a marketer of poison to young people" at a congressional hearing.

So I was happily shocked when I was proven wrong. It was amazing when the first episode, which premieres on Netflix on October 11, showed the journey of how Juul was created and the brilliance of the vape design was celebrated, not demonized.
Andrew Langer
When the institutions of government are taken over by political operatives driving policy, policy suffers. The Food and Drug Administration (FDA) has taken recent actions that fall right into that category of politically driven decision-making.

A specific energy drink has become a target of regulators, because Sen. Chuck Schumer (D-NY) called on the FDA to crack down. The AP reported on July 9, 2023, "Sen. Charles Schumer called on the Food and Drug Administration to investigate PRIME, a beverage brand founded by the YouTube stars Logan Paul and KSI that has become something of an obsession among the influencers' legions of young followers."
In Australia – Colin Mendelsohn
We now have the evidence. Legalising vaping could dramatically reduce smoking rates in Australia and improve public health.
The current laws just aren't working. Mark Butler's crackdown will only make things worse.
Calls for FDA Approval on E-Cigs
The Center for Black Equity (CBE) called on the U.S. Food and Drug Administration and the Center for Tobacco Products to grant broad approval to a full range of nicotine e-cigarettes, also known as vapes, in a major step toward closing the significant harm reduction and health equity gaps perpetuated by current FDA tobacco policies, according to a press release. The approval of vaping products would benefit Black and LGBTQ+ populations disproportionately impacted by the negative health effects of smoking, including cancer, according to the CBE.
Framework Convention on Tobacco Control irrelevant in tobacco harm reduction
Health experts, especially those specialized in harm reduction, have declared that the World Health Organization (WHO) Framework Convention on Tobacco Control (WHO FCTC) is irrelevant, stating that in its current form, the instrument is not capable of influencing change in reducing harm among tobacco smokers.

The World Health Assembly adopted FCTC on 21 May 2003 and entered into force on 27 February 2005, being the first international treaty to be negotiated under the auspices of WHO. One of its major objectives was to reduce harm among smokers despite the fact that there were fewer nicotine options available at the time of its adoption
---
A look back at how things have moved on or otherwise….
To liberalise EU snus legislation – Snusforumet
Support for more liberal snus legislation is growing in Finland – but it's at the EU level that change must take place. Sweden's next government should join forces with Finland to help rally public opinion and work together to liberalise EU snus legislation, writes Theo Herold from the Helsinki School of Economics.

Finland has long had an extensive black market for snus. In the last decade, the number of players has increased significantly as operations have become more organised and professional. It's not uncommon for black market snus dealers to be closely connected to other criminal activities.
International Network of Consumer Organizations
Hi Dear Friends, It's always a pleasure to greet you. If you haven't got the chance to fill out the survey forwarded by Charles Gardner, consider doing so, because we definitely need as many responses as possible.

Please follow this link if you are not subscribed to our Newsletter and would like to be.

Below you can find last week's news that we think you might want to check out in case you missed any of them.
---
Visit Nicotine Science & Policy for more News from around the World

---