Vapers Digest 5th June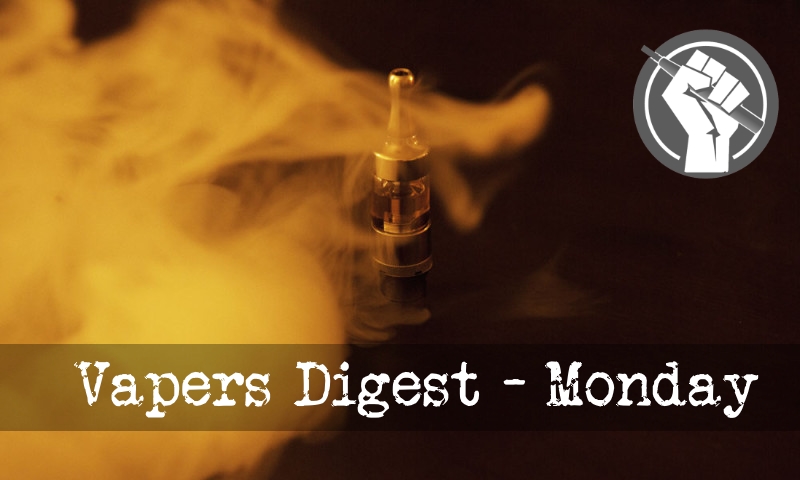 Monday's News at a glance:
ETHRA May News roundup – Advocating For Vaping – Sweden shows less harmful alternatives – Tobacco Control fails to control tobacco – Youth Vaping Down in Illinois – Mental Health Awareness? – Harm Reduction Is Vital – Biden Will Name Mandy Cohen – Industry Responds To Government Action – A New Underground Market in E‑Cigarettes – Science and Data Falls on Deaf Ears – Flawed ICMR paper on vaping – Nicotine Science and Policy Daily Digest
ETHRA
ETHRA's monthly roundup of news: MERCI LA VAPE : participez! – TPD consultation: ETHRA & partners respond – MEPs call out conflict of interest – Expert letter to the Australian Health Minister – Rethinking U.S. tobacco and nicotine regulation – Vapers Finland opinion on nicotine pouch consultation – Country updates. Read on for more.
Ecigclick Team
The threat facing the vape community today is as real and dangerous as it has ever been. Currently, the UK Government and the Scottish Government are considering implementing strict legislation banning disposable e-cigs.

Product flavours are undergoing repeated attacks and, along with the colour of product packaging, are being blamed for a rise in teen use.

Who presents the voice of the consumer when conversations are being held? Who argues for evidence and facts to be considered before emotive arguments?
---

---
Dave Cross, Planet of the Vapes
The Association of Convenience Stores, the UK Vaping Industry Association, and the Independent British Vape Trade Association have responded to the Government's ecig "crackdown". Last week, we reported it announced it will change the rules governing the sale of nic-free vapes and to review fines for shops selling illegal vapes. It also pledged to close the free samples "loophole".

The Association of Convenience Stores (ACS) welcomed the proposed measures which also included a provision to send dedicated police liaison officers into schools to somehow keep vapes out.
To cigarettes save lives – Brendan Clarke-Smith
As a nation, we have the power to enact change and to lead the world in a new, more nuanced approach to smoking. The time to act is now, and I firmly believe that our actions today will pave the way for a healthier future for all, writes Conservative MP Brendan Clarke-Smith.

My time in Sweden fundamentally shifted my perspective on public health.

I lived in a country where smoking rates were among the lowest in Europe at just 7 percent, and the health benefits were clear to see.
---
Help wanted!
I am looking for editorials, commentaries, articles, blogs, papers, studies, special edition journals, etc., on:

Tobacco Endgame
Transforming the Tobacco Industry
What the future of the Tobacco industry looks like pic.twitter.com/AwLVQL9H6u

— Skip Murray (@imaracingmom) June 4, 2023
This is mostly very good. I think it's unrealistic, however, to think that making vaping less accessible and appealing won't encourage adults (and young people) to smoke much riskier cigarettes instead.

In case it interests you, @imaracingmom @ChaunceyGardner https://t.co/yOVtwywbBU

— Phil (@phil_w888) June 5, 2023
---
Then blames vaping – Dr. Colin Mendelsohn
A RECENT REPORT by Cancer Council Victoria has found that Australia's adult smoking rate has not declined over the last 5 years and youth smoking is on the rise. The government's solution? Crack down on vaping!

The report is based on a monthly Roy Morgan survey in 5 capital cities, recording past-month smoking and vaping over the last 5 years, for Australians aged 14+. The smoking rate was 11.8% in early 2023, although likely to be significantly higher in rural and remote areas.
Will Soon Begin Flourishing in Australia – Jeffrey A. Singer
Writing in the Australian journal The Quadrant a year and a half ago, I criticized the Australian government's plan to prohibit residents from purchasing e‑cigarettes without first getting a state‐​licensed health care practitioner's permission slip (aka, a prescription).

Though e‑cigarettes are now only legal with a prescription in Australia, an essentially illegal and unregulated market has flourished nationwide in tobacco and vape shops. So now the Australian government will double down on its war on vaping. The Australian parliament is about to pass a ban on importing all non‐​prescription vaping products, including those that don't contain nicotine.

Prioritize Safer Alternatives to Smoking – Kim "Skip" Murray
The United States has just observed its annual Mental Health Awareness Month. Another year and another awareness month have gone by with little attention paid to the many people who both live with a mental health condition and smoke.

On average, people with a mental illness die up to 25 years younger than the general population, and many die from smoking-related chronic diseases. Tobacco-related diseases contribute to approximately 53 percent of deaths among people living with schizophrenia, 50 percent among people with depression, and 48 percent among people with bipolar disorder.
Lindsey Stroud
The 2021 results from the Illinois Youth Risk Behavior Survey (YRBS) were recently published. The biennial survey, done in coordination with state education and health departments and the Center for Disease Control and Prevention (CDC) monitors various youth behaviors including dietary and health habits to mental health and substance use.

There is welcome news for state and federal lawmakers in the Prairie State. In 2021, youth use of traditional tobacco products reached historic lows, while youth vaping seems to have peaked in 2019 and has steadily declined since.
---

---
Christina Smith
During the annual celebration of World Vape Day, it is vital to take note of the significant contribution to reducing cigarette smoking and saving lives around the world that has been made possible by Tobacco Harm Reduction (THR) products.  The event occurs every year on May 30.  From 2007 to 2015, more than 3 million U.S. adults used THR products to quit smoking cigarettes.  Yet there are many obstacles to more widespread use of this effective tool to reduce smoking.

Citizens Against Government Waste (CAGW) has long supported the use of less dangerous products to reduce cigarette use.  CAGW's November 2021 issue brief, "Tobacco Harm Reduction Products Should Be Widely Adopted," examined the impact of vaping products worldwide.
Next CDC Director – Jim McDonald
President Biden will appoint former North Carolina health secretary Mandy Cohen to lead the Centers for Disease Control and Prevention (CDC), according to multiple news reports. The official announcement could come next week.

Cohen will assume the job after current CDC Director Rochelle Walensky leaves June 30. Unlike FDA commissioner, the CDC director does not require Senate confirmation.

At the ECIG Summit – Allison Boughner
The FDA could have learned a lot at the ECIG Summit in DC this year. In typical FDA fashion they instead are doubling down on bad decision making that most presenters at the event proved with real science and data is failing the American people.

I had the pleasure of attending this year's ECIG Summit in Washington DC, May 16th. Dr. Brian King was the keynote speaker and he started off the day with more of the same information we typically see coming from CTP at FDA. King spoke on the future of menthol cigarettes and flavored cigars which they intend to ban by the end of this year.
Continues to cause harm – Kiran Melkote
Another year records over 13 lakh tobacco deaths in India alone because regular combustible cigarettes and tobacco remain widely available to all ages

WWhile other countries reconsider their tobacco control options and embrace tobacco harm reduction, with some even reversing previous bans on nicotine vaping, we in India seem obsessed with the "implementation" of an ill-conceived ban on ENDS/E-cigarettes. People have even filed PILs against e-cigarettes and become instant celebrities.
---
A look back at how things have moved on or otherwise…
Dave Cross, Planet of the Vapes
Have your say, says the New Nicotine Alliance (NNA) and the European Tobacco Harm Reduction Advocates (ETHRA) – the European Union (EU) has launched a survey that is seeking to gather evidence to guide its future vape legislation.

The NNA says: "Last week, the EU Commission launched a call for evidence to assess its legislative framework for tobacco control. Its purpose is to evaluate if current tobacco control legislation has fulfilled its goals and whether or not it will further aspirations in Europe's Beating Cancer Plan to achieve a tobacco free generation by 2040.
Christopher Snowdon
The European Commission is asking for feedback on its Tobacco Products Directive (TPD). The call for evidence closes on 17 June 2022 and is intended to 'assess to what extent the framework has fulfilled its goals and whether it is able to support a "Tobacco-Free Generation" by 2040'. A new TPD is likely to be proposed and brought into law in the next few years.

Article 20 of the existing Directive already places unnecessary limits on nicotine strength, tank size, bottle size and advertising. There are fears that the EU will go even further and restrict or ban e-cigarette flavours (except 'tobacco' flavour) and introduce laws to restrict the sale of heated tobacco.
Alan Beard
As per usual, this is far from an in-depth analysis, but rather for me to attempt to assemble a few shallow thoughts into print. I shall write about Consumers, Tobacco Industry, Tobacco Control, Bloomberg, Government and hopefully see how each has an impact in relation to one another.

Consumers: Nicotine vies with Alcohol and Caffeine as one of the three most popular ***social drugs of choice, but due to many years of negative messaging, has an undeserved awful reputation, widely held by the general public. Smoking has been increasingly vilified since the early 1960's following the Royal College of Physicians report into the dangers.
---
Visit Nicotine Science & Policy for more News from around the World

---