Vapers Digest 2nd June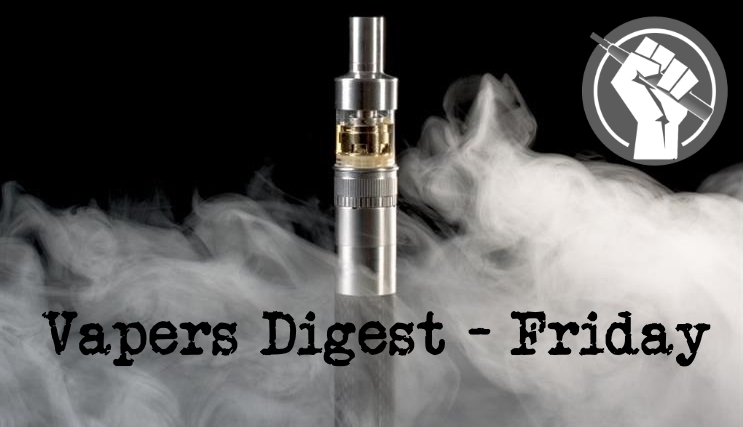 Friday's News at a glance:
Australia: a special kind of stupid – Changing Gear – Consumer groups challenging the WHO FCTC – More FDA Disposable Enforcement – Advocates Demand Disposable Action – Parliament – Parliament Fears Too – Allowing Vapes in Our Prison – A Blander Tomorrow – Anti-smoking messages up in smoke – Sin tax on vaping products will trigger black market – An open letter to the Health Minister – What are the harms of vaping in young people? – Nicotine Science and Policy Daily Digest
Christopher Snowdon, Velvet Glove Iron Fist
More bad news from the supposed world leader in tobacco control. Official figures show that teen smoking rates rose sixfold between 2018 and 2023, from 2% to 12.8%.

It's been over a decade since Australia introduced plain packaging, a policy that the Southern hemisphere's wrongest man, Simon Chapman, likened to a vaccine for lung cancer. Australia has had the highest cigarette taxes in the world for ages, the sale of nicotine e-cigarettes has always been illegal, and all they have to show for it is an insanely big black market for both tobacco and e-cigarettes, more children smoking and a whole bunch of people using unregulated vapes. The wowsers just can't stop winning, can they?
Clive Bates, Tobacco Reporter
In the unlikely event that I am appointed CEO of a large tobacco firm, this is what I would do to accelerate the transformation of the business.

First, I would ask if we really do want to transform the business and, if so, why. Until the board, thousands of staff, investors and stakeholders understand our rationale, what chance is there of bringing them on the journey? This is a more vexing question than it might appear at first sight. Perhaps we would be better off as we are? After all, we make terrific margins on cigarettes; we have tremendous pricing power courtesy of the tax authorities; we are embedded in a comfortable oligopoly that knows how to make money; and, of course, it helps that the product is addictive, and the customers are loyal to our brands.
---

---
Who will be next? – COPWatch
Now is the time for making our voices heard.  At the beginning of May, Copwatch briefly referenced potential dangers to reduced risk nicotine products at COP10 discussed in recent WHO documents which have been highlighted by the New Nicotine Alliance UK.

The British consumer organisation launched a call to action in March to encourage "supporters, consumers of reduced risk nicotine products, and others who understand the benefits of harm reduction" to write to their elected representatives and also to the assigned UK focal point to the FCTC Bureau and European region.   It has started something of a movement.
---
Excess tobacco farming is not causing people to go hungry. Cracking down on tobacco farming just might. https://t.co/pE5SaKdzvn via @reason

— Phil (@phil_w888) June 2, 2023
"Presently, switching to snus seems to be the most effective and efficacious method for quitting smoking in Norway"https://t.co/YviGHccfDH

— European Tobacco Harm Reduction Advocates (@europethra) June 1, 2023
This is a must watch for anyone who thinks putting e-cigarettes on prescription is an effectice and safe policy. It has been disastrous in Australia.https://t.co/QRkUZn3wPw

— Dr. Garrett McGovern 🇺🇦 (@AddictionsPMC) June 2, 2023
---
Hyde and Puff Bar Sellers Targeted – Jim McDonald
Today the FDA issued warning letters to multiple retailers and importers of Puff Bar and Hyde disposable vapes. Both brands were among those listed as favorites by middle and high school students in last year's National Youth Tobacco Survey.

The FDA's press release states it sent warning letters to 30 businesses today for selling unauthorized products. However, as of 1:45 p.m., just 14 letters dated May 31 were listed on the FDA warning letter site. The companies cited so far are:

Tnree from Dave Cross, Planet of the Vapes:
In light of World Smokefree Day on May 31, the Coalition of Asia Pacific Tobacco Harm Reduction Advocates (CAPHRA) is calling on governments and regulatory bodies to take action in implementing strict regulations for disposable vapes, in line with their recent position statement.

CAPHRA's position statement outlines two key areas where immediate action is required: These recommendations are based on the latest evidence from Public Health England, which supports the role of disposable vapes in tobacco harm reduction efforts. However, CAPHRA stresses the importance of proper regulation and monitoring to protect public health and minimize potential risks associated with these products.
Another week, another slew of questions and answers about vaping from the House of Commons. In the first of two pieces, we hear from Conservatives Mark Pawsey, Ranil Jayawardena, and Gareth Johnson – with Neil O'Brien batting back the answers. Also, Rishi Sunak has spoken about the promotion of vapes to teenagers.

Rugby's "soon to retire from the House" Mark Pawsey asked the Secretary of State for Health and Social Care what assessment has been made "of the adequacy of the fines for retailers which sell vaping products to young people under the age of eighteen."
The second thrilling instalment of the week for vape discussions in Parliament packs more excitement than an end to the football season midtable confrontation with little to play for. That said, we shall endeavour to spruce it up in order to make it sound appealing and justify your decision to take out another annual subscription to our newsletter service. What? You don't pay for this? My word that's great value!

Justin Madders is the snappily titled Shadow Minister for the Future of Work. He is also the Shadow Minister for Business and Industrial Strategy, but that sounds quite drab in comparison.
---

---
Would Be Violence Harm Reduction, Too – Jonathan Kirkpatrick
Washington state banned public smoking on December 8, 2005. The Washington State Department of Corrections (WDOC), however, had been preparing for the day since 1999. That's when the rumors had started that we'd be going smoke-free. Not just prisoners—staff, too.

In 2000, WDOC opened Stafford Creek Corrections Center and designated it the state's first non-smoking prison. When I arrived at there in 2002, the top contraband on the compound was cigarettes.
About the proposed vaping regulations. ABC Newcastle 30May2023
Forty three leading tobacco control and addiction experts from Australia and New Zealand have written an open letter to Health Minister Mark Butler asking him to reconsider the proposal to further restrict access to nicotine vaping products in Australia.

Their concern is that "this approach will have serious and harmful unintended consequences for public health, will slow the decline in smoking and will ultimately be unsuccessful"
Bans on flavors in vapor and heated tobacco – Barnaby Page
Flavors are perhaps the biggest battleground of all in e-cigarette regulation—much more so than nicotine strength, for example. That may seem surprising on the surface given the widespread misperceptions of risk associated with nicotine itself (as opposed to smoking), but the underlying reason is revealing. Although occasionally there are other rationales associated with flavor bans (specific harmful ingredients, or a racial dimension in the case of menthol in the United States), nearly always the argument against flavors is a proxy for anxieties over youth vaping.

Derek Yach – France 24
Summer is in the air, cigarette smoke is not, in Sweden's outdoor bars and restaurants. As the World Health Organization marks "World No Tobacco Day" on Wednesday, Sweden, which has the lowest rate of smoking in the Europe Union, is close to declaring itself "smoke free" — defined as having fewer than 5% daily smokers in the population. Many experts give credit to decades of anti-smoking campaigns and legislation, while others point to the prevalence of "snus," a smokeless tobacco product that is banned elsewhere in the EU but is marketed in Sweden as an alternative to cigarettes. For more, FRANCE 24 is joined by Derek Yach, Global health expert, former Head of Tobacco Control for the World Health Organization (WHO) and former President of the Foundation for a Smoke-Free World.
In young people who have never smoked?
Frequent vaping by young people who have never smoked is uncommon and there is little evidence so far that vaping causes significant harms. Very few nicotine-naïve young people who vape develop nicotine dependence.

The evidence suggests that vaping is diverting more young people AWAY from smoking. It is also likely to be beneficial to young people who smoke who switch to vaping.

A balanced, risk-proportionate approach to regulation is needed to restrict the uptake of vaping by young people who do not smoke while allowing easier access for adults who smoke, for whom it is an effective and popular quitting aid.

Read the paper and find out more: https://colinmendelsohn.com.au/youth/
Will trigger black market – Ciaran Ryan
A new sin tax on vaping products could have the perverse effect of driving vapers to illicit products, in much the same way the government's ill-conceived ban on cigarettes in 2020 allowed the black market for tobacco products to explode.

This tax is going to wipe out a lot of small vaping businesses, and there is already evidence that it is promoting a black market for vaping products," says Kurt Yeo, founder of consumer advocacy group Vaping Saved My Life (VSML).
---
A look back at how things have moved on or otherwise….
Clive Bates, The Counterfactual
The World Health Organisation continues to present misleading information about e-cigarettes that spreads doubt and confusion among the public, media and policymakers. This post reviews its latest Q & A and finds multiple errors of analysis, misleading statements, and obvious biases.
Clive Bates, Tobacco Reporter
The U.S. Food and Drug Administration has had jurisdiction over tobacco products since Congress passed the Tobacco Control Act and it entered into force in 2009. Through its Center for Tobacco Products (CTP), the FDA regulates tobacco products, which include nicotine products such as e-cigarettes and e-liquids in the United States. With the recent retirement of Mitchell Zeller, the CTP's director since 2013, it is an excellent time to take stock. Here we look at six lessons from the experience that might help guide regulation in other jurisdictions.
---
Visit Nicotine Science & Policy for more News from around the World

---