Vapers Digest 3rd July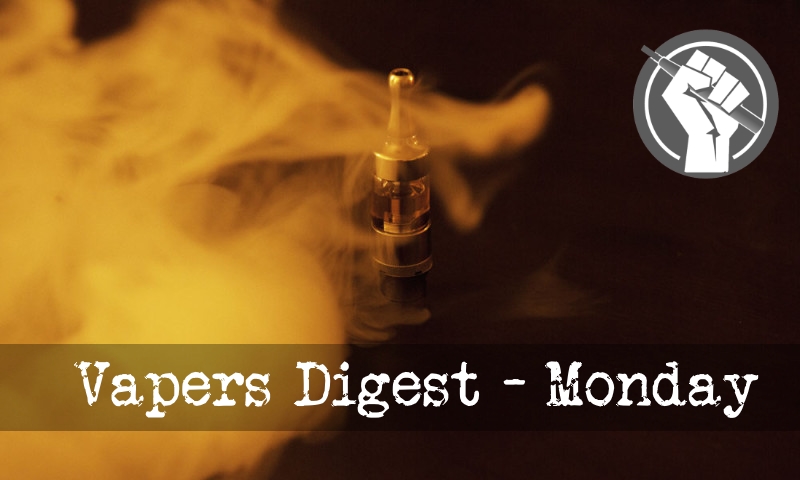 Monday's News at a glance:
Media Misinformation – Wisconsin Hears Lung Association Lies – Innumeracy and junk science (part 3) – FDA's Vaping Regulations Will Hurt Smokers Trying to Quit – "Heat-not-Burn" Tobacco Products Expanding in Europe – San Francisco Drops Hammer on Vaping – Harm reduction is about making better choices – E-cigarettes don't lead to the real thing – Get the facts straight on e-cigarettes – Vaping In The News June 24th-July 1st
Midnight Musings
It is quite staggering the amount of media misinformation that can be found even through incidental reading these days. This should come as no surprise to smokers and vapers who are well used to the amount of clickbait spouting downright lies that has been fed to the mainstream MSM by the tax-sponging public health 'charities' and organisations to justify their continued funding.

As I write this blog, an article has just been shown on BBC Breakfast 'celebrating' 10 years of the smoking ban. It contains the usual contrived figures from the like of Deborah Arnott and Cancer Research UK stating that 10 years ago there were 10 million smokers and now there are only 8 million smokers…
Mawsley, Planet of the Vapes
Following the release of the Centres for Disease Control and Prevention (CDC) data, demonstrating that teen smoking rates continues to plummet – and, this time, has been accompanied by a drop in teen vaping rates too – Wisconsin Public Radio (WPR) covered it and invited the American Lung Association (ALA) to comment. They did, and told lies.
---

---
Carl V. Phillips, Anti-THR Lies
Estimating the health effect of a quantitative standard for an exposure is a matter of estimating the relevant range of the dose-response curve, along with knowing how much people's dosage would change. That is, you need estimates like, "N people use product X, which has 5 ppm NNN, which causes Y risk per person, versus the Z risk per person from 1 ppm, so multiply N by (Y-Z)…." With such numbers we could estimate the effect of an adjustment in the NNN concentration.
Will Hurt Smokers Trying to Quit – Eric Boehm
When Congress passed the Tobacco Control Act in 2009, few electronic cigarettes were on the market. Under the terms of that law, the Food and Drug Administration (FDA) would have the authority to approve or deny any new tobacco products introduced after February 15, 2007, while products that had been on the market before that so-called "predicate date" would be free from the new level of scrutiny.
---
---
Expanding in Europe – Dan Stratila
"Heat-not-burn" tobacco products work by heating, rather than burning tobacco. After some of these products were introduced in test markets such as Italy and Japan, Phillip Morris International launched an aggressive expansion strategy with its iQOS (I Quit Ordinary Smoking) device.
Carrie Wade
Dr. Mark Boom, president and CEO of the Houston Methodist hospital system in Texas, suggests in a recent piece in The Hill that proponents of vaping are simply ignoring evidence that vapor products are not 100 percent safe.

Of course, people in the vaping community do not think that e-cigarettes are 100 percent safe. And if these products were found to increase the incidence of teen smoking of combustible cigarettes, we don't want that either.
San Francisco Drops Hammer on Vaping
Brent Stafford, Regulator Watch
Charles Hughes
The rate of cigarette smoking among high school students continued to decline in 2016, according to new survey data from the Centers for Disease Control and Prevention. Tobacco use is one of the leading causes of preventable deaths and disease in America, so the reduction is welcome news.
Lindsey Stroud
As if the Food and Drug Administration's deeming regulations weren't enough to stall the future of the vaping industry, numerous county health departments have decided to lodge themselves in the war against electronic cigarettes, increasingly spreading misinformation and exaggerated claims through targeted ad campaigns.
---

---
Kevin Crowley, Vaping Links
Chinese courts call for death penalty for researchers who commit fraud ~ Matt Myers ~ Jester ~ Sensible regulation of e-cigarettes: Opportunities for reform (Video) ~ Learning from our failures in smoking cessation research ~ NO Gateway ~ Understanding Nicotine Strengths and Percentages ~ Tobacco company outsmarts tobacco control experts again ~ Big Government, Public Health, and E-Cigarettes, I, II & III
Harry Shapiro
A meta-analysis published in the Journal of the American Medical Association received widespread publicity as it purported to demonstrate an 'association' between teen vaping and later smoking. http://jamanetwork.com/journals/jamapediatrics/fullarticle/2634377

But even the report in Reuters exposed a number of flaws in the study https://uk.reuters.com/article/us-health-teens-vaping-idUKKBN19H292 while further comments on the study can be found here http://www.sciencemediacentre.org/expert-reaction-to-review-of-e-cigarettes-and-smoking-in-young-adults/
Mawsley, Planet of the Vapes
European success is being thrust at Australians while, across the water, New Zealand contemplates how it might make up a shortfall in income if its support for vaping takes off. In the States, a court case signals possible problems for ecig vendors who trust in their public liability insurance. It has been reported that vape bans contravene world-trading regulations, British prisoners will still smoke, and vaping devices might make you a target for street crime.
---
A look back at how things have moved on or otherwise….
MIT Brickman
First, I've been called out…Greg Conley, President of the American Vaping Association called out my last blog as being far too much doom and gloom on the future of the industry. And it got me thinking about this struggle to keep quality vaping available in the U.S. It's obviously a highly charged topic.
Jérôme Harlay – Vaping Post
More and more New Zealanders are turning to vaping products that offer more competitive prices for a daily use than heavily taxed cigarettes. Nicotine e-liquids remain hard to obtain for vapers wishing to wean themselves off tobacco with a personal vaporizer.
To Helping Smokers Quit – Guy Bentely – Daily Caller
More than a third of vapers use e-cigarettes because they prefer the taste and range of flavors over regular tobacco cigarettes, according to a survey by one of the nation's biggest e-cigarette brands.

Thirty-six percent of vapers said they "preferred the flavors and taste over traditional tobacco cigarettes," according to the V2 survey sent to The Daily Caller News Foundation.
---
Visit Nicotine Science & Policy for more News from around the World

---