Vapers Digest 3rd February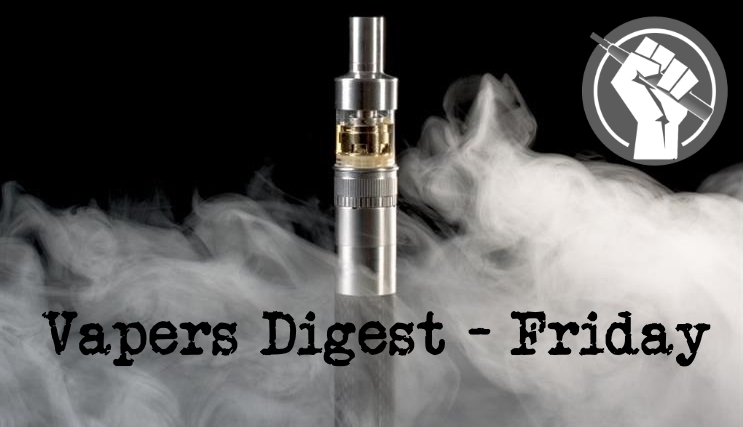 Friday's News at a glance:
Harrys' blog 116: Unheard Voices – Passionate But Underfunded – Counterfeit vapes are undermining efforts – Experts chart ways to reduce smoking related diseases – Leicester Lies – Mendelsohn on GFN.tv – Support For Global Advocacy – Case Study Malaysia – INNCO Issues Retraction and Apology – A Good News Story – A Blunt Tool – The Western War on Vaping – Bloomberg commits $420 million – Vape law makes waves – Nicotine Science and Policy Daily Digest
Harry Shapiro
There are over 100 million users worldwide of safer nicotine products (SNP). Many will have struggled to find the right option for themselves, friends or family, or any option at all. Many will have obtained nicotine products illegally, smuggled into the country or bought under the counter.  Few will know that there are activist groups all over the world campaigning for the right of these same people to have ready access to nicotine products which are affordable, appropriate and acceptable. The first study looking at the nature of these groups has just been published by Knowledge Action Change (KAC).

https://onlinelibrary.wiley.com/doi/10.1002/puh2.58

The aim of this study was to map the number and locations of nicotine consumer organizations globally and describe their history, legal status, membership, structure, objectives, working methods and activities, and funding.
The Vape Advocates Fighting for Public Health – James Dunworth
As anyone who has followed vaping for a while knows, the world of tobacco harm reduction is, to put it mildly, divisive.  On one side, there are those advocating for access to safer nicotine products (SNP), such as e-cigarettes. These alternatives are likely to carry some risk, but public health organisations such as the UK government estimates the risk to be a small fraction of that of smoking.

Fighting against reduced-harm products, for a myriad of reasons, are those who advocate a "quit or die" approach. They seek to restrict all forms of tobacco harm reduction (other than the pharmaceutical companies who fund them) and achieve a nicotine-free world.  However, a new survey has revealed the scale of consumer advocacy for access to safer nicotine products.
---

---
To reduce smoking – Martin Cullip
There is a vaping epidemic taking place across the UK, but not necessarily the one some would expect. The sale of hundreds of thousands of counterfeit vapes, as opposed to legal, regulated products, should be the real cause of concern.

The vast majority of people who pick up a vape do so in an attempt to quit smoking, and rightly so; Public Health England has already confirmed that vaping is one of the most effective smoking cessation aids available.

Japan saw a profound decline in cigarette use following the introduction of heated tobacco products. People who smoke should be encouraged to make this switch. However, they cannot be expected to do so in confidence with so many counterfeit vapes on the market.
---
---
Experts chart ways to reduce smoking related diseases, deaths
Though an estimated 98 million adult smokers have switched to safer nicotine products worldwide, public health experts have not agreed whether this has led to tobacco harm reduction.

Speaking at the 10th anniversary of E-cigarette Summit in London, United Kingdom, tagged: "Science Regulation and Public Health," experts affirmed smoking remained the biggest single cause of preventable death in the developed world.

They also argued that while tobacco control policies have saved a lot of lives since the first Royal College of Physicians (RCP) report was released, there hasn't been much progress after the report.

Five from Dave Cross, Planet of the Vapes:
Leicester is Ground Zero for the movement to encourage the NHS to adopt vaping as a quit tool, but the Leicester Mercury appears to be intent on trying to reverse that. In a move typical of the declining standards at the newspaper, it published a misleading and controversial clickbait article just to promote online arguments last week.

Under the headline "E-cigs found to cause cellular and molecular changes that could lead to disease over time", the article is credited to journalists Mark Waghorn and David Flett. You are probably thinking "I know that name".
Dr Colin Mendelsohn has spoken to GFN.tv about the push to increase the restrictions on vaping in Australia, a point of view that he shares with the Australian Alcohol and other Drugs Council. The Australian Medical Association has called for increased restrictions on nicotine products, but the Council and Mendelsohn point out this approach brings about nothing but negative outcomes.

Currently, vaping is effectively banned already. It remains illegal to sell, carry or use a vape unless someone has managed to jump through hoops in order to obtain a prescription from their GP.
Support has been given out to tobacco harm reduction/vape advocacy organisations around the world in preparation for the World Health Organisation's Framework Convention on Tobacco Control COP10. Advocates in Australia have prepared a template letter and assembled a spreadsheet of email contacts for the head of every nation's delegation.

Warning advocacy organisations that they only have until mid-March to contact the heads of delegations (after which countries will already have sent responses to the World Health Organisation's Framework Convention on Tobacco Control), the Coalition of Asia Pacific Tobacco Harm Reduction Advocates has provided comprehensive support.
In a hospital case report, doctors at the University of Malaya Medical Centre treated a young man for a pneumothorax – despite him being a smoker, they point the finger of suspicion at vaping. Malaysia recently imposed a 200% tax increase on e-liquids and moves are afoot to introduce a rolling ban to prevent anyone born after 2005 ever being able to purchase tobacco or vape products.

What is a pneumothorax? A pneumothorax is commonly referred to as a collapsed lung. This situation can arise when air seeps into the space between the chest wall and the lungs. The air then acts to create a partial or complete collapse of the lung.
Following an internal review, INNCO's Governing Board has retracted an open letter from Charles Gardner to Michael Bloomberg published last week. The letter harked back to one sent in 1988 from HIV/AIDS advocate and playwright Larry Kramer to then-NIAID Director Anthony Fauci and used words that were likely to cause offence.

INNCO (the International Network of Nicotine Consumer Organisations) said: "Whilst well-meaning, and expressing the deep frustration felt by many consumers and advocates about the fierce opposition towards harm reduction instigated by many Bloomberg funded organisations, the Board is of the opinion that the overly aggressive tone and language expressed in this letter is inappropriate.
---

---
Patrick Basham
The good news about tobacco harm reduction is the bad news is wrong. The tobacco harm reduction experience is actually a positive story.

It is true that the preponderance of influential and well-funded public health institutions and stakeholders are rabidly anti-tobacco harm reduction (THR). The World Health Organization is the most clear-cut example, with billionaire philanthropists funding global campaigns that, in concert with the WHO, incentivize national governments and their public health agencies either to ignore or to disparage THR's demonstrated ability to improve public health.
Stefanie Rossel
The European Commission's (EC) December 2022 proposal for an update to the 2011 EU tobacco excise directive came with a first: In addition to a significant hike in cigarette excise rates, the draft also calls for a bloc-wide vaping levy.

According to the proposal, the current minimum EU excise tax rate of €1.80 ($1.92) should increase to €3.60 per pack of 20 cigarettes. This would double excise duties in member states with low cigarette taxes (in eastern European countries, a pack of cigarettes can currently sell for under €3) and affect excise duties in countries such as Luxembourg and Austria, where cigarette prices are low relative to income.

Is Harming Public Health – Theo Menon
Most people who work on the topic of tobacco harm reduction are aware of the potential advantages of e-cigarettes in helping adults who smoke break their deadly smoking habit. Experts in the field often repeat the conclusions from Britain's top public-health agency (Public Health England), which found that vaping is at least 95 percent less harmful than smoking combustible cigarettes. Nevertheless, in the West Coast states in particular, policymakers are trying to stamp out vaping to protect teens—and leaving adults who smoke with fewer, less-dangerous options.
To increase smoking rates
Today, Bloomberg Philanthropies announced to commit an additional $420 million to reduce tobacco use globally. The organization will focus on traditional anti-smoking policies, such as extending warning labels and smoke-free zones and support various anti-vaping policies, such as flavour bans. Due to the previous hostility against harm reduction products from Bloomberg Philanthropies and organizations funded by the organization, consumers expect further anti-science misinformation campaigns about harm reduction.
The laws regulating e-cigarettes have sparked controversy, prompting a cabinet minister to propose vaping be legalised while police crack down on the sale of the devices.

The move came after a police officer allegedly demanded a foreign tourist pay 60,000 baht for possessing an e-cigarette in Pattaya, triggering a public debate on whether owning vaping devices should be illegal.

Critics ask why the devices are so easily available in the country if they are against the law.
For Allegedly Extorting Money from Tourist Caught with Vaping Equipment
A policeman from the Pattaya police station has been transferred to an inactive post pending an investigation into a claim that he had extorted 30,000 baht from a Chinese tourist who was caught carrying an illegal vape.

The concerned officer, Pol Snr. Sgt-Major Noppakrit "Khai" Pornwatthanakit, head of the Traffic Division at the Pattaya police station, was accused by several Thai media outlets of extorting 30,000 baht from an unidentified Chinese tourist on Pattaya Walking Street around January 28th or 29th.
---
A look back at how things have moved on or otherwise….
Mark Oates, CapX
Despite releasing its 'Benefits of Brexit' white paper earlier this week, in too many areas the Government still seems to lack the will or the imagination to diverge from EU laws. Ministers seem more concerned with putting crown symbols on pint glasses than potentially saving the lives of millions of smokers by taking advantage of a golden opportunity to scrap anti-scientific vaping rules.
Has The Revolution Started? – Marie Camara, All Africa
On January 20th, 2022, the virtual Harm Reduction Exchange took place with two panels of discussions that were held around the hot topic of Harm Reduction. The first https://allafrica.com/stories/202201270843.htmladdressed risk reduction in various areas such as cancer, skin bleaching and drug use,whilst the second one addressed more specifically Tobacco Harm Reduction. This event was organized by Integra Africa (Pan-African Brand and Strategy consulting company) in collaboration with Philip Morris International (PMI).
---
Visit Nicotine Science & Policy for more News from around the World

---