Vapers Digest 1st February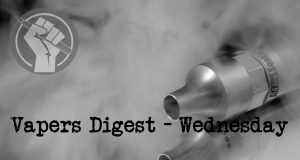 Wednesday's News at a glance:
A Netherlands Nicotine Pouch Ban Would Assure That Dutch Smokers Continue to Die ~ Global Study Of Regulations On Alternative Nicotine Products Use Finds Africa Lagging Behind ~ Taiwan Vaping Ban Disappointing For Its Many Smokers ~ #SAFER ~ It's combustion in cigarettes that kills, not nicotine ~ Germans Attack Harm Reduction ~ GSTHR Speaks About Its Study ~ Quebec slaps new taxes on vapes after drop in tobacco tax revenue ~ Vaping harms overstated in viral video ~ January 2023 Podcast ~ Black market vaping targets Australian children ~ ETHRA January news roundup ~ Chinese tourists wrongly fined 60,000 baht for carrying vapes, says law expert
Dr. Brad Rodu, Tobacco Truth
The Dutch government has published a "consultation", or invitation to comment, on proposed legislation to ban nicotine pouches.  I fear that this process, much like FDA comment periods, is more theater than substance, with agency positions already baked in and heavily influenced by the usual tobacco-prohibition suspects.

Nevertheless, I submitted the following response with a straightforward message: A nicotine pouch ban would assure that Dutch smokers continue to die.
---
A Film by Jeffrey Zamora
Project supported by Knowledge Action Change & INNCO

#SAFER ARGENTINA takes us to the land of fire in South America, where the government has banned harm reduction alternatives for people who smoke, unchaining an illicit market of products that paradoxically are safer than the combustible tobacco which is allowed to be commercialized. We explore the motives, goals, and stories of advocates Diego Verrastro, Juan Facundo Teme, and Aylen Van Isseldyk, along with people involved in selling the illegal safer alternatives.
---
Manila Bulletin
The burning of tobacco at high temperatures, and not nicotine, makes smoking so deadly according to two of the world's leading cancer experts.

"People smoke for nicotine but die from the burning of tobacco at over 350°C. The combustion of tobacco generates smoke and ash containing a toxic mix of chemicals that causes serious health effects, including fatal lung diseases and cancer," said Dr. Peter Harper.
---
Thank you @GovCanHealth for debunking TWO of the biggest LIES about vaping. POP CORN LUNG and EVALIhttps://t.co/eM2ilPplGc pic.twitter.com/IrwuLupgfH

— Maria Papaioannoy-Duic  (@papaioannoy) January 30, 2023
---
Two from Dave Cross, Planet Of The Vapes
The German Medical Association is attempting to drive a tank through tobacco harm reduction (THR) by calling for a complete ban on e-liquid flavours, according to the BVRA e. V., an independent consumer association committed to THR and an assessment based approach to scientific evidence.
GSTHR speaks about its new survey that reveals scale of consumer advocacy for safer nicotine products – and need for recognised role in global policymaking. POTV broke the news last week and is delighted to bring you further details about the state of consumer advocacy around the world.
---

---
Geoff Russ, The Hub CA
Quebec's vape users could pay almost 80 percent in taxes for their products once the provincial excise tax is enforced.
Research in the United States shows higher costs for vaping and e-cigarettes leads to higher tobacco sales.
Preventing nicotine addiction is a common reason for new taxes on vape products, but the same are not applied to other tobacco alternatives like nicotine gum or lozenges.
---

---
And Seemingly Dishonest Disclosures Confirmed – The Rest of the Story
Last Thursday, I revealed that in five recent articles on the effectiveness and use of smoking cessation drugs that were published in JAMA (one article) and Addiction (four articles), several of the authors failed to disclose the fact that they have received funding from pharmaceutical companies.
It's a fully packed Monday! Join Marco & Matt as we chat to Dimitris Agrafiotis on his recent trip to China. Plus, can Dave Dorn, Marco & Matt meet Dave K's tank challenge ? All this, and more!
---
Visit Nicotine Science & Policy for more News from around the World

---