Vapers Digest 2nd August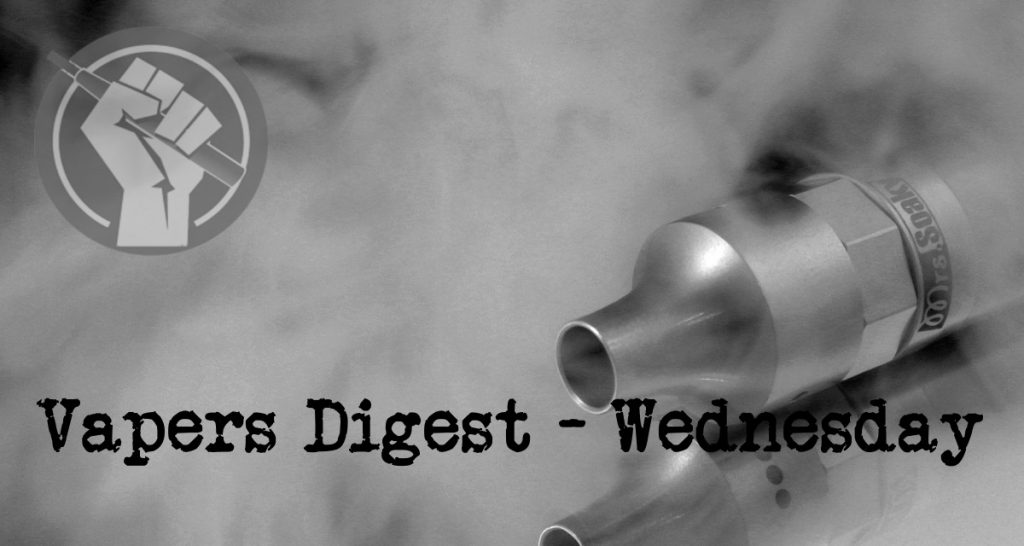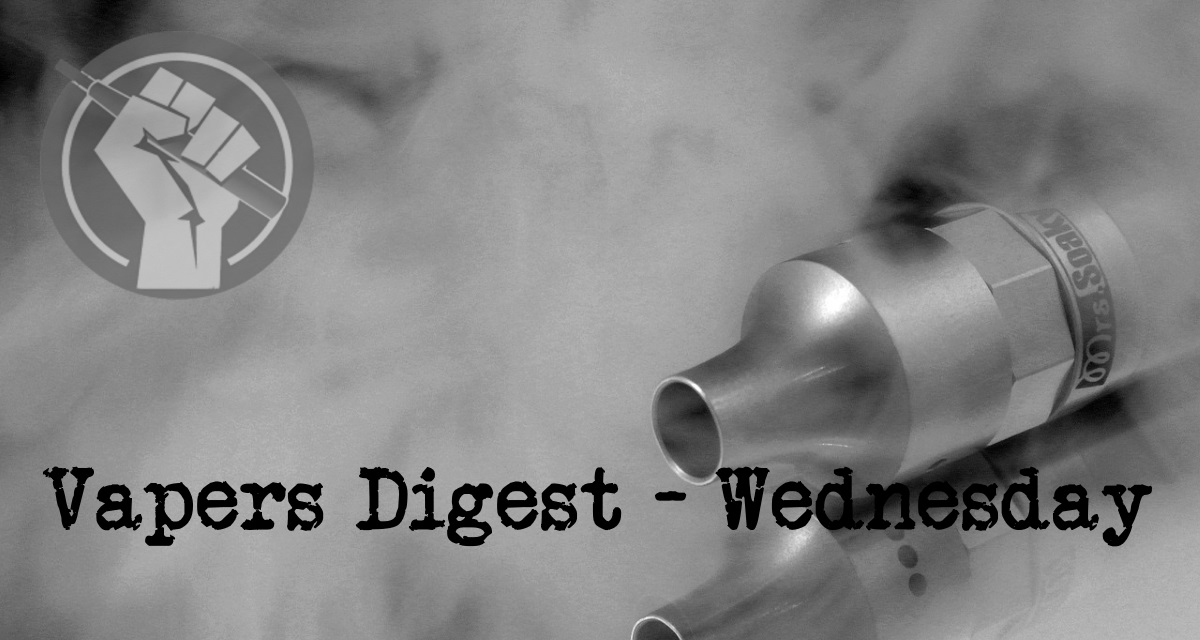 Wednesday's News at a glance:
The battle for a proportionate regulatory regime continues – India: health ministry says vapes likely will be banned – Good news for e-cigarettes in Ireland – The FDA Warms to Vaping – LA Times Uses Old Data – Ways To Snuff Out A Smoking Habit – Beaten by NZ again – Inhaled nicotine products – New pathway for smokeless tobacco products – The State of the Vape – Approach on e-cigarettes misguided – Nicotine Science and Policy Daily Digest
IBVTA
From the outset, IBVTA made it clear that we did not support the TPD, indeed many IBVTA members had spent a great deal of time and money fighting the TPD over a number of years. However, in April 2016, when IBVTA launched, the TPD was a reality. The challenge for us therefore was not fighting the TPD, but credibly influencing its implementation in the UK.
Jim McDonald, Vaping 360
The national government of India is planning a complete ban on vaping products. In a country with more than 100 million smokers, this ban could mean death for many.

The Times of India reports that the decision follows an "expert committee's conclusion that they have cancer-causing properties, are highly addictive, and do not offer a safer alternative to tobacco based smoking products." The health ministry is able to implement a ban by itself, without any parliamentary approval.
Natalia Shchedrina
We demand that Ministry of Health & Family Welfare consider the issue of state competent e-cigarette regulation!
Due to the fact that e-cigarettes were banned in some Indian States recently, we call on the Government to develop and to adopt a document of e-cigarette regulation at the State level.

Sign our petition and ask the Ministry of Health & Family Welfare of India to act against the e-cigarette ban.
---

---
Alan Loughnane
It looks likely that vaping and e-cigarettes will escape being taxed in this year's budget.

According to pre-budget documents released this week, finance officials are playing the possibility that there will be a tax placed on e-cigarettes.

The Tax Strategy Group is an interdepartmental committee chaired by the Department of Finance and is tasked examine and develop proposals for measures in the areas of taxation, among other functions.
Jacob Sullum
On the face of it, the decision that the Food and Drug Administration (FDA) announced on Friday, extending by four years a crucial deadline for e-cigarette manufacturers to seek approval of their products, was no more than a stay of execution. But the FDA also signaled a new receptiveness to vaping as a harm-reducing alternative to smoking, which suggests this reprieve could turn into a commutation.
To Push 'Prohibitionist' Stance Against Vaping
Steve Birr, Daily Caller
The Los Angeles Times tore into a decision from federal regulators to ease restrictions on vaping in an editorial Monday, using alarmism and old data to push the view that e-cigarettes are a threat to public health.

FDA Commissioner Scott Gottlieb announced Friday the agency is pushing off the deadline to comply with the FDA's contentious "deeming rule," which requires businesses to retroactively submit each individual product to the FDA for approval before it can be sold.
---
---
Alex Wodak
Tobacco is still the leading cause of preventable death and illness in Australia. More than 15,000 Australians die from tobacco every year, more than all other drugs combined. Smoking kills up to two out of every three smokers. It is also responsible for huge costs to the Australian economy.

The Lancet, one of the most prestigious medical journals in the world, sponsored a Summit in Perth on 28-29 July. The Summit focused on Chronic Obstructive Pulmonary (Lung) Disease (COPD) and Lung Cancer, which are the two main causes of death from smoking.
Dr Colin Mendelsohn
Australia is falling behind its trans-Tasman cousin. New Zealand has the All Blacks, the America's Cup and marriage equality. Now its leading medical organisation has officially embraced e-cigarettes for tobacco harm reduction.
To be legalised in New Zealand –  Rachel Thomas
Smokeless tobacco products – including chewing tobacco and inhaled nicotine – are to be legalised.

Associate Health Minister Nicky Wagner announced on Wednesday a move to establish a pre-market approval system for smokeless tobacco and nicotine-delivery products, other than e-cigarettes.

"This is part of new thinking – a forward looking approach, building on some of the innovative new technologies that are available intentionally to try and give smokers safer alternatives to tobacco."
Nicky Wagner
The Government will establish a pre-market approval system for smokeless tobacco and nicotine-delivery products, other than e-cigarettes, Associate Health Minister Nicky Wagner says.

This follows a decision in March to legalise the sale of nicotine e-cigarettes.

"There are a number of products available internationally — including heat-not-burn, snus, moist snuff, dissolvables and inhaled nicotine — that may be significantly less harmful than tobacco smoking," Ms Wagner says.
---

---
Sara Foss
After a successful — and laudable — effort to ban smoking in public spaces and certain private establishments, governments are now turning their attention to electronic cigarettes.

Last week, Gov. Andrew Cuomo signed legislation barring the use of e-cigarettes on private and public school grounds. In June, the state Legislature passed a bill that would add vapor products to the Clean Air Indoor Act, the 2003 law that bars smoking in restaurants, bars and indoor workplaces.
A Look at the Impact of the FDA Announcement
More Good News for Vaping or Just Hot Air? It's actually not been a bad couple of months for the global vaping scene – but there's still a way to go before e-cigarettes are totally accepted into the mainstream.

Yesterday the FDA [Food and Drugs Agency] announced its plans to revolutionize vaping in the US – more on that in a moment.
Courteney Stuart
Cigarette use among teens has dropped sharply in recent years, according to the Centers for Disease Control and Prevention, but the number of teens who are vaping is growing exponentially.

"The rate of vaping in teens has gone up by 900 percent," said Tzu-Ying Chuang, a University of Virginia medical student who reviewed the latest teen vaping research while working at Downtown Family Health Care clinic this summer.
Dear vape community:
In the following letter we would like to inform the community about a matter of great importance. We are deeply affected and personally involved in the incident, but renounce mentioning any names out of respect for relatives and family members. Nevertheless we are forced to warn the community…
---
A look back at how things have moved on or otherwise….
TVNZ
The Ministry of Health has released a consultation paper, seeking feedback on the way the products should be sold.
Currently e-cigarette devices and non-nicotine liquids can be sold in New Zealand but nicotine liquids, which are preferred by most users, cannot.
The Ministry says the health risks of long-term use of nicotine e-cigarettes is unknown.
However, there's general scientific consensus that the practice, known as vaping, is significantly less harmful than smoking tobacco.
See also: Velvet Glove, Iron Fist, Scoop, NewsHub and Otago Daily Times
VapingPost via Robert Innes
I remember my first few cigarettes. The heady sensation as the nicotine took effect. More than this, it was a comfort. Very shortly the thought of the packet of cigarettes hidden in the garden shed was something to look forward to – those hidden private moments when I could smoke and dream of better things – I was hooked.

The day before my sixteenth birthday, I met Pat. By eighteen we were married and on our own. My father said, "You have made your bed. Lie in it and see how long you last." Longer than him and that's a fact. Over 50 years and we are still together.

Life was tough, but I had Pat, and I always seemed to have my cigarettes.
---
Visit Nicotine Science & Policy for more News from around the World

---