Vapers Digest 28th October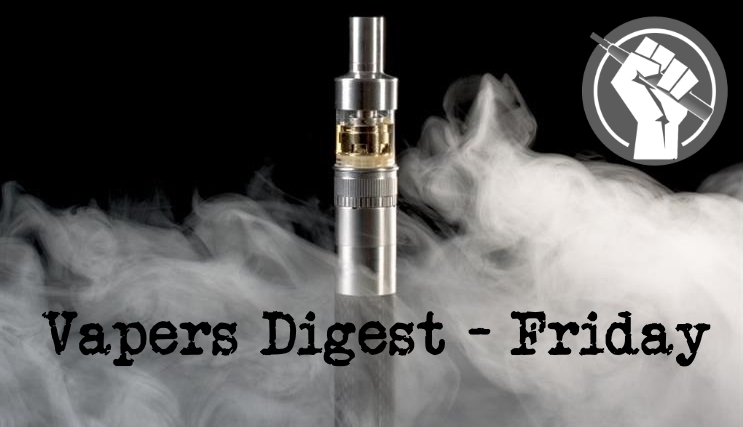 Friday's News at a glance:
A powerful declaration makes a compelling case for tobacco harm reduction – The WHO's Tobacco Treaty Failure – Switzerland Proposes E-cigarette Taxes – FDA Issues First Marketing Denials for Menthol Vapes – Flavour Limit Flawed – IEVA Code for Responsible Marketing – Parliament – Will Californians Overrule Ban? – Altria to Take on Juul – FDA Seems to Have set Aside Science – Is nicotine just an unassuming bypasser – What are the effects of vaping – Don't send the wrong message on GEG – Will THR strategies ever triumph?​ – October 2022 with Dr Leonie Brose – Interview with Leon Byner
Makes a compelling case for tobacco harm reduction
Clive Bates, The Counterfactual
Spain has a vocal and well-funded tobacco control establishment. But the data suggest its traditional approach is failing. 170 national and international experts call for a rethink and make the case that Spain embraces tobacco harm reduction as a real-world public health strategy.

The post provides the text of a letter sent to the public health authorities in Spain and related commentary. To go straight to the letter in PDF format, it's here: Less Harm: International Declaration for a Smoke-free Spain, in English and en español.
Is A Woeful Example for Other Global Agreements – Martin Cullip
Last month, the World Health Organization (WHO) added its signature to a call for governments to negotiate a legally binding treaty that would phase out fossil fuels, which are framed in the letter as "severe threats to human and planetary health."

WHO Director-General Dr. Tedros Adhanom Ghebreyesus declared that fossil fuels are "environmental vandalism" and "[f]rom the health perspective … an act of self-sabotage." The letter cited the WHO's Framework Convention on Tobacco Control (FCTC) treaty as an example of how a proposed binding obligation on governments might work to reduce the effects of climate change.
---

---
Tobacco Reporter
The Swiss government has proposed new taxes for electronic cigarettes, reports SWI.

Under the plan, reusable cigarettes would be subject to a levy of CHF0.20 ($0.20) per milliliter of liquid and disposable e-cigarettes would attract a tax of CHF1 per milliliter of liquid regardless of the nicotine content.

The higher tax rate for single use e-cigarettes is intended to deter underage consumption. The proposal is forecast to bring in around CHF13.8 million in extra tax revenues per year.
---
As the Reagan-Udall Foundation undertakes its much-needed review of rampant dysfunction at FDA, the agency's personnel are speaking out – and whey they have to say is shocking. Let's take a look.
THREAD 🚨🔎

— American Vapor Manufacturers (@VaporAmerican) October 27, 2022
(1/13) E-cigarette sales coincide with a national-level shortfall in combustible cigarettes, according to my new preprint for a paper (currently revised-and-resubmitted to the Journal of Consumer Policy): https://t.co/1PJwcrTcYd

— Arielle Selya (@ArielleSelya) October 27, 2022
---
For Menthol Vapes – Jim McDonald
The FDA today issued its first marketing denial orders (MDOs) for menthol vaping products. The move suggests that the agency could bow to prohibitionist anti-vaping groups' demands to eliminate all non-tobacco flavored vape products.

The FDA has already issued MDOs for nearly all vape products in flavors other than tobacco and menthol. There has been considerable speculation that menthol vapes would be spared in order to provide alternatives for people who smoke menthol cigarettes, which the agency intends to remove from the market.

Three from Dave Cross, Planet of the Vapes:
New Zealand's leading anti-smoking lobby, ASH, is 100% right in its flavour assessment, says consumer gorup Aotearoa Vapers Community Advocacy (AVCA). "Limiting vaping flavours in general retail is flawed. This now needs to be fixed as unintended consequences are not helping youth vaping nor Smokefree Aotearoa 2025," says Nancy Loucas, AVCA's co-founder.

The Tobacco Harm Reduction advocate's comments follow a submission by ASH (Action for Smokefree 2025) to Parliament's Health Select Committee on the Smokefree Environments and Regulated Products (Smoked Tobacco) Amendment Bill.
The European e-cigarette association Independent European Vape Alliance (IEVA) recently decided to update its Code for Responsible Marketing in order to demonstrate the responsibility of the industry when it comes to youth protection. The Chinese association E-Cigarette Professional Committee of China Electronics Chamber of Commerce (ECCC) has signed this code as well.

The Independent European Vape Alliance (IEVA) is the only pan-European association aimed at uniting national associations, companies, manufacturers and wholesalers in the vaping industry and providing them with responsible representation at the European level.
The latest discussions about the government's approach to vaping and tobacco harm reduction at Westminster feature Labour's Bootle MP talking about funding and the Khan Review. Andrew Gwynne MP was thinking about children's access to vape products, and the SNP's Martyn Day was concerned about marketing restrictions lapsing.

Bootle's Peter Dowd asked the Secretary of State for Health and Social Care how much funding the Department plans to provide to help tackle the sale of illicit vaping products in the upcoming Tobacco Control Plan.
---

---
The State's Intrusive Flavored Tobacco Ban? – Scott Shackford
California voters will have another chance to override lawmakers trying to control their personal choices in November with a vote on Proposition 31, which challenges the state's ban on flavored tobacco.

Lawmakers passed S.B. 793 in 2020. It bans the sale of flavored tobacco products (including flavored e-cigarettes), with exceptions for hookah tobacco, premium cigars, and loose-leaf tobacco. The whole ban has been sold as a way of stopping Big Tobacco from marketing products to children, though the ban affects everybody.
In Smoke-Free Tobacco – Jennifer Maloney
Marlboro maker Altria MO 2.49%increase; green up pointing triangle Group Inc. is forming a partnership with Japan Tobacco 2914 -0.12%decrease; red down pointing triangle Group to develop and sell heated tobacco devices in the U.S. and abroad.

The move pits Altria against its former strategic partners, Philip Morris International Inc. PM 4.00%increase; green up pointing triangle and Juul Labs Inc., in the race to dominate the market for smoke-free tobacco products. It also gives Altria access to markets outside the U.S. Altria's sales have been limited to the U.S. since it split from Philip Morris in 2008.
Neil McKeganey
Last week in Washington D.C. at the FDLI Tobacco Conference, Brian King, director of U.S. Food and Drug Administration's Center for Tobacco Products, explained that FDA would be using the recently released 2022 National Youth Tobacco Survey results to inform its judgement as to whether ENDS products being assessed under the premarket tobacco product application (PMTA) process would be deemed "appropriate for the protection of the public health."

For those unfamiliar with the National Youth Tobacco Survey, the just published survey data showed that 9.4 percent of youth in the U.S. had used an e-cigarette in the last 30 days, that 84.9 percent of flavored e-cigarette-using youth had used a non-tobacco flavor, and that 26.6 percent of those had used menthol flavored e-liquids.

With a villain complex? – Asanda Gcoyi
'Highly addictive substance…' 'A naturally occurring toxic chemical…' 'A stimulant drug…'

This and much more have been said about nicotine, writes Asanda Gcoyi. But what is it really? And why is it such a hot topic for everyone, from politicians to clean-living gurus? If nicotine is a naturally occurring substance, is classifying it as "highly addictive" simply a marketing ploy?

To understand the buzz – and why nicotine is seen as the enemy for many in the public health sector – it's important to understand how we got here. Just like every villain in your favourite comic book, this one has its original story, too.
Associate Professor Jamie Hartmann-Boyce and Dr Nicola Lindson discuss the emerging evidence in e-cigarette research and interview Dr Leonie Brose, King's College London.
This podcast is a companion to the electronic cigarettes Cochrane living systematic review and shares the evidence from the monthly searches.

In the October episode Jamie Hartmann-Boyce interviews Dr Leonie Brose, Reader in Addiction Education and Nicotine Research at King's College London.
On people trying to quit smoking? – Markos Klonizakis
Smoking remains the second-leading mortality risk factor in the world, mainly due to cancer, lung disease, and cardiovascular disease. Although the number of smokers is decreasing globally, the percentage of smokers in the adult population remains high (for example, it is about 14% in the UK and over 12% in the US).

It is therefore no surprise that promoting quitting smoking is considered a health priority for most Western countries. Nevertheless, traditional approaches (in the form of the use of medication such as nicotine replacement therapy or NRT and behavior support) are not often successful in the long term and have a high relapse rate, reaching a whopping 75% in some cases.
Why do we need to legalise and regulate vaping nicotine in Australia?
Afiq Hanif
MALAYSIANS are generally supportive of the government's tobacco generational endgame (GEG) policy, which seeks to enact a law prohibiting smoking to individuals born from 2007 onwards.

However, the government must ensure that individual freedom for consumers be given serious attention before implementing the new policy.

Malaysian Consumer Choice Centre representative Tarmizi Anuwar said the Federal Constitution's provision for consumer freedom has not been adequately discussed by the government.
Gabriel Oke
About 80% of people who smoke currently reside in low- and middle-income countries. In 2015, GlobalData reported that Nigeria sold an estimated 18.4 billion cigarettes in total, of which 12.2 billion were produced domestically. In Africa, the impact of rising tobacco use and production on health, mortality, and economic and social well-being is disturbing hence the need for an intervention.

Yusuff Adebayo Adebisi, a graduate of the University of Ibadan, Nigeria, who is the Director of Research and Thought Leadership at Global Health Focus while describing the importance of tobacco harm reduction in Africa said, "there is still a huge research and advocacy gap to be closed on the continent, as a lot of people do not know about or have access to safer alternatives to smoking."
---
A look back at how things have moved on or otherwise….
Benedict Weerasena, Letter to the Editor, Free Malaysia Today
Every 20 minutes, one Malaysian dies from a disease related to smoking, such as cancer, stroke or heart disease. This results in over 27,200 smoking-related deaths annually, according to the National Health and Morbidity Survey (NHMS) 2019.

Despite this alarming news, tobacco prevalence remains high in which slightly over one in five Malaysians aged 15 and above smoke tobacco.
Martin Cullip, SnusForumNet
Leading tobacco companies are moving away from cigarettes toward safer, non-combustible products. But ironically, anti-smoking crusaders continue to block efforts to provide consumers with safer alternatives, argues UK-based consumer advocate Martin Cullip of the Taxpayers Protection Alliance.

In September, Reuters reported on the decision by tobacco and nicotine products manufacturer Swedish Match to sell its US cigar business to shareholders and list it on the stock market.
---
Visit Nicotine Science & Policy for more News from around the World

---