Vapers Digest 26th October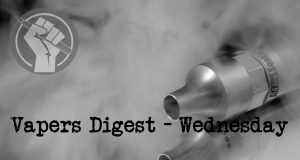 Wednesday's News at a glance:
INNCO: Weekly Issue | October 24th, 2022 ~ Expert reaction to study of the effects of e-cigarette vapour on mice ~ Australia should legalise nicotine vapes and regulate them as adult consumer goods ~ ETHRA letter to the Belgian government ~ ETHRA letter to the Belgian government ~ Seven steps for the new Italian government to reduce smoking ~ NNA Writes to Coffey ~ Asia Harm Reduction Forum ~ UK Success Despite Turmoil ~ Widespread misinformation about vaping hurts public health ~ China's New Vape Tax May Not Affect Prices in Other Countries ~ Widespread misinformation about vaping hurts public health ~ China's New Vape Tax May Not Affect Prices in Other Countries ~ China to impose consumption tax on e-cigarettes from November
Innco
INNCO mourns the passing of Mr. Ray Yeates. Our hearts go out to his family, the Canadian community, and advocates worldwide. Thank you very much, Mr. Yeates, for your hard work toward public health and harm reduction.
Prof Jacob George, Prof Peter Hajek, Prof Kevin McConway, Dr Adam Jacobs, Science Media Center
 A study published in Nature Communications looks at the effects of e–cigarettes on mice.

"The metabolism of mice is very different from humans and any extrapolation to overall, long-term human health is, frankly, guesswork at best. If this was indeed true, given the significant numbers of vapers worldwide, we would have expected to see an explosion in cardiac arrhythmia cases which we are not seeing in clinical practice, at all………
Dr. Colin Mendelsohn
A NEW REPORT recommends that Australia should legalise nicotine vaping products and regulate them as adult consumer goods. [link]

The report by London-based Llewellyn Consulting was commissioned by British American Tobacco and examined the economics of different regulatory options. It concluded that

Legalisation and regulation is the most workable approach to addressing the rampant sale of illicit vaping products in Australia"
European Tobacco Harm Reduction Advocates (ETHRA)
ETHRA wrote to the Belgian government to highlight the important role safer nicotine products can play in its upcoming inter-federal strategy for a smokefree generation. The letter was co-signed by 19 independent experts in tobacco and nicotine science and policy.

Dear Ministers,

Safer nicotine products should play a much bigger role in the Inter-Federal Strategy for a smokefree generation.
---
As a former City Councilman I cant imagine inviting the community to an event, only to let 1 side in & tell 100s of mostly minority business owners & concerned citizens that theyre not welcome inside @CMEVRemy @RobDorans @lizclarkebrown @SG_Hardin @NickBankston @lourdesforcbus pic.twitter.com/rGhTgt6qxk

— Joe Erb (@JoeErb1982) October 26, 2022
---
THREE from

Dave Cross, Planet of the Vapes
The New Nicotine Alliance has written to Thérèse Coffey MP, the Secretary of State at the Department of Health and Social Care. The UK charity represents consumers of low-risk alternatives to cigarettes such as vaping products, nicotine pouches, smokeless and heated tobacco products.
The Fifth Asia Harm Reduction Forum (AHRF 2022) has been announced to take place on Friday, 28 October at The Manila Hotel in the Philippines. 'Integrating Harm Reduction in Asian Policies: A Major Win for Public Health' is the theme for this year's forum. It will build on recent momentum, discussing the merits of harm reduction as the most effective tool to address the smoking epidemic in the Asia-Pacific region.
Despite turmoil, the United Kingdom is succeeding with its smoking strategy according to the Coalition of Asia Pacific Tobacco Harm Reduction Advocates (CAPHRA). "The most comprehensive review of vaping risks to date confirms the United Kingdom is backing the right horse when it comes to smoking cessation," says CAPHRA's Executive Coordinator Nancy Loucas.
---

---
Michael Landl, The Parliment Magazine
To effectively help smokers quit for good, three conditions must be met:

Firstly, smokers must be able to choose from as many options as possible to find out what smoking cessation method works best for them. People are different, and therefore different ways to give up smoking must be made available and affordable.
---

---
Jim McDonald, Vaping 360
The Chinese government will begin taxing vaping products beginning Nov. 1. The news came in a joint announcement by the Chinese Ministry of Finance, General Administration of Customs and State Taxation Administration.

The two-pronged levy will include a 36 percent tax on the production or import of e-cigarettes, and a separate 11 percent tax on wholesale distribution (in China), according to multiple news sources.
Josh Horwitz, Reuters
China's Ministry of Finance will impose a consumption tax on e-cigarettes from Nov. 1, according to a notice published on Tuesday.

A tax rate of 36% will be placed on the production or import of e-cigarettes, while an 11% tax will be placed on the wholesale distribution of e-cigarettes.
Tobacco Reporter
Knowledge-Action-Change is set to launch a new report documenting the advances and significant challenges facing tobacco harm reduction in 2020.

Titled, "Burning Issues: The Global State of Tobacco Harm Reduction 2020," the report will be released Nov. 4, 2020.

The report is the second in a biennial series from the Global State of Tobacco Harm Reduction (GSTHR), a project established to map the development of tobacco harm reduction and use, availability and regulatory responses to safer nicotine products around the world.
Muzammil Ferozi
Tobacco harm reduction (THR) is a health strategy implemented to curtail the risks associated with tobacco products to users and society at large. The concept of THR dates back to 1976 when Professor Michael Russell, also considered the father of tobacco harm reduction, stated that people smoke for nicotine but they die from the tar. Russell's advocacy that the ratio of tar to nicotine could be the key to a less harmful smoking experience has served as a stencil for strategies implemented against tobacco harm by health organizations today.

Unfortunately, Pakistan is among the high-burden tobacco-use countries identified by the World Health Organization. According to the Journal of Pakistan Medical Association's estimations, almost 36% of males and 9% of females in Pakistan are addicted to tobacco or tobacco-based products. In addition to that, approximately 1,200 children in Pakistan start smoking every day!
---
Visit Nicotine Science & Policy for more News from around the World

---